John Morefield isn't letting the tough economy get to him. The Seattle Post recently spoke to John about his unconventional approach to finding work these days.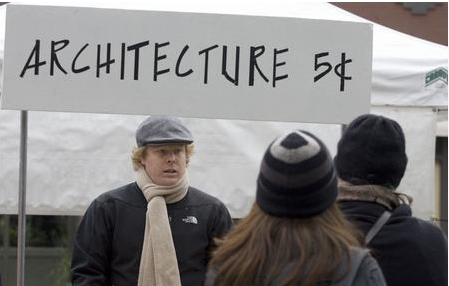 Twice laid off from architectural firms in the past year when work dried up, the 27 year-old was inspired by a public radio program's "Ask an Iraqi" show and Lucy's psychiatric help stand in the comic Peanuts. Morefield decided to set up a booth at a local Seattle market and offer cheap advice on home remodeling -- and hope the contacts would turn into design jobs.
So he built the small stand and painted a sign reading 'Architecture 5 cents'. Then he put out his silver can and waited for the nickels to clink in. It didn't take long. Wallingford residents Michael Kucher and Julie Nicoletta walked up after laughing at the sign. "Are you serious? What do you charge for a house call?" Nicoletta asked.
And so began a 10-minute discussion about home remodeling with a couple who had shown up at the market to buy vegetables. After a talk about the kitchen and bathroom and possible ideas for remodeling, the couple wandered away -- but not before taking a business card and leaving their e-mail address.
Away from the stand, Kucher said he'd likely call Morefield for a consultation. First, Kucher said, the young man seemed friendly and knowledgeable. But second, Kucher liked the approach; building a booth might mean Morefield thinks out of the box, he said.
Morefield said he also is using the booth to make referrals to contractors he knows or other designers who handle things outside his expertise, residential design. He said local draftspeople, architects, builders and contractors need to stick together, to help each other get work in days like these.
This article was originally published on psfk.com.