Earlier this month Oni Press released The Auteur #1 written by Rick Spears and illustrated by James Callahan.
It's hilariously crude and funny all the while feeling fresh and unlike anything on the comic market right now. The art by James Callahan is beautiful and disgusting at the same time, which is no small feat.
I got to sit down and talk to Rick Spears about the series and also able to debut some art from the upcoming issue #2.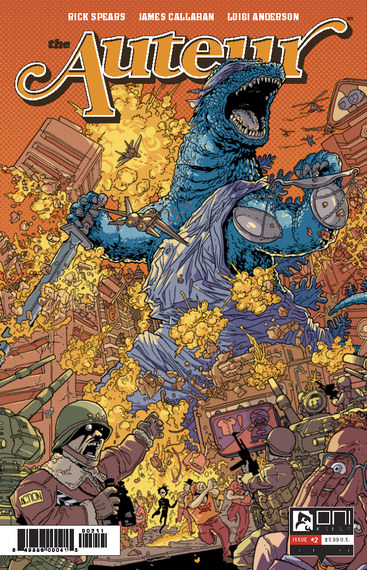 Please describe The Auteur in your sleaziest Hollywood pitch.
How about, "It's The Holy Mountain meets Ferris Bueller's Day Off?" Wait, sh*t. I don't know if that makes any sense. How about... "Coming off a disastrous mega-flop disgraced and desperate Hollywood producer Nathan T. Rex enters a downward spiral of drugs, and depravity in a quest to resurrect his career and save his soul. Over budget and behind schedule on the latest installment of the horror franchise, Presidents Day, T. Rex tries to punch up the publicity and gore by hiring a real-life serial killer as a "consultant." What could go wrong?" I don't know if that is my sleaziest. I guess just insert titties in there somewhere.
How did the book come about?
I really wanted to do a book about superheroes, but you know, with a more modern, gritty edge to it. Unfortunately that's not Oni's bag so I pitched them a book about secret agent dragons that run around, and shoot people, and spout ancient mysticism tidbits. They liked that, but we couldn't find an artist. Honestly it was all sort of an accident. My editor Charlie Chu and I were talking on a crappy cell connection and I was telling him about this terrible movie I'd seen. He misheard me and thought I was pitching him and approved it. Chu is very gentle and sensitive and I didn't have the heart to clarify his mistake so I just made up some sh*t to keep things from getting awkward.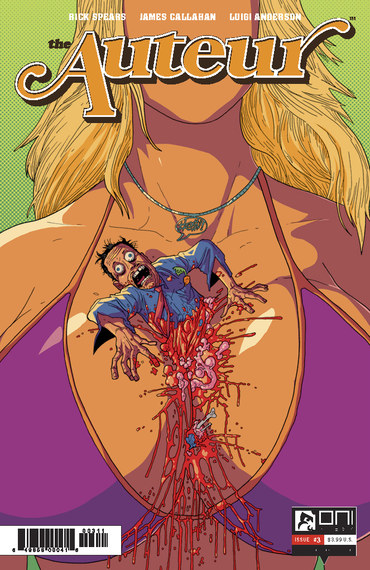 You have a 10 million-dollar budget to promote The Auteur. What do you do?
Simple, I'd give the $5 million to the Hero Initiative (heroinitiative.org) and 5 million to the Comic Book Legal Defense Fund (cbldf.org) and just let the book promote itself. The Auteur is going to be a monster.
Why is The Auteur better than every comic out right now?
It's apples and oranges. I'm not interested in making something that competes with other comics. I'm a gentleman of Virginia. Competition is embarrassing. My only goal is to make Callahan's hand hurt, and bring peace and understanding to the world.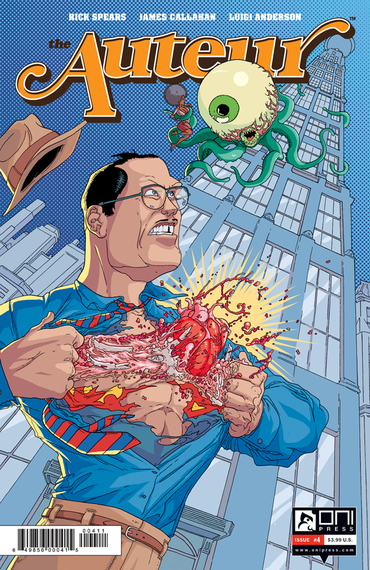 Have you sent a copy to Robert Evans? I think you should.
Funny you should ask, I faxed a copy to his tanning bed and received a very complimentary fax confirmation.
What should we expect for upcoming issues?
Our notorious Hollywood producer, Nathan T. Rex takes over the serial killer Darwin's legal defense in the "trial of the century!" It's a meditation on justice and human failure, all in the name of Tinseltown glory!
After that you can expect enlightenment annnnd probably some titties.