Comic books are evolving. Each and every day.
For the longest time, there was a sort of set way to create and distribute comic books. That has been changing very quickly the past 10 years. The internet has proven to be an incredible resource for comics with the huge boom of social networking and technology.
Cameron Stewart is a rare sort of specimen. He's had success within mainstream comics with work for hire stuff at DC, Marvel and Dark Horse to name a few. He's talented enough to be able to make a living doing collaborative work but like most creators, he wanted to make something for himself. Creator owned comics are one of the most important things to happen to comic books, and Stewart is a shining example of what can come of it.
Dark Horse Comics has recently collected the beautifully dark and surreal Sin Titulo, the story of a man searching for answers. It's haunting and unpredictable and ultimately satisfying and achieves what any sort of art hopes to do, it stays with you long after you experience it.
I got to talk to Stewart about Sin Titulo and his work and experiences.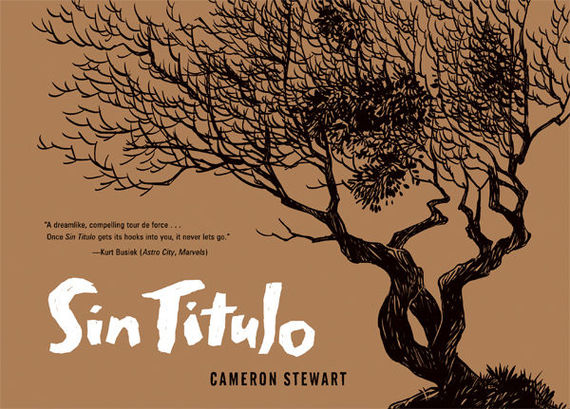 So tell us a little about Sin Titulo. You originally started doing it in 2007, right?
That's right. I began it in 2007. It started as a webcomic that I was doing. It was a book I had begun just because I was just trying to do some work that was my own. I was sort of frustrated with doing a lot of work for hire, I wanted to just do a work of my own. So along with a bunch of other friends who were feeling the same way, we launched a group of webcomics. I started doing it weekly, putting pages up every Sunday. It took awhile. it took about six years for it to actually be finished because I was doing it basically in my spare time. It took awhile to do, just because I had a lot of work for hire stuff I had to do but once it was complete Dark Horse offered to publish it into a book.
The two biggest influences are David Lynch and Haruki Murakami, the japanese novelist. It's sort of a neo-noir mystery thriller with elements of autobiography and supernatural horror.
There definitely seems to be a sort of distinction between webcomics readers and traditional comics readers. Where do you think Sin Titulo fits between those two worlds?
A lot of webcomics seem to be these humor strips or long running almost soap opera type things. I didn't want it to be a humor strip or something that I'd want to run indefinitely. I set to do it as a finite story, even though I started it not knowing what it was gonna be. The end game was always to have it in print. I definitely like using the internet for publishing comics, I think it's a really, really valuable tool and in a way I think it's much better then self-publishing. It's closer in spirit to typical, printed graphic novels compared to other webcomics.
I feel like Sin Titulo reads just as something that is really about story, it's not catered towards any particular reader, like traditional comics fans or webcomics fans.
Yeah. I never really think about it as a webcomic. I never pitch it as a webcomic, I never try to sell people on it for being a webcomic. That's how it began, but I don't really consider it just a webcomic. Working on the web has it's own set of challenges that I think made the print edition kind of interesting. One of the challenges I had with it because of my day job doing print comics, I didn't really have a lot of time to work on it so I was only doing a page a week, and sometimes even less than that because of lack of time. When I was working on it, I wanted to make sure every page ended on a particularly strong note so that the reader would remember it, and want to come back the following week. Week to week it acted kind of like a cliffhanger, or a movie serial or television series but when you read it as a print book in a single sitting, it kind of has this momentum that pulls the reader through. Everyone I know that's read it for the first time in printed form has said that they just can't stop reading it. I think that's kind of a benefit of working week to week and knowing about how to best tell the story week to week ended up working very interestingly in print form.
So what's next for you?
What's next for me.. well the third volume of the Assassins Creed: Braham. That's on sale now, I believe. Next year I'll hopefully return to Seaguy.
Oh, Awesome!
I have the scripts for the new Seaguy volume and it's pretty great, I'm excited to do that. I also have another book of my own that I've got about 40 pages drawn so far and I'm hoping to get back to it and finish it off. It's something that's probably gonna be a long time coming. I want it to be a few hundred pages. It's sort of a fantasy epic called Niro. It's sort of like a fantasy western, that's the easiest way to describe it but almost in a way it's the most inaccurate. I describe it as a cross between the movies of Alejandro Jodorowsky and Hiyao Miyazaki.
Stewart will be appearing at Challengers Comics + Conversation here in Chicago, Wednesday Nov. 13 from 5pm - 7pm. at 1845 N Western Ave Chicago, IL 60647