I think comic books are awesome. If you are reading this you hopefully already agree with me but if not allow me to overload with you enthusiasm and reasons why they are the coolest!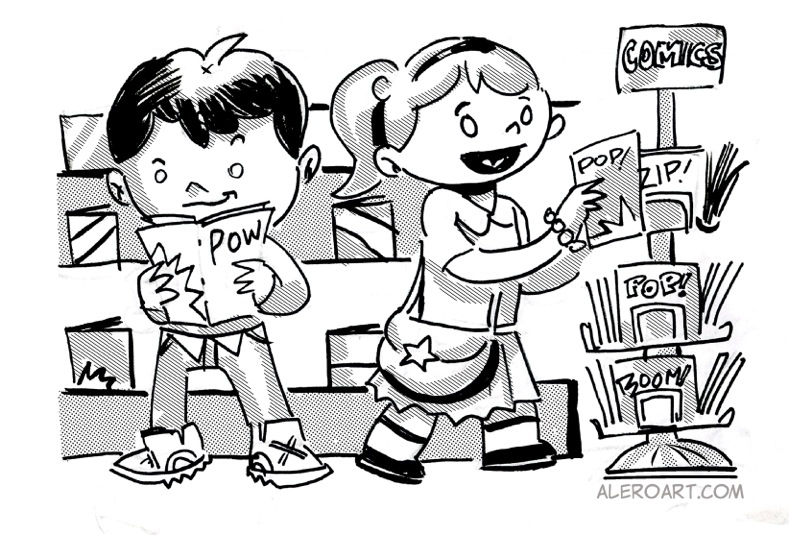 There is a comic book out there for everyone. I know that sounds very bold but people just need to give them a chance.
There is probably a comic store in your area -- check here!
New ones come out every Wednesday.
New ones are created every day!
Old ones are collected into huge collections and hardcovers and graphic novels.
Like books, they come in all genres, not just superheroes. Fiction, biographies, science fiction, horror, all-ages, crime, underground, westerns, romance, war and a ton more.
They make great gifts for kids, adults, teenagers, old people, young people, mothers, fathers, cousins, grandparents, friends, enemies, etc.
Know how to draw? Make your own comic.
Know how to write? Make your own comic.
Comic creators are easily accessible. You can meet them at comic shops, shows, or online. It's great being able to meet and talk with the people whose work you admire. Rarely does this happen in any other medium.
We all like vastly different types of books but we are all a part of a community of people who love the medium including fans, creators, store owners, publishers, bloggers, pod-casters, everyone has an essential role and so can you.
Comic Book Conventions are loads of fun, even if you aren't too familiar with them. You can browse, shop and most important it's some of the best people watching EVER. Comic Book Conventions happen year round all around the world!
You want to get into comics but don't know where to start? Ask a store owner! Ask someone online! Google it. Ask a guy looking at comics at a bookstore, ask on Twitter. We love new readers.
Comics can be taken in at their own pace, unlike movies and TV Comics can be slowed down and give you some time to take it all in, or read it really fast. It's up to you.
You can buy comics straight on your Kindle, iPad, iPhone, Galaxy Tab, so many options via sites like Comixology, Graphicly and others.
I asked some friends and colleagues why they thought comics were awesome and here are some of my favorite responses.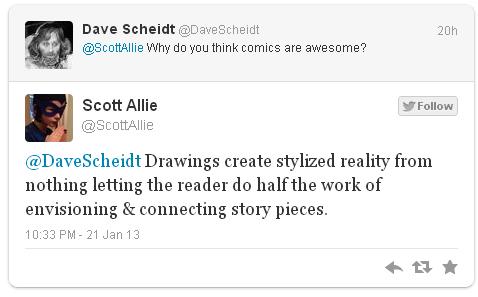 Scott Allie, Editor in Chief of Dark Horse Comics
@davescheidt Comics is the only visual media where the greatest and craziest ideas can still be realised without constraint.

— Sampsa Granström (@Sampsa_G) January 21, 2013
Sampsa Granström, Podcaster http://themostlymellow.blogspot.fi/
@davescheidt comics are awesome b/c they inspire imagination and visual thinking.

— Wendi Freeman (@DFWendi) January 21, 2013
Wend Freeman, Host of Double Page Spread http://doublepgspread.tumblr.com/
@davescheidt #comics are sweet because they can do anything a person can think up/draw #nobudget

— Jon W (@Anti_Drummer) January 21, 2013
Jon Westoff, Writer, Podcaster and Publisher of King Bone Press
http://kingbonepress.storenvy.com/
@davescheidt Comics are a touchstone that I feel preserves my youth every time I read them.

— The Power Principle (@TPowerPrinciple) January 21, 2013
Alan White, Writer and Artist of The Power Principle http://powerprinciplecomic.blogspot.com/
"They use your brain in a way that nothing else does - and yet everything else does!"
-Jemiah Jefferson, Editor & Writer http://www.jemiah.com/
"Comics are the most complete form of storytelling, blending visuals with words to actively engage more parts of the brain than any other type of storytelling." -Randy Field, Illustrator
http://problemtown.com/
"Comics keep my 3.5 year old still, engaged, inspired, and aware of his own inner superpowers." -Sarah Schomer, Nurse, Mother.
" I believe storytelling goes can go more in-depth with comic books. Visualizing becomes more real and grasping certain emotions can be easier achieved and at times more intense. New ideas are consistently being pushed and constantly thought of. And comics are fucking great." -Kevin Cortez, Writer and Blogger http://drawnwords.com/
"In their most popular form, besides telling a lot of great adventure stories, comics teach us how to stand up and face adversity. They give us extraordinary people standing up against equally extraordinary circumstances, and that tells us that ordinary people can prevail against the sort of odds that seem extraordinary to us. They function as metaphors that instruct us to do the right thing even if it hurts or is unpopular, and deal out incredible consequences for failing to do so. Basically, comics are Westerns." - Matt Fagan. Artist of Monster Dudes and Co-Owner of Brainstorm Comics http://www.facebook.com/mattfaganart
Once you read these, tell me why YOU think comics are awesome in the comments section!