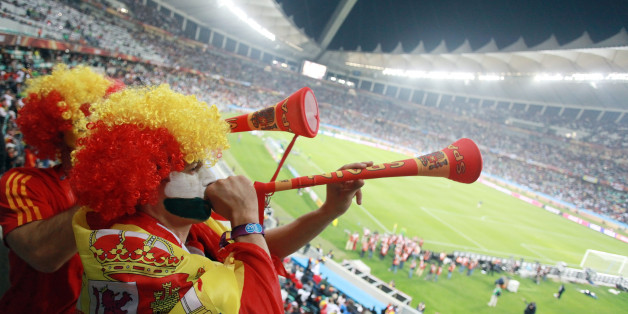 If you still have the din of the vuvuzela stuck in your head, you might be surprised to learn that four years have passed and it's nearly time for the 2014 FIFA World Cup. As Brazil gears up to host the Cup for the first time since 1950, Brazilians have the added pressure of simultaneously preparing for the fast approaching 2016 Summer Olympic Games. It would be a massive understatement to say that Brazil still has a lot to do before hosting the world. Even though it may be late in the game, there's still plenty that Brazil can learn from the success South Africa enjoyed back in 2010.
Get Everyone Dancing
South Africa brilliantly encapsulated the spirit of soccer and the rhythm of the country into a soccer based dance called the diski. Diski, meaning "soccer" in township slang, enabled all South Africans to actively participate in the spirit and excitement of hosting the World Cup in a way that was definitively South African.
Brazil may not create a special dance to honor the Cup, but with their multi-cultural history and own unique musical rhythm it would be a mistake not to showcase that culture to the world. For many Americans, Brazil may seem a one-dimensional destination. The World Cup and following Olympic Games are an opportunity to showcase the real essence of what makes Brazil such a spectacular place. South Africa used the diski to showcase a safe, warm and welcoming country that was eager to welcome the world. Brazil needs to be doing the same thing in their own way.
Accommodations for All
In the years leading up to the 2010 FIFA World Cup, South Africa had to construct dozens of new hotels to accommodate the over 300,000 foreigners who came to witness soccer history. With high hopes of wealthy foreign visitors filling beds, many of these hotels were higher end, five-star properties with international backing. When the World Cup ended and the tourists retreated, South Africa was left with an abundance of five star hotels and not enough visitors to fill them.
For the two years following the Cup, this made for some pretty great deals for the less concentrated, yet still record number, of tourists. It was not good for a hotel industry that relies on consistent capacity to stay profitable. Even worse, this gave many South Africans the false impression that the World Cup was not successful. This couldn't be further from the truth. South Africa has continued to enjoy increased arrives each year since hosting the Cup and has quickly found itself at the top of many travelers' bucket lists. Brazil needs to communicate a more balanced accommodation offering to those visiting while anticipating the change in demand after the Cup concludes.
Be Yourself
As the tournament kicked off in Johannesburg, the world came together in protest over the infamous vuvuzela. For an entire month, the plastic vuvuzela horns were all anyone was talking about. They sparked both public outcries and YouTube celebrations. No matter how controversial and potentially distracting the horns were, South Africa refused to give them up. Instead, South Africans openly celebrated what they stood for: pride. They had something that others did not and they would not let anyone take that away from them.
There has already been talk of Brazil's caxirola replacing the vuvuzela as this World Cup's local noisemaker. With sound levels similar to that of normal conversation, it's said to take 2,000 maracalike caxirolas to equal the noise of a single vuvuzela. Hopefully Brazil will find other ways to leave their mark on soccer history.
Support the Beautiful Game
Like any mega-event, it's pretty much a guarantee there's going to be criticism of the organization and execution from pretty much everyone. The best thing Brazil can do is to stay positive. This positivity has to be the responsibility of all Brazilians everywhere.
Leading up to the 2010 FIFA World Cup, South Africa received its fair share of negative press, but South Africans never turned on each other. They stayed positive, got each other excited, showed their rhythm with the diski dance and welcomed the world with smiles and open hearts. No matter what controversy may arise, Brazilians everywhere must stay united for the Cup. That positivity is contagious and will play a big role in how the world perceives them as hosts.
Exploit the Legacy
The FIFA World Cup is an opportunity for Brazil to showcase itself to billions of people around the world. To do so effectively, Brazil will need to make sure that impact lasts well beyond the final penalty kick. Since the World Cup, South Africa has aggressively marketed itself as a tourist destination, ramped up its presence in film and television and even dramatically increased its exports around the world.
Hosting the FIFA World Cup can be a game changer for an emerging market. However, to reap the benefits of increased awareness and positivity you need to be proactive and have a plan. Brazil is a country with a tremendous amount of potential. It's up to them to seize this opportunity.