With growing unrest in Egypt and renewed Israeli fears of a threat from Syria, it is refreshing that a superbly harmonious delegation from the Middle East is visiting New York this week. But its members are not holding forth at the United Nations. Instead they're performing at Carnegie Hall.
Composed of top-notch Israeli, Palestinian and other Arab musicians, the West-Eastern Divan Orchestra is led by world-renowned Israeli conductor Daniel Barenboim. He co-founded it in 1999 along with his close Palestinian friend, Edward Said, a Columbia University literature professor, who died in 2003.
The orchestra has a two-fold mission: to offer up great performances (such as the Beethoven programs this week), but also to promote communication among people on both sides of the seemingly intractable Arab-Israeli divide.
In most cases, the young musicians, aged 15-36, would have no other way to make contact with someone of the "other" group. About half the performers are Israeli, with the balance from Algeria, Egypt, Iran, Jordan, Lebanon, Palestine, Syria, Turkey and a small contingent from Spain, where Divan is based.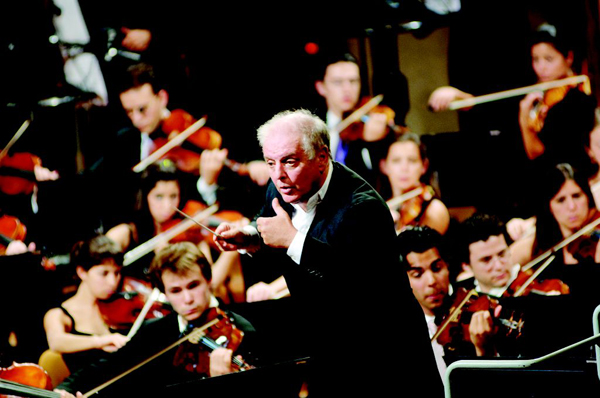 Daniel Barenboim | © Monika Rittershaus
Although the orchestra has played at many of the world's leading concert venues, it has generally not performed in any of the Mid-East lands represented by the musicians themselves.
"It is against the law in those places for the other to come in," Barenboim told me in a public radio interview last week. For example, he says, "It is against the law in Syria to have any contact with Israelis, and it is against the law in Israel to have contact with the Syrians too." The one exception is an historic 2005 concert in Ramallah, a Palestinian city in the central West Bank.
One member of the orchestra described how a fellow-musician from Palestine reacted to a piano recital by Barenboim there: "It was the first thing from Israel she ever saw that was not a tank or a soldier."
Of course, when the rigorously rehearsed performers have time for personal discussions, the conflicts in their region come pretty readily to the surface. According to Cairo-born violinist Mina Zikri, who has played in the Divan orchestra from its first year and now lives in Chicago, "We stay up late at night and people are shouting and sometimes crying and getting very emotional."
But the following day, members must attend the 10:00 a.m. rehearsal together. "It reminds us," he says, "that we're actually doing the same thing. It reminds us that the difference between us did not kill us. We continue to do something we both agreed on."
Added Guy Eshed, a flutist from Tel Aviv: "Especially when you're sort of growing up together, you learn to accept the other and you become almost like a small family. And therefore the discussions are maybe a little less heated, but become a bit more civilized. And that's why I think it's so important that this project keeps going on with new generations."
The West-Eastern Divan Orchestra takes its name from a collection of works on Middle Eastern intercultural understanding, written by German poet Johann van Goethe, who died in 1832. The orchestra, Barenboim insists, holds no political position except that it advocates non-military solutions to the region's festering problems.
"This is a conflict between two peoples who are deeply convinced they have the right to live on the same little piece of land, exclusive of the other," he said. "We have to first get to the point where both sides accept the right of the other also to be there. In other words, we believe that we can live side by side, Israelis and Palestinians, or together, but not back to back."
Barenboim, a native Argentinian who moved with his family to Israel when he was 10, was well-versed in the Israeli classical music scene when he and Prof. Said decided to set up the orchestra. Neither, however, felt he had adequate familiarity with the classical community in the Arab world. After word went out that an integrated orchestra was being formed, more than 200 applications flowed in from young Arab musicians, hoping to be groomed by the celebrated conductor.
"In the Divan, you have the one important quality that you do not have in Israel and Palestine, and that is equality. In the orchestra, when an Egyptian oboe player has an important phrase to play, everybody wishes him well, wants him to do well, and give him the support he needs."
Well, equality with one proviso. All players are subordinate to their colorful maestro. At a rehearsal Sunday afternoon in Boston's historic Symphony Hall, Barenboim, now 70, drilled his young musicians. "Please don't play mechanically!" his voice echoed through the hall. Instead, Barenboim beckoned them to throw themselves into the music.
Based on the roaring ovation by concert-goers four hour later at the close of Beethoven's Eroica symphony, these unlikely peacemakers had heeded their conductor's plea.