What does it mean to be a Latin American artist? A
new book of interviews
with the artist Liliana Porter provides some interesting and surprising insights into this question. Porter was born in Buenos Aires, and grew up there and in Mexico City. At the age of 22, on her way to Europe to visit museums, she stopped in New York for a week. She was so impressed with the city that she postponed her trip to Europe. She began to study printmaking in New York, and there she met the Uruguayan artist Luis Camnitzer, whom she married in 1965. Together they stayed in New York: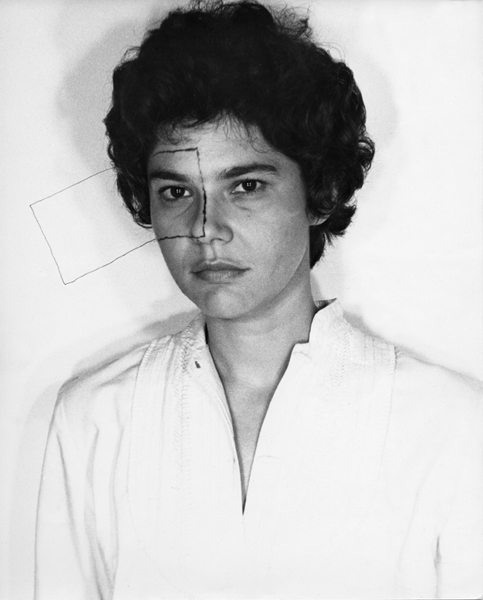 Untitled (Self-Portrait with Square) (1973). Image courtesy Galerie Mor-Charpentier, Paris.

Luis always said that we were in New York temporarily: there was never an intention to stay, and we existed in a kind of transitory state. But we also never decided to return to Argentina or Uruguay, either.
Porter was a citizen of the international art world: in the early '70s, for example, she and Camnitzer founded a printmaking school in Italy. Yet New York remained her base, even after the end of her marriage. She considered leaving New York after 9/11, but did not, and she remains there today.

Liliana Porter, Untitled (With Books) (1989). Image courtesy Latin American Art Museum of Buenos Aires (MALBA).

When Porter first arrived in New York, she quickly realized that it was the center of the art world:
What struck me most was the feeling that one sometimes gets in New York that everything is possible, and that if there were any obstacles to making something happen, they had more to do with me than the environment...It was also the sensation of being in the twentieth century, of living in the present moment.
She was most impressed by the artists she saw at Leo Castelli's gallery, the Pop artists and Minimalists, and their ideas deeply affected her art.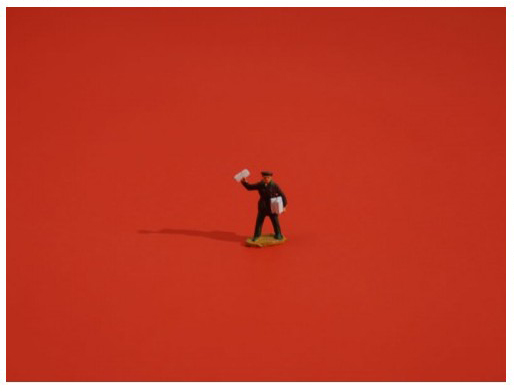 Liliana Porter, installation detail from Fox in the Mirror Concert (2007). Image courtesy MALBA.

Yet in spite of her youth, and her love for New York and its art, Porter did not fully become a New York artist. In part this was intentional: "I always knew that I wanted...to maintain my relationship with Buenos Aires - not to lose my identity as an Argentine, even if that definition is totally abstract, subjective, and very difficult to explain." And in part, her failure fully to assimilate was a consequence of her early recognition "that the thesis of international art is a fallacy." She was acutely aware that Pop and Minimalism were irrelevant to poorer countries:
A typical minimalist work of art would have been inconceivable, absurd, and I would even say ethically questionable, if created in a Latin American country. These artworks were very expensive to produce, and made possible by very advanced technologies...Pop works were also the direct result of a hyperdeveloped consumer society. All of those materials that were used for advertising in supermarkets and on the streets simply did not exist in our countries, where we still carried a little cloth bag to go out and buy our bread.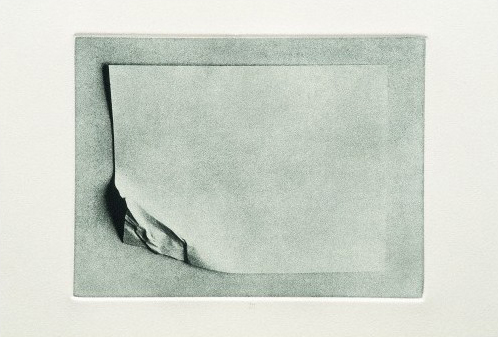 Liliana Porter, Wrinkle (1968). Image courtesy MALBA.

Porter has now lived in New York for nearly 50 years. She still considers Warhol and Lichtenstein central influences on her art, her work is owned by all New York's major museums, and she taught art for decades at SUNY and New York's City University. But she remains a Latin American artist:
Now I realize that you can live here a thousand years, but you will always be a foreigner. If you look at my CV, it's striking to see what a large percentage of my collectors and shows have to do with Latin America. There's no way around it: people are separated into categories here.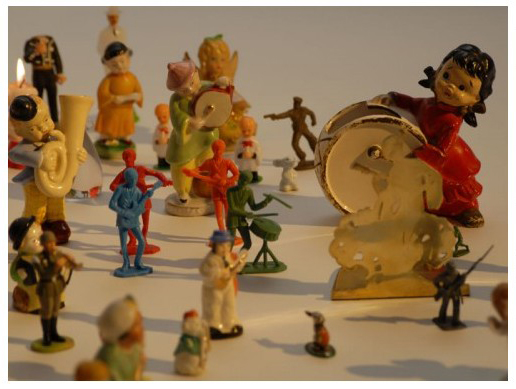 Liliana Porter, installation detail from Fox in the Mirror Concert (2007). Image courtesy MALBA.

Anyone interested in Liliana Porter's career must read these interviews. They will be rewarded not only by her thoughtful and articulate analysis of her art, but also by wonderful anecdotes about her friends and acquaintances. Among these are an account of how Porter and Camnitzer unwittingly introduced Salvador Dali to his notorious practice of signing blank sheets of paper before prints were made on them (and the story of how the couple bought a house on Long Island by selling a watercolor Dali had given them), and a tantalizing discussion of Porter's friendship with the brilliant young Cuban artist Ana Mendieta.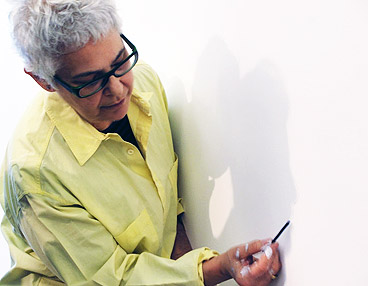 Image courtesy Fundacion PROA Museum, Buenos Aires.

Porter's career and perceptions are fascinating evidence for our understanding of the failure of globalization in the art world. But her art can be celebrated as that of an imaginative and versatile artist, who has worked creatively in many genres throughout a long and continuing career. This celebration is honored by this volume of interviews, and in an exhibition of her work that is currently on display at Buenos Aires' MALBA.