Collaboration has remained much rarer in visual art than in most academic disciplines. Co-authorship in painting was for a very long time prevented by the traditional conception of the artist as an autonomous agent. Although it has long been recognized that many Old Masters had workshops in which paintings were often jointly made by several individuals, and that modern artists have worked closely together in many stylistic groups (Impressionism, Fauvism, and Cubism, to name a few), critics and collectors nonetheless insisted that individual works be identified with the name of a single artist.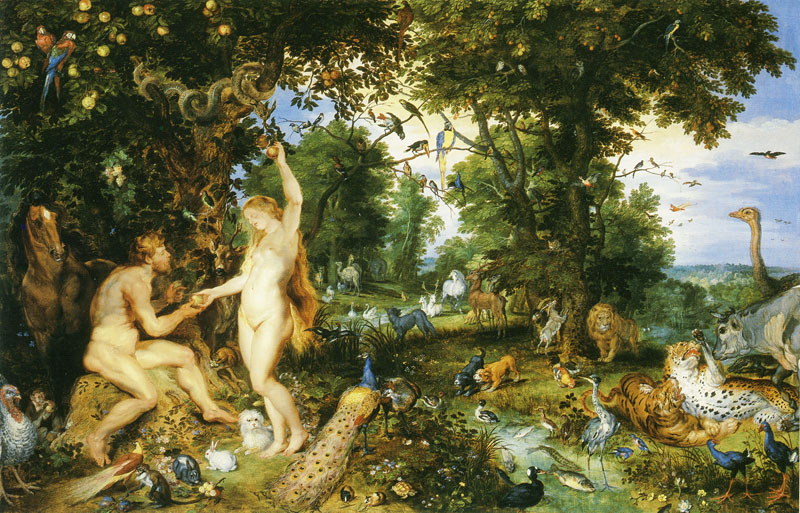 Rubens and Breughel, 'The Garden of Eden and the Fall of Man,' (ca. 1615); Collection of the Mauritshuis Gallery, The Hague, Netherlands.
Occasional instances can be found prior to the modern era in which independent masters jointly produced a painting. One example is that of Peter Paul Rubens (1577-1640) and Jan Breughel the Elder (1568-1625), the two most important painters in Antwerp in the early 17th century, who executed about two dozen paintings together between 1598 and Breughel's death. Only one of these was jointly signed, but their distinctive contributions -- Breughel's landscapes and Rubens' figures -- are readily recognized by scholars. That the paintings contain few significant pentimenti suggests that they were planned carefully in advance: that both Rubens and Breughel were conceptual artists obviously facilitated this process.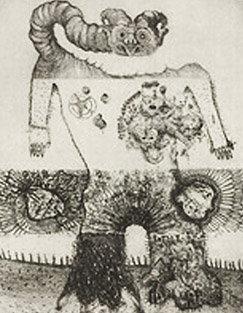 'Untitled' from Exquisite Corpse, by Jake and Dinos Chapman (2000), Collection of the Museum of Modern Art, New York.
Co-authoring of paintings and drawings became more common in the early 20th century, as a number of groups of conceptual artists produced significant numbers of joint works that two or more artists would sign. Prominent among these were the Dadas, Suprematists, Constructionists, Surrealists, and Cobra. The Surrealists produced hundreds of coauthored drawings as a result of a game the group often played, that they named Exquisite Corpse. Yet none of this activity made co-authorship an important phenomenon in the visual arts, for although these works were made by such important artists as Malevich, Miró, and Appel, they were never among the artists' major contributions.
More significant cases of co-authorship occurred in advanced art later in the century. Edward Kienholz and Nancy Reddin, Claes Oldenburg and Coosje van Bruggen, and Christo and Jeanne-Claude Javacheff are among the prominent teams who began consistently to sign all their works jointly. In each of these cases, however, the more eminent partner received primary credit for their joint work, as a result of reputations established before the collaboration began.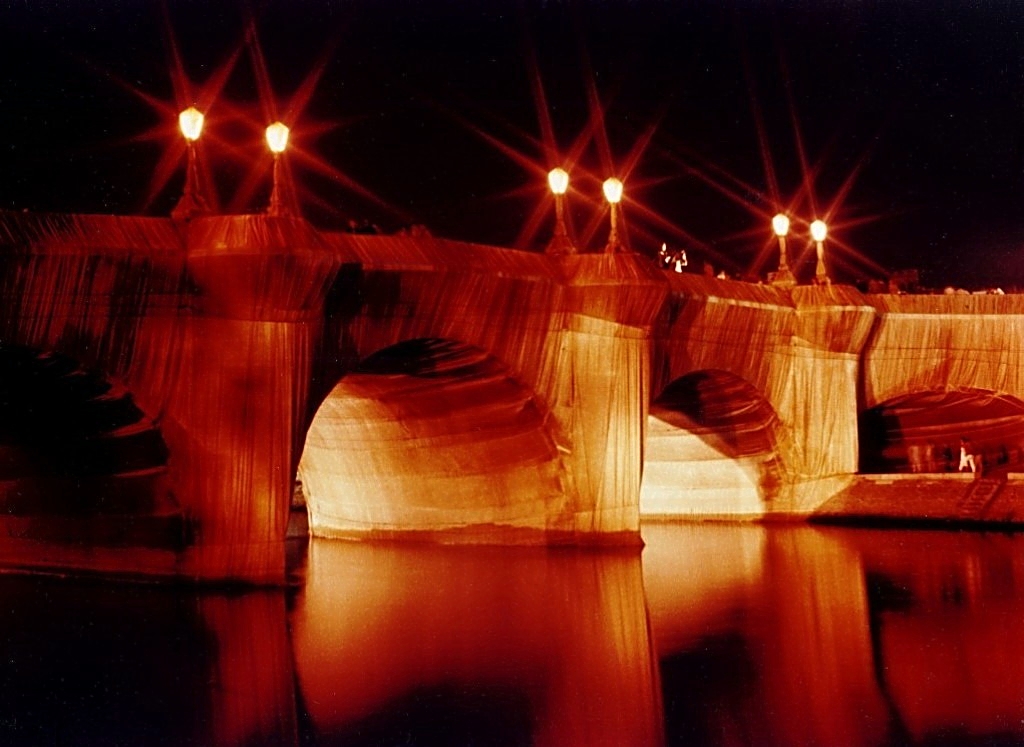 'Pont Neuf' wrapped by Christo (Paris, 1985), image courtesy Wikimedia Commons.
A new practice emerged in the late 20th century, in which teams of two artists working together from the beginning of their careers, making all of their work jointly, have become significant contributors to advanced visual art. Prominent teams of this type include Bernd and Hilla Becher, Gilbert and George, Peter Fischli and David Weiss, Jake and Dinos Chapman, Mike and Doug Starn, Komar and Melamid, and Tim Noble and Sue Webster. Of these, Gilbert and George may be the most influential in creating a successful model of artistic coauthoring. We will look more closely at their collaboration in our next joint post.