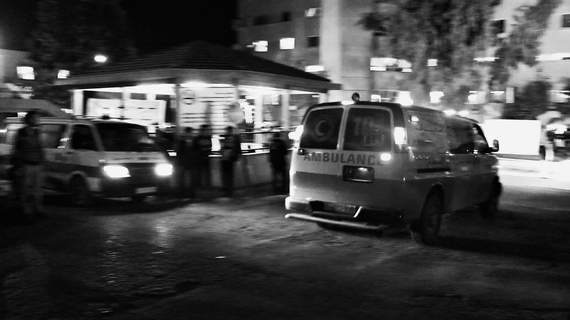 Picture by Gigi Ibrahim
The Gaza Strip is one of the most densely populated places on earth and at baseline has a health care system struggling to meet the needs of its people. Gaza has been under Israeli blockade since 2007, and while Israel has permitted the transfer of health and humanitarian supplies during its long-term blockade of Gaza, restriction of trade and movement has negatively impacted the health of Gazan civilians. The latest fighting between Israel and Hamas has exacerbated this crisis. According to the United Nations, "one third of hospitals, 14 primary healthcare clinics and 29 Palestinian Red Crescent and Ministry of Health ambulances" were damaged in the most recent war. Facilities that remain open are struggling to keep power running by using generators, are running low on critical medicines, supplies and staff, and are overcrowded with war casualties. While Israel knowingly targeted health care facilities and areas nearby, it targeted Hamas fighters who exploit these facilities for guerilla operations against the Israeli Defense Forces (IDF) and Israeli civilians. This strategic decision by Hamas deserves more attention than it has received to date as Hamas has knowingly jeopardized its civilians' own safety and health in pursuit of its own goals.
Two incidents that involved health infrastructure in the recent war gained widespread attention. On July 23, Israel released video showing live fire from the Al-Wafa hospital complex in the Shuja'iya neighborhood of Gaza City. Overlaid on the video, a phone call from the Israel Defense Forces to a hospital worker confirming that no patients or medical staff remain in the building, followed by images of the destruction of the building by the IDF.
In another incident on July 28, a park close to Gaza's largest hospital, Al-Shifa hospital, was damaged in an attack. Israel claimed the strike was a result of failed Hamas rocket fire, while Hamas claimed it was an Israeli airstrike. Pictures of the site tweeted by a Wall Street Journal reporter showing low-scale damage suggest the former.
During the fighting the United Nations and World Health Organization issued a joint
statement
highlighting the health crisis in Gaza calling on both parties "to respect the status of hospitals and medical facilities as protected objects." It also highlighted the health crisis that was unfolding in Gaza. Doctors Without Borders issued a
statement
that was more accusatory,
"Targeting hospitals and their surroundings is completely unacceptable and a serious violation of international humanitarian law... When the Israeli army orders civilians to evacuate their houses and their neighborhoods, where is there for them to go?"
While these statements rightfully address important issues regarding the health crisis in Gaza, they utterly fail in mentioning the root cause of this acute crisis, Hamas' exploitation of its own health care system.
Both in this recent conflict and past, Hamas used health care infrastructure as safe spaces for its political and military leaders, as weapons depots, as sites to launch rocket attacks against Israeli civilians, and as transportation means for its fighters clad in military gear. While during this latest conflict there has been a paucity of reporting on this phenomenon, in the height of fighting a Finnish journalist reporting from Al-Shifa hospital documented that she saw rockets launched by Hamas from the hospital's parking lot. As other international reporters have left Gaza, there have been more reports of Hamas' tactics of launching military attacks from civilian areas -- near hotels where journalists stayed, from schools and mosques, and from hospitals - reporters claim they were barred by Hamas officials from reporting these details while inside Gaza. Israel has released military footage corroborating these accounts.
Hamas' tactics have put Israel in a moral and military dilemma. If it tolerates Hamas' actions by not striking, Hamas is emboldened to continue exploitation of civilian space. If it strikes health care facilities or militants operating nearby, it not only imperils a health care system stressed by limited resources and large numbers of casualties, it stoops to the level of dictators like its neighbor Bashar Assad who has decimated portions of his own country's health care system.
From past experience Hamas understands that the IDF has little qualms about seeking out Hamas operations wherever they lie. By continuing to operate in and nearby health care infrastructure, Hamas has made a calculated decision that its own civilians' lives are less important than the condemnation Israel receives from damaging a health care facility, either intentionally or incidentally. This is a calculation the world largely ignores, and unfortunately as a result those that suffer most are the Gazan civilians.