We now know that minorities have become a majority of America's young. More than half of all infants born in the U.S. last year were minorities or multiracial.
How has this trend affected the real estate industry? One way to study this is to create a picture of the emerging Hispanic home buyer.
The Changing Face of the Home Buyer
According to the National Association of Realtors' "Profile of Buyers and Sellers," whites make up the majority of home purchases -- about 85 percent.
It's the remaining home buyers -- those that make up the other 15 percent -- we are concerned with. When broken down, NAR's data showed in 2011:
Black/African-American made up 6 percent of home buyers;
Hispanic/Latino made up 6 percent of home buyers;
Asian/Pacific Islander made up 4 percent of home buyers; and
Other ethnicities/races made up 2 percent.
These numbers were fairly consistent when compared to the same data for 2010.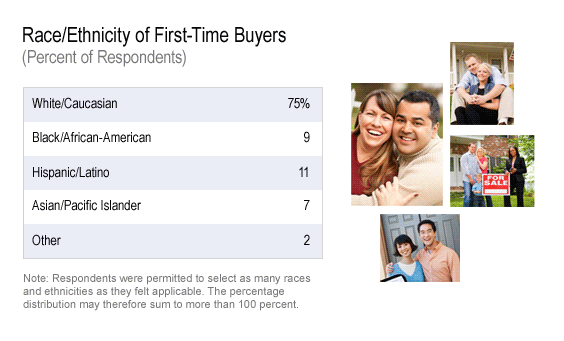 But when we looked at the data for first-time home buyers, a deeper a trend emerges -- an increase in Hispanic first-time home buyers. While whites made up 85% of home buyers in total, they only made up 75% of first-time home buyers. The next largest group of first-time home buyers are the Hispanic/Latino home buyers, which made up 11 percent of all first-time home buyers. This was in an increase of 38% percent over 2010 figures.
"The rapidly growing U.S. Hispanic population is entering the housing market in increasing numbers," said Movoto founder and CEO Henry Shao. "As this segment of the population makes up an ever larger percentage of home buyers, the real estate industry will need to adapt. This is why Movoto has partnered with a network of top-rated, Spanish speaking agents around the country."
First-time Hispanic home buyers are on the rise.
Why are there more so many Hispanic home buyers?
The National Association of Hispanic Real Estate Professionals (NAHREP) stated in a recent report the Hispanic population in America has expanded 3.5 times between 1980 and 2010.
"Because of such population increase, Hispanics were responsible for most of the overall population growth in the country over the past decade," the NAHREP wrote in its "2011 State of Hispanic Homeownership" report. "This continued population trend is expected to provide a strong labor pool, a driving force in the economy, and an increasingly key market for homeownership."
Gerardo "Jerry" Ascencio, NAHREP's president, told Movoto there are a number of reasons for this market trend. In general he said Hispanics:
Are reaching the age of household formation;
Have a high birthrate;
Have high purchasing power; and
Are more excited to buy homes.
"The Hispanic community is still very excited about purchasing their own home," Ascencio said. "For the Hispanic community purchasing a piece of property is much more than purchasing property, it's a way of saying, 'I have arrived.'"
Part of this trend stems from the increase in Hispanic purchasing power. Ascencio said in the next 48 months the country will see a 50 percent increase in Hispanic purchasing power. Put into a dollar figure, there will be an increase from $1.1 trillion to $1.6 trillion.
High Aspirations: Socioeconomic Reasons Behind the Trend
In addition to the increase in population and purchasing power, there are socioeconomic reasons.
Among the factors NAHREP used to point to the potential rise of the "Hispanic Mega Market" are surveys that indicated, in general, Latinos are more motivated than the general population to purchase a home -- for emotional and financial reasons.
"Nobody in the Hispanic community dreams and aspires to be a tenant," Ascencio said.
For example:
56 percent of Hispanics consider owning a home a symbol of success compared to only 32 percent of all Americans.
68 percent of Hispanics are more likely to believe purchasing a home is a good financial opportunity, while only 57 percent of all Americans think the same.
73 percent of Hispanics believe owning a home is a good way to accumulate wealth that can be passed to their families, compared to 57 percent of all Americans.
The story of the housing collapse is well worn. After years of excess the bubble collapsed in on itself and overnight homeowners were underwater. Ascencio argued there is a second story, a generation waiting in line that is just now beginning to emerge.
"That new generation, that is untapped, is ready to jump in now, and that's why there is so much excitement about this," Ascencio said. "This population has been underserved. The American dream is still very vibrant in the Hispanic heart."