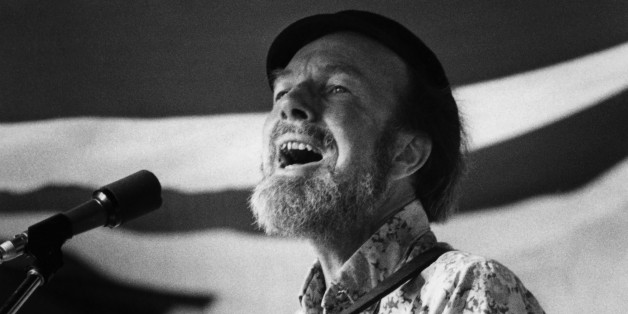 A man who would not be silenced passed on today, yet it's my bet that with his passing, his influence and visibility will become greater than ever. Pete Seeger was an iconic figure who graced our lives with his conscience; his willingness not just to speak out but to take action; and of course his wonderful music.
This is not meant as an obituary, but rather a celebration of the life of one man. Pete Seeger represents all that is great about America. Even for those who might not have shared some of his political views, there is no denying this great soldier for peace and humanity is a great example of just how much influence one caring human being can achieve.
I'll leave it for the news writers to retell the litany of his accomplishments dating from the early days of trade union support, to the indignities of the McCarthy era, to the protests of the Vietnam action and his non-ending support of the clean-up of the Hudson River in New York.
I was one of the lucky ones who, as a college student, had the opportunity to visit and experience the Sloop Clearwater project firsthand. I vividly recall climbing the mast. I don't remember if I made it to the top. But that's unimportant. It was a memorable experience and also one filled with regret that I didn't become more involved in the effort.
But then this was 1969, I had just started college and it seemed there were so many things in which to become involved. The Kent State shooting, the Moratorium days, the Vietnam protests. So much was going on. Two years later, the Watergate scandal erupted. There was lots of non-academic diversion for all students... except, of course, it was all academic... part of the great mosaic of American History.
Today provides an incredible opportunity for Baby Boomers, particularly the first wave born in the late forties through the mid fifties. This was perhaps the group most personally influenced by Pete Seeger. In fact, if you visit the Pete Seeger Facebook Community Page, you'll find that it's most popular with ages 55 - 64.
For many of us, Pete Seeger symbolized all that was great and noble in our country. Many of us were disaffected as the young of all generations tend to be. Here was a man born of our parents generation who "got us." If you were one of the lucky ones like me, your parents got him as well.
Pete Seeger spanned generations of listeners and decades of good deeds. Would that each of us pick up and support just one of the many causes he championed. More importantly, let's become aware of the new and equally important issues of the 21st Century. Then commit ourselves to taking action.
My question for you is, how familiar are your children and grandchildren with Pete Seeger? Because he was a folk singer (although he was inducted into the Rock and Roll hall of fame), he doesn't carry the same visibility or popularity as a Bruce Springsteen or Mick Jagger who are well known by younger generations. However he was arguably the far more societally influential. This is a man who should not become recognizable to the young through a paragraph in a school history book.
Pete Seeger's passing, though sad provides an easy and enjoyable way to initiate a friendly and informative communication with your children.

It's as simple as texting them one of the many YouTube links to Pete's performances. Include a short note saying, "this was a great man who made a difference." I'm sure they'll listen.
I'd like to think that Pete Seeger is looking down upon us all and though modestly appreciative of the adulation, more interested in having us pick up the ball and run with it!