The sad truth of gay film these days is the studios still want little to do with us, and there's not much money for gay indie films either. Yet the demand for LGBT content is higher than ever. That's why crowd sourcing is not only important, but why it's here to stay. It has not only empowered filmmakers, but the LGBT audience itself, to green-light projects we want to see: projects that would otherwise never get made.

That's why I'm currently running a Kickstarter campaign for my new murder mystery, set in West Hollywood, called, Kiss Me, Kill Me. I wrote the screenplay and am producing along with director Casper Andreas ("Going Down in LA-LA Land"). We have attached some really cool gay-listers to star, including: Gale Harold, Van Hansis, Willam Belli, Kit Williamson, Tom Lenk, Matthew Ludwinski, Allison Lane, Jackie Monahan and Jonathan Lisecki. I believe this is not only one way to get an LGBT film financed, but in fact, the only way.

I believe this because I have done this before, two years ago. I had attached another fantastic group of talent to a small gay comedy I had written and was looking to produce called, Such Good People. I had Michael Urie, Randy Harrison, Lance Bass, Alec Mapa, Tom Lenk, Drew Droege -- plus Scott Wolf and Ana Ortiz -- yet still there was no funding. No production company, no studio, no one would fund the movie. So I turned to Kickstarter. In two campaigns, one for production and one for post, I was able to raise over $115,000.00.

By Hollywood standards, that might not sound like a lot of money, but it enabled me to produce the film, which is now completed, and playing in film festivals worldwide.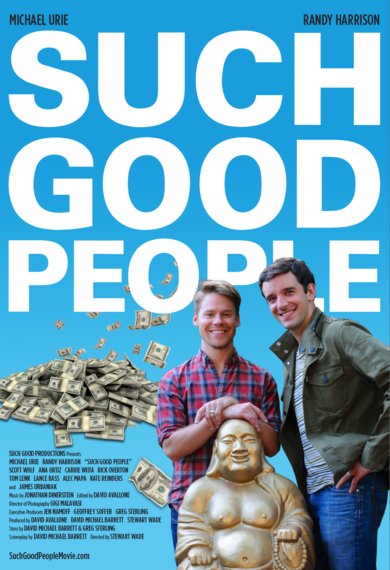 It's a daunting prospect, the idea of putting yourself and your project out to the world and saying: "Please support me." There is also something powerful about planting your flag in the ground and saying, "I am making this movie. Be a part of it." And there is nothing more exciting than when people respond to your project in a way that matters: with money. My campaign enabled me to connect with a vast network of backers from literally all over the world. There were even donations from the Middle East and Russia, where supporting an LGBT comedy could be considered a defiant political act. When you receive a donation like, you can't help but think we are one global community.

There is also something truly remarkable about the risk. The way Kickstarter works is if you don't reach your goal you get nothing. So it creates urgency for your project that is real. So real is this stress, that at this very moment I'm on what I call, "The Kickstarter Diet." I can eat whatever I want and I still lose weight. But in truth, the funding goal inspires you to be all-in. You must literally be willing to risk failure in order to achieve success. And one of the most amazing parts of my crowd sourcing experience was all support I found. Sometimes it was total strangers; a person I met once at a cocktail party years ago; an elementary school friend I haven't spoken to in years; and of course countless closes friends and family. That was both remarkable and inspiring. In fact, it was humbling. Los Angeles is not known for being the most nurturing and supportive town. But I can tell you it can be. I will never forget how much that support meant to me -- and how much it still does.

If you have a movie or project you're passionate about I would highly encourage you to consider crowd sourcing. Find other like-minded filmmakers who share your passion. Attach as many great actors as you can. Refine your message and produce your campaign. Then call, email, IM, and text every person you've ever met, tell them about your project, what you want to accomplish and why. Just like everything else in life, enthusiasm counts. It is crazy but it is possible.

If you'd like to check out the Kickstarter campaign for my new gay murder mystery, Kiss Me, Kill Me, please follow this link: http://www.KissMeKillMeMovie.com