The in-flight magazines carry those "24 hours" pieces, suggesting you can get a flavor for Paris or London or Chicago in a day -- a tantalizing notion for just the type of imbecile who reads airline magazines.
But Ottawa, Ill. is not Hong Kong, and a few weeks ago my wife and five-year-old daughter and I had almost exactly 24 hours there -- lunch Saturday through lunch Sunday.
We had a hell of a good time.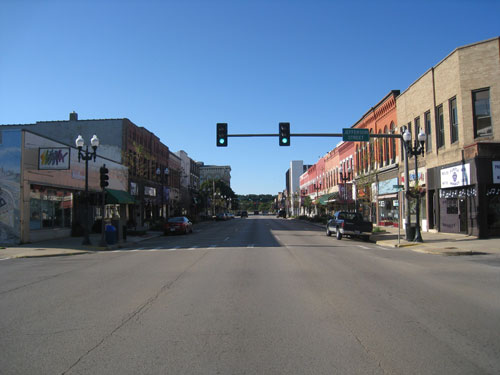 And we pretty much did everything there is for a family to do in Ottawa. (I know this, because I lived in Ottawa for a little while one summer, researching a magazine story. After the assignment was over, I ran into a guy who grew up in Ottawa. He asked if I'd been to a place called the "Lamp Liter." When I confessed I hadn't, he explained that it's a strip club "where you can still get a lot for a dollar." (You can still go to the Lamp Liter in your 24 hours, but it's going to cut into your sleep.)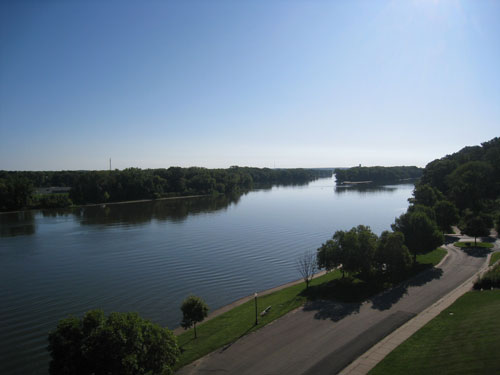 Here's your itinerary, upon your arrival from the 90-minute Saturday-morning drive down 55 and over on 80.
Noon. Lunch at the Beehive Restaurant, where "Fast service is our motto." The only conceivable need for speed is to leave tourists time to ...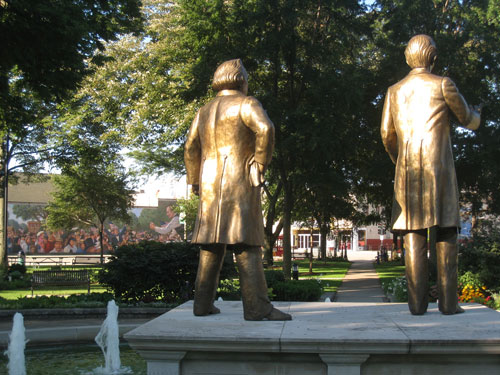 1:00 p.m. Saunter up La Salle St. to the leafy Washington Park to behold Abraham Lincoln and Stephen Douglas at the site of their first debate. They're still going at it after all these years.
1:30 p.m. Now you're off to Starved Rock State Park, originally named for a siege during an Indian war but now a modest feast for Illinoisans starved for topography. Starved Rock is a wonderful place that, for everyone but birders and other nature perverts, can be utterly and completely experienced in the course of an afternoon.
4:00 p.m. Now it's time for golf at Pine Hills, the best nine-hole course in Illinois. Sez who? Sez me, and I wrote this Chicago Magazine story about this secret paradise. But the whole family doesn't like golf, you say? The place is so sweet -- and uncrowded and country-informal -- that one can play and the rest can happily tag along, darting in and out of the deep forest, fooling around on the edge of Kovell Creek and listening to all the noises Chicago overwhelms.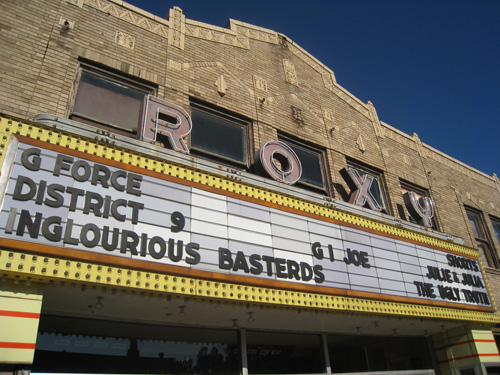 (An alternative afternoon activity, in case someone truly despises golf or nature, is a matinee at the Roxy Theatre on La Salle.)
6:00 p.m. Dinner. At the BP station by the highway, I heard an old lady ask the clerk at the where to find a good steak restaurant in Ottawa. The BP girl suggested Woody"s Steak House, on LaSalle. "Is it good?" the old lady asked. "Yes," the girl replied. That wasn't good enough for the old lady, who came back, "Is it really good?" (For steak -- and irony -- I'm partial to another place, on Route 6 along the river: Monte's Riverside Inn is located hard up against the Fox River, but it has no windows.) Two other places to consider for dinner: The very good Thai Café downtown on Columbus Street, Alberto's Italian Restaurant on La Salle, or the nutty Italian joint Casa-Mia, past the cemetery to the west of town. (Get directions here, because it's hard to find.) Those are your options. All your options. Don't be like the jerky old lady. Pick one and go with it.

8:00 p.m. Back to the Holiday Inn Express for swimming in the indoor pool -- a typical hotel mixture, one part children's urine, 19 parts chlorine -- and fall into bed right after the kids do. You'll be so tired and full of wholesome happiness you won't give any of the dozen taverns in town -- or the Lamp Liter -- even a passing, rueful thought.
***
Sunday, 8:00 a.m. Free hideous continental breakfast for the kids -- and, while you read the paper, one more crack at the pool.
10:00 a.m. I've skydived, and I've watched other people skydive. It's more fun to watch. So ask the Holiday Inn Express clerk for directions to the airport where SkyDive Chicago operates. Even though it is only five minutes from the motel and the number-one tourist attraction in town, she will have no idea where it is. So just get back out on Route 23 and follow signs to the airport. When you get there, you'll park your car, walk through the hangar where veteran jumpers are packing their chutes and first-timers are giggling nervously -- or, even more amusing, trying to appear cool, as they climb into pink jumpsuits. You watch them climb into the airplane by the dozen, you watch the plane take off and climb to 10,000 feet, and then you watch a dozen tiny dots get bigger and bigger and then land right in front of you. All the experienced jumpers walk off with an air that seems to suggest skydiving is their duty. And all the rookies -- the cool ones and the gigglers alike -- say the same thing. The women say the jump was "awesome," and the men say it was "bad-ass."
There's also an old DC-3 at the airport and a cornfield adjacent, so you can introduce your city kids to those, too.
11:00 a.m.Early lunch at Tracy"s Row House. I might have sent you there for dinner last night, but the place has the best peanut butter and jelly sandwich ever made -- as well as a lot of other good food, and it's at a charming location, near The Daily Times newspaper building, at the corner of Jefferson and Columbus.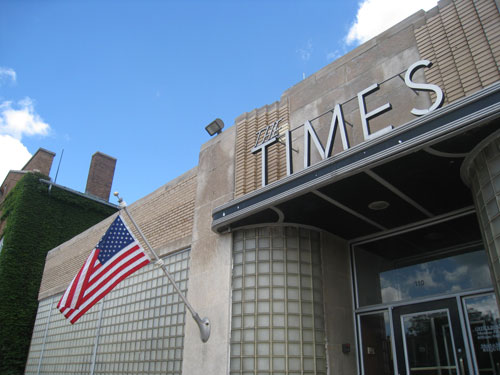 After 24 hours in Ottawa you'll drive home at once utterly sated and anxious to return someday, to do it all again. Which is good, because that really is all there is to do.
(And if you don't believe me, ask the locals.)

David Murray blogs regularly at Writing Boots.