"Men with moustaches? That's hot. Women with moustaches? That's powerful."
It's the month of Movember, and team "Mothan4Men" has decided to get women more involved in the Movember movement through a social media campaign where women are encouraged to show their support by taking a pictures of themselves with their moustaches, then sharing it through different social media sites like Facebook, Twitter and Instagram.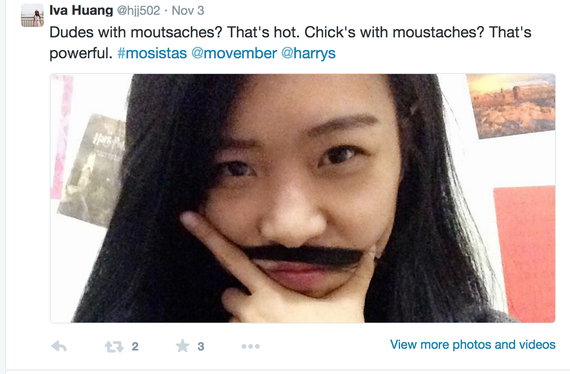 Movember is an annual event during the month of November where people grow their moustaches with a goal of raising awareness for men's health issues, such as prostate cancer, testicular cancer and other mental health problems. According to Movember Foundation, "The Movember community has raised over $559 million which has funded 832 programs in 21 countries, helping improve the lives of men affected by the aforementioned diseases.
Mothan4Men is composed of three Penn students Amy Zhuo, Charles Bagley and Rebecca Chen, and Temple student Nelson Pun. These four students decided to tackle the H'University Movember challenge, and start a campaign to help raise awareness about Movember.
It was Chen and Zhuo who first heard about H'University and the Movember challenge when Harry's Brand Director Erik Kimel gave at talk in the Penn Campus about Harry's social impact initiative H'University which has challenged students to help its partner Movember raise more awareness. Inspired to work on a project with a tangible impact, Chen and Zhuo called up two more of their friends and their team was formed.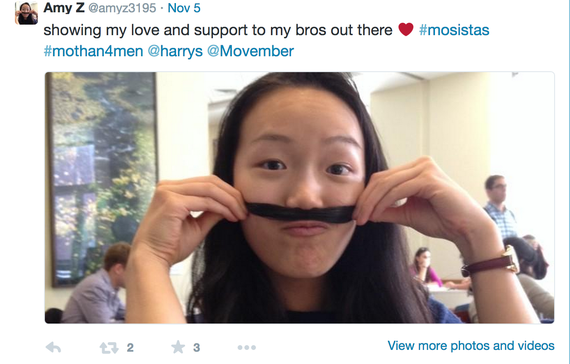 Given that the Movember movement has typically been a movement geared towards men, not many women are aware of the mental health issues men face. Because of this, the team decided to start a campaign that would get women more involved. However, women don't really grow moustaches so the only way women could really participate was through a wink or a nod. So the team pondered, "How could we make women's involvement more visible?"
This is where there social media campaign was born. Chen emphasized how, "Social media is an incredibly powerful tool to start a dialogue. Anyone with phone or camera can join the movement. Twitter especially is ideal for re-tweeting, sharing, and reaching the masses. You can't achieve that same reach with a physical wink or nod, or even donation. "

Chen added, "Up until now, women have been able to give a wink or a nod or donate money to support their male friends participating in Movember. That's great, but we're hoping this can start a real conversation about an issue that is ultimately not only limited to men. At the end of the day, men's issues are women's issues. Women want to help the men that they love. We hope that one day it will be come just as "urgent" as, say, breast cancer amongst women, which garnered support from women and men."
To learn more about the campaign, watch the "Mosistas Can Get Involved with Movember too!" short video produced by the "Mothan4Men" team.
Don't forget to hastag your Tweet/Facebook/Instagram post with with #mosistas #mothan4men, to show that women can add their voice to this discussion as well. Be sure that Harry's and Movember hear your message too by adding @Harrys and @Movember to your posts. The most original posts will receive a Harry's Truman Razor Set.
Happy Movember!
________________
David Ongchoco is a freshman at the University of Pennsylvania majoring in LIFE. During his free time, David loves working on side projects, hearing the stories of others and writing for his blog. Follow him on Twitter: https://twitter.com/DOitChoco