Startup Insider is a series of articles with the goal of helping aspiring founders and entrepreneurs understand the ins and outs of starting a startup. We hope to dig deeper and showcase stories, advice and lessons from founders, investors and other key players in the growing startup ecosystem all over the world.
-----
The Echelon Asia Summit was started back in 2009 with the goal of bringing Asia's top startups, innovators and investors into one conference hall. I got to attend this year's summit, listen to the speakers, speak with delegates and sit down with startup thought leaders in Asia.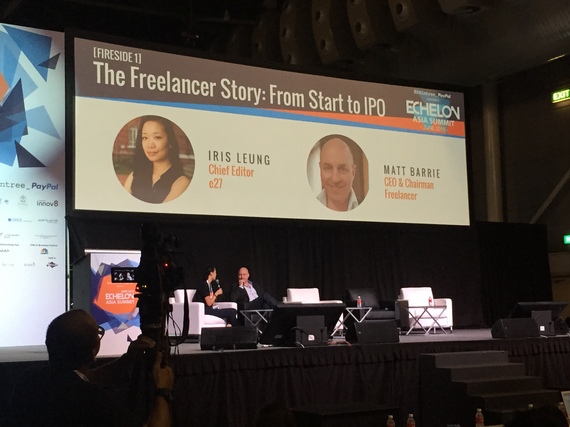 1. 'Architect your career and education'
The Echelon Asia Summit was kicked off with a fireside chat between e27 Editor-in-Chief Iris Leung and Freelancer CEO Matt Barrie. He emphasized the changing nature of finding a career and how it has become really fluid. With Freelancer growing rapidly in Asia, people have been hopping from job to job, building their skills and pursuing careers outside of what they studied in school.
He shared, "It is not just about finding the right career anymore, but it's also about continuously learning and building your skill set."
2. 'Each country in Asia is unique'
Rakuten Ventures Managing Partner Saemin Ahn sat on a panel on how to find the next Unicorn in Asia. We asked Saemin what he thought were the upcoming trends in Asia and he told us how people should stop talking about Asia like it is just one country. He emphasized how it's important for entrepreneurs to think about the unique qualities of each country and how you're going to expand to each one.
3. 'You need someone to tell you it's okay'
We got the opportunity to sit down with Cherubic Ventures Partner Tina Cheng, and she shared with us the importance of grit and being able to stay the course as an entrepreneur. She shared her own experience of running her own education startup prior to becoming a venture capitalist.
While the first two years was met with a lot of excitement along with the challenges that comes with running a startup, Tina's startup was hit with stagnant growth during the third year. This is when she started to question if she was fit to be an entrepreneur. She said, "It's important to have someone, maybe a mentor, to tell you that things will be okay and that you should keep pushing forward. This can be the difference between success and failure."
4. 'Do not forget common business sense'
There's a lot of hype right now in the Asia startup scene especially in emerging markets but Wavemaker Partner Paul Santos, emphasized the importance of not forgetting 'common business sense'. With hundreds of startups popping up all over the region, it becomes even more important to really understand the business model of your startup and how you're going to scale while still being sustainable.
5. 'Look for startups that create whole new categories'

We all dream of creating, finding or funding the next Facebook, Tesla or Google. We're always talking about unicorn companies like Uber and AirBnB. Influitive Founder and CEO Mark Organ introduced a whole new category of companies called, 'Celestias' or what he explained as, 'the category of startups that leads to the creation of whole new startups'. Organ gave the example of Tesla and Salesforce as companies that can be considered Celestias.
As the startup world becomes more crowded, it becomes even more important to enter new categories and be part of that pioneering batch of startups that really disrupt a whole new space.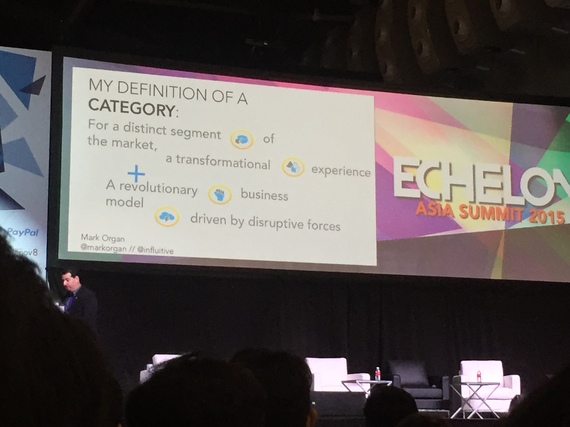 You can sign up to stay up to date with this series here.
---About the Author---
David Ongchoco is a student entrepreneur, avid storyteller and hustler from the Philippines studying at the University of Pennsylvania majoring in what he likes to call, LIFE. He is currently working on expanding his for-purpose organization YouthHack. It's David's goal to make an impact in the lives of as many people possible while constantly learning new things every single day. David can be reached at david@youthhack.net.