Young and Entrepreneurial is a series of articles where I've decided to interview and write about young individuals disrupting the world. By sharing the stories of these individuals, I hope to inspire youth from all over the world to follow their passions, to take the road less travelled and to disrupt the status quo. This is the 18th post in the Young and Entrepreneurial Series. To read previous features and to stay up to date with future features, like our Facebook page here.

***
Stories are a great way to share experiences and memories, and to relate with other people. For Left and Right Artisan Handcraft Founder Eileen Phoan and her cofounder Fabian Tan, stories have been a powerful way for them to connect with their customers from all over the world.
Eileen and Fabian were the Malaysian representatives for the Global Student Entrepreneurship Awards held last April in Washington D.C. Their business Left and Right Artisan Handcraft connects people, and captures moments through the form of handmade jewelry pieces that can be bought in their physical store in Malaysia, or through their online store. Each jewelry piece that they sell comes with a story that explains the inspiration behind the piece.
I came across Eileen's profile after my stint as a final round judge at the GSEA Finals (You can read about my Y&E Feature Coverage of the GSEA Finals here) got me reading more about the finalists that came from all over the world. A few LinkedIn messages later and I was hearing from Eileen herself how everything started.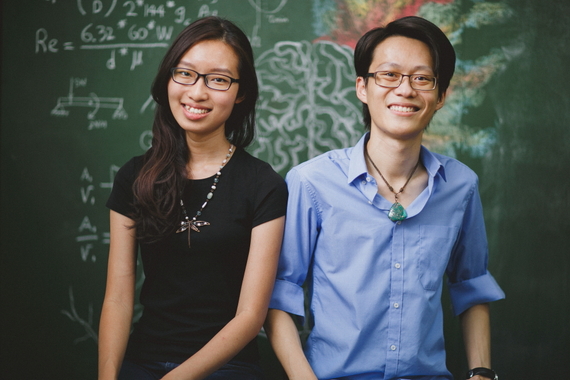 Eileen and her cofounder Fabian
How it all started

The idea for Left and Right Artisan Handcraft started because Eileen and Fabian wanted to raise money for their martial arts club and because they wanted to be financially independent. While initially Eileen was holding two part time jobs, she eventually decided that it would be a lot more flexible and efficient if she just started a business instead.
The name Left and Right Artisan Handcraft was born because while Eileen and Fabian are both mechanical engineers (they're graduating this year), they were also interested in design, so combining their left brain and right brain, their jewelry business was born.
While they had no prior experience in jewelry design, Eileen shared, "We just took out the strings and started to create jewelry and sell. I first thought that jewelry design was hard but this became an opportunity for us to improve our skills."
Eileen recalled how their first designs were quite unbearable. She shared, "We appreciate our first customers who showed their support when we were starting out. The process itself was really challenging, we wasted a lot of wire at the start. We just kept on experimenting." This led to many late night struggles making jewelry until they couldn't move their fingers anymore.
The Power of Stories

Essential to the Left and Right Artisan mission is to share stories with others. Eileen and Fabian take inspiration from the movies, books, quotes and people they meet. They then use this inspiration to create a piece then post the story and inspiration on their social media channels like their Facebook Page.
Eileen shared, "People really like to go on our page and read the stories. This actually encouraged us to continue to be storytellers. The stories that we share are stories people can relate to. This makes them want to get the piece that symbolizes their journey. This is how we're really able to connect with our customers."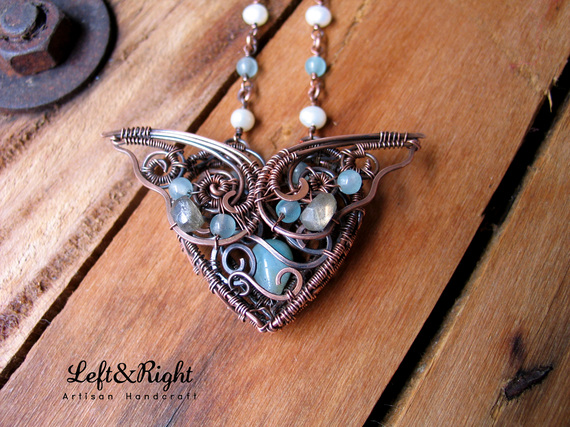 One of the commissioned pieces Eileen made based on a song one of her customers wrote
While Eileen and Fabian started out by selling to their close friends, they eventually expanded to University friends then before they knew it, they were taking orders from people in other countries. Eileen shared, "Our main customers are from the U.S., UK, Australia, Netherlands and Germany. Last year, we sold to 18 different countries."
The Rain Forest Music Festival

One of Eileen's most memorable moments was the Rain Forest Music Festival, an international event they had been invited to set up a booth in. This was also the festival where Eileen and Fabian would get to meet then Entrepreneurs' Organization (EO) Global President Rosemary Tan.
She shared, "This was our second year in business. We made a lot of different pieces mostly wirework. Previously, we only shared the stories through Facebook but this was the first time we had the stories printed out."
One of the more powerful encounters Eileen had during that festival was when this lady came over to their booth three times looking at the same earring. Finally, during the third visit, she asked Eileen why she should buy the earring.
Eileen explained the story behind the earrings, "It's a circle. It has three stones and pearls. The pearl is white, purple, and yellow. This piece is a reflection. Most of the time, when we stand in front of the mirror, we don't see ourselves. The reflection we see is based on the status quo and all the standards that have been included in our mind. This has a big impact on us. We can never see how beautiful or confident we are as a person."
The lady, dressed in a wonderful evening dress in a very hot jungle forest party, started crying. Eileen added, "I think she might be experiencing something in her life and so she bought the earring. It was from that event onward that we were committed to having the story come with our jewelry."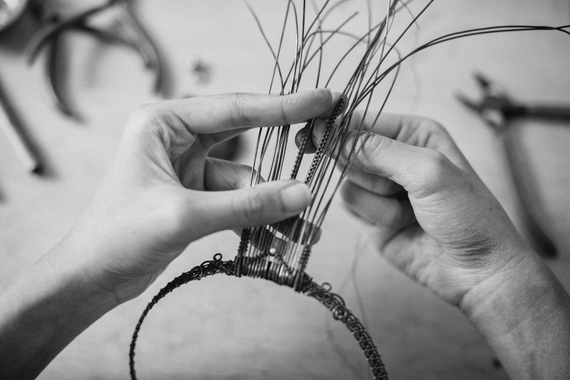 A lot of hard work goes into every single piece they make
The Entrepreneurship Journey

Going on this entrepreneurship journey has taught Eileen that the only constant rule is that everything changes. She shared, "We have all the things that seem to go in the first place then we meet a pitfall."
But Eileen has learned that, "When one door closes, so many doors open up. This type of feeling is so exciting. The second thing I've learned is perspective. Things may seem very challenging and may seem very hard but if we look at things from a different perspective, all of this is opportunity for personal growth. It's really inspiring to see how this impacts others."
Indeed, Eileen saw this force when she got the opportunity to attend the GSEA Global Finals after a chance meeting with EO President Rosemary Tan, who first encouraged Eileen and Fabian to join the GSEA competition when they met in the Rain Forest Music Festival.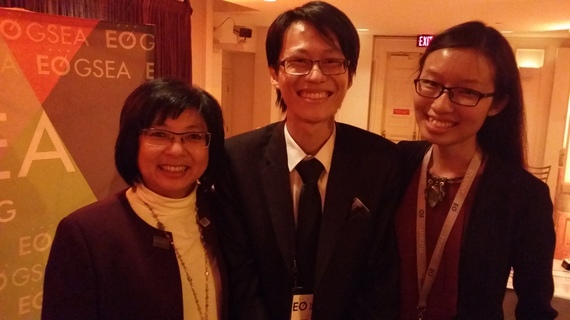 Eileen and Fabian with Rosemary Tan during the recent GSEA Finals
Eileen shared, "It was like a roller coaster ride. We first went to Kuala Lampur. We flew and presented to our mentor for the first time. The first time we shared our story was very engineer like. We didn't know what to share. We had six months of extensive training with our mentor flying back and forth. There are really times when we felt very low not knowing whether we were choosing the right path."
She added, "But there were a lot of times where we received a lot of encouragement. I shared our story during the gala dinner in the Asia finals in the Philipppines. At the end of the dinner, people came and gave us hugs. That transformation itself was really an experience of a lifetime."
What Drives Her

Eileen shared with me her personal story of what drives her to continue telling stories. Back when she was 17 years old, there was a night when she had decided to watch a movie and stay up late, shrugging off her grandmother's reminder not to stay up too late and saying, 'Just don't bother me'. She felt bad afterwards and decided that she would apologize the next day.
However, there was no next day for Eileen's grandmother. She shared, "I was woken up by a very sudden scream. I ran out of the house and I saw my grandmother sitting in the middle of the road and a car had hit her. She passed a way that day. I didn't get the chance to say sorry and say goodbye. For me, that was one of my greatest regrets. To actually remember, I made a dragonfly because I saw a dragon fly in my grandmother's funeral."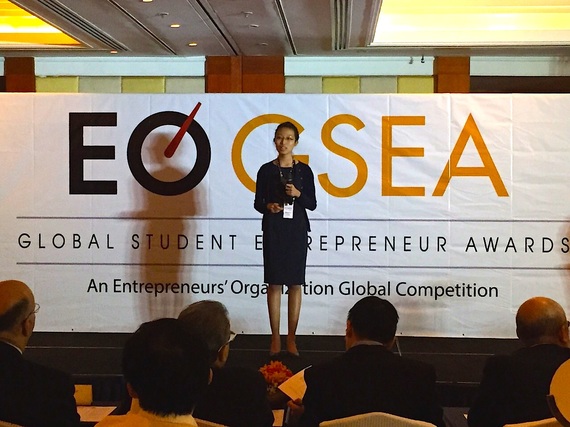 Elieen sharing her story during the GSEA Asia Finals in the Philippines
She added, "There's so much love and 'sorry's' that we don't get a chance to express or say. That's why we have all this jewelry that have these stories to always remind people to seize that moment, to express their feelings with their loved ones and sometimes, with themselves as well. This is what drives me to continue to tell stories."
Future Plans

Eileen expressed her desire to stay in the business and find a way to combine engineering and jewelry making. Currently, they are in the phase of expanding their production team and have been working with communities in Borneo and teaching them how to make jewelry.
She shared, "We've been working with a group of people who are physically challenged with disabilities and down syndrome but they are very good with making paper bags. And every time they see us, they have a lot of stories to tell us."
She added, "Entrepreneurship is a force. It's a force to inspire and to create more movements. It's just like a stone you throw in the pond to create more ripples."
Indeed, the Left and Right Artisan Handcraft story in itself is already making a ripple effect in the lives of people from all over the world one piece jewelry and one story at a time.
You can learn more about Left and Right Artisan Handcraft by visiting their website here and their Facebook page here.
David Ongchoco is a student entrepreneur and avid storyteller from the Philippines studying at the University of Pennsylvania majoring in what he likes to call, LIFE. He is currently working on expanding his nonprofit organization YouthHack. It's David's goal to make an impact in the lives of as many people possible while constantly learning new things every single day. David can be reached at david.ongchoco@gmail.com