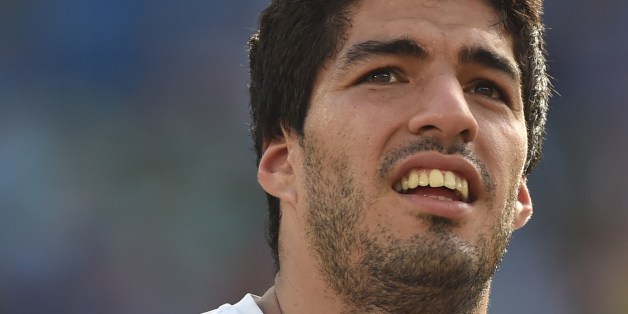 Zinedine Zidane had head-butting and stamping on opponents.
Diego Maradona had his drug addiction -- cocaine, primarily.
And now Luis Suarez has his inclination to biting opponents.
Regardless of your feelings about his playing style, Suarez will be remembered not for the 31 goals he scored in 33 Premier League games last season, but for his maddening penchant for biting opponents. And remember, he missed the first five games of the Barclay's Premier League, because he was suspended for -- you guessed it -- biting an opponent (he also missed one FA Cup game).
I think we can all agree that's a shame. Players should be remembered for their playing skills, not for their proclivity for sinking their teeth into opponents. Luckily for Maradona and Zidane, they both won a World Cup before yielding to their addictions and violent outbursts. Suarez won't be as fortunate.
His inexplicable actions will only be exacerbated by his post-game attempt to wave off any wrong-doing.
"There are things that happen on the pitch and you should not make such a big deal out of them," he said.
In the heat of the game, things do happen on the pitch. But in all my years of playing and watching the game, the only person I've ever seen bite an opponent was/is Luis Suarez.
A little bit of contrition on the part of the offender goes a long way come sentencing time (sentencing is likely to come sooner rather than later), everyone knows that. Uruguay's -- and Liverpool's for that matter -- PR team would be wise to have him issue an apology or at a minimum keep him quiet.
Barring FIFA dropping the ball (not completely unlikely), Suarez's World Cup is probably over. FIFA can opt for a whole range of punishments. They could ban him for the rest of the tournament -- a slap on the wrist, if you ask me. They could go further by issuing a time-based ban -- up to 24 months, according to Article 19 of the FIFA code. And there's even the possibility of a worldwide ban, which means Suarez's availability for Liverpool could be in jeopardy.
There's no precedent (that I could find) in which FIFA issued a worldwide ban for violent conduct on the pitch. Mauro Tassoti received an eight-game ban for elbowing Luis Enrique during Italy's World Cup '94 quarterfinal match with Spain -- just like this case, the referee didn't see the incident. But the ban didn't extend to his club career. When Zidane was suspended for head-butting Marco Materazzi, the three-game ban only covered games for France -- it really didn't matter, as Zidane had already announced his retirement from soccer.
There has, however, been instances where players were banned from international play for anti-doping violations while with their club teams. Most famously, Rio Ferdinand was suspended for eight months for simply missing a post training session drug test -- he had returned after remembering, only to be told testing was over. The FA included an England ban in that suspension. Another player was Edgar Davids. While playing for Juventus, he was suspended for several months in 2001 for a positive drug test -- nandrolone. The suspension included an international ban as well. In both of these cases, however, testing was conducted by the local federation and not FIFA.
The bottom line is if a suspension is coming, only FIFA knows what exactly it will entail. It's likely they'll take as long as possible before coming to a conclusion -- something I can applaud. They need to get this right, send a message, and restore some legitimacy to their organization.
Even more disappointing, however, is that this incident is yet another example of brilliant athletic talent with a troubled, tortured mind. No one can doubt his mastery of the game in the attacking third, he's arguably the best finisher in the game. He leaves spectators on the edge of their seats, waiting, anticipating, salivating at what he may do next. But none of that entertaining quality can ever make up for what he's done -- for the third time. His brilliance against England -- and in last season's near championship for Liverpool -- has been undone by what can only be described as an deranged, visceral act against Giorgio Chiellini.
Luis Suarez needs help. And for the first time his skills won't be able to hide his deeply disturbing behavior. It may even take a self-imposed sabbatical from the game to seek the treatment and help he requires.
As a fan of the game, I hope he finds that treatment. I hope he can get back to the form he illustrated last season. But I hope he comes back without the instincts to lash out at the players he competes against. I hope he eliminates that part of game. It will only make him -- and the game -- better.