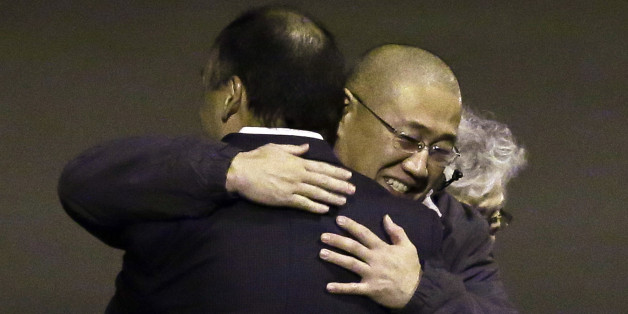 On Saturday, November 8, 2014, I woke to the news that Kenneth Bae, an American held captive in North Korea for over two years, was finally freed and on his way back home. Also released was another American, Matthew Todd Miller. Elated, relieved... there is not a word to describe the emotions I felt upon hearing about Kenneth's release.
To give you some background on myself, I worked in finance for many years, then branched out into the worlds of sports management, entertainment and a myriad of other business endeavors. I've worn many hats in my time, but none has meant more than the work I've done to bring awareness to Kenneth's imprisonment.
After Kenny Anderson, former NBA All-Star and my partner in my sports agency, went to the DPRK, I was made aware of what was going on in North Korea. I then learned of Kenneth Bae when I saw Dennis Rodman talking on TV talking about him. After reading up on the situation, I emailed Kenneth's sister and offered my support. The following week, Kenneth's sister, Terri Chung, and Kenneth's mom came to New York to meet with me. This led to the inception of #BringBaeBack, a social media campaign to urge Kenneth's release. Kenneth Bae is a missionary and the Bae family are people of great faith. As the great-grandson of a rabbi, I was drawn to them and wanted to assist in any way that I could.
I was honored and fortunate enough to have the opportunity to meet with Kwon Jong-un, DPRK's ambassador to the United Nations, on several occasions. We discussed our shared desire to resolve the situation. During our last meeting, just a few days before Kenneth's release, we affirmed that we wanted the same thing. I believe that this line of open and honest communication was one of several reasons that ultimately led to Kenneth's safe return.
I am so grateful to all involved in the effort to #BringBaeBack and my heart is happy to know that the Bae family has been reunited. They deserve all the peace and joy in the world after this ordeal. Diplomacy, devoid of ego or arrogance, is the greatest way to heal the relationships in our global family. Kenneth is free, but others remain prisoners of circumstances and conflict around the world. Let us work together and be the change that brings them home.