Dateline: Austin, TX -- The bird gets a bum rap. As the always effervescent South By Southwest multimedia festivals explode here every year at this time, the thousands of visiting movie, web and music buffs will often complain about Austin's ubiquitous blackbird.
They regard this humble bird (who itself can't exactly rejoice in its scientific name Turdus Merula) as something of a downer.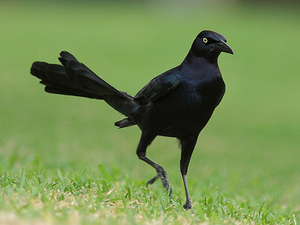 Its incessant, harsh call -- evoking Edgar Allan Poe's raven of doom -- plus its deepest jet-black silhouette (though lustrously violet-blue when the March Texas light catches it) and the beady unblinking eye punctuating that blackness, create uneasy agitation among the human lines stretching for blocks outside every over-subscribed festival event. And when the daily vast hordes of the "grackle," to use its vulgaris name, gather menacingly on the telephone lines overhead they're paying a discomfiting homage to Alfred Hitchcock's capacity for terror.
Aptly enough, the film section of the festival has utilized the Texas grackle -- in a scarily animated form -- as a recurring character for their stern interstitial pronouncements when movie-screenings begin. It might even make phone-using offenders in the auditoriums fear for their life. One especially vicious cartoon bird dives down and rips out a talkative moviegoer's tongue...
But grackles are in fact rarely seen inside the festival venues, which fill the cavernous Austin Convention Center and overflow throughout the town's many theaters, bars and hotel function rooms. Indeed there was nary a discordant note in any of the sessions I attended.
More's the pity. I could have really done with the occasional intrusive, contrary squawk.
The Interactive division of SXSW -- to use the branded acronym -- played host (via remote link-ups, inevitably) to three prominent leakers: Edward Snowden currently of Moscow, Julian Assange currently of the Ecuadorean Embassy in London and Glenn Greenwald currently billed still as of The Guardian -- though now going independent with The Intercept. (And incidentally Greenwald was contributing from Rio de Janeiro, but he had to leave his home there to transmit from a big city hotel, where the internet connection was better.)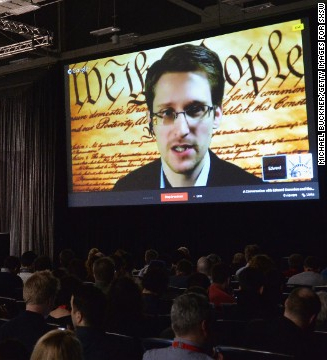 All three took part in Q & A sessions with SXSW attendees... but for all the controversy stirred up outside the festival -- at least about having the two fugitives in the lineup -- the mood inside was entirely that of visiting preachers addressing the choir. One side-observation: It was intriguing to see Assange so strongly out-wattaged in appeal and in effect among this geeky audience... his 15 months of fame do seem to have expired a while ago. (He wasn't helped by his Skype connection being iffy, compared with the Google Hangout technology that worked so well for Snowden, not to mention the e-NSA contractor's canny on-camera positioning, with the "We the People" opening to the U.S. Constitution serving as his backdrop.)
By way of some contrast, a SXSW regular, danah boyd -- the perpetually lower-cased internet sociologist (pictured above) -- was gratifyingly the originator of challenging propositions. Her new book It's Complicated: The social lives of networked teens (from Yale University Press) argues, on the basis of nearly a decade's worth of field research, that -- contrary to a still widespread shibboleth among parents and the media who want to frighten them -- internet use is quite simply not harmful to teenagers. Indeed, it actually functions as a valuable antidote to the many deplorable late 20th century developments that have seriously cramped and stunted life for teenagers in America and other western industrialized societies.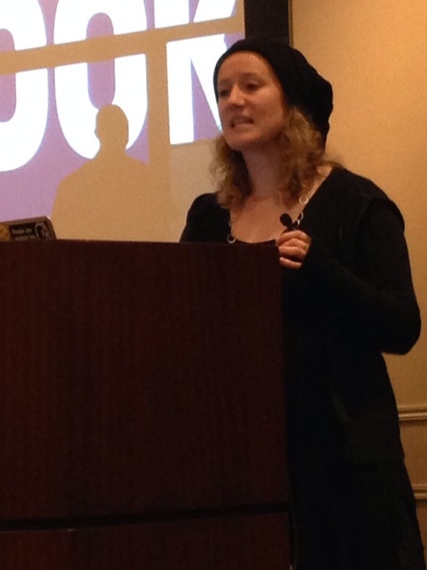 As you might expect, in the SXSW context -- addressing a crowded session -- boyd also seemed pretty much to be preaching to the choir with her theme. But it was instructive to accompany her as she carried her message well outside the festival. (She's a relative of mine, I will add whenever I write about her work, in full disclosure of interest... a disclosure also of some pride, I must admit.)
At BookPeople, Austin's leading -- and unalloyedly magnificent -- independent bookstore, boyd encountered the same somewhat awestruck reaction as she's met elsewhere in her bookstore tour from Charlottesville to New York to Seattle. And it was a decidedly different response from her experience at "South By" (to now use its habitués' familiar, almost familial diminutive.)
Her bookstore audiences, which of course proportionately contain many more parents and grandparents than ever get to attend internet festivals and conferences, are typically astonished to learn what's really going on in teenagers' busy communication with each other online. Some (and tantalizingly only some) of American youngsters' cryptic verbal and visual references get decoded by boyd... and more importantly some parental worries... about the "dangers" lying in wait online for their young charges... about "internet addiction" running rampant... and so on... get laid, if not to rest, then at least ascribed realistically to more appropriate sources and causes.
As boyd says,
Rather than resisting technology or fearing what might happen if youth embrace social media, adults should help youth develop the skills and perspective to productively navigate the complications...
And some of us older folk, still perhaps reflexively viewing with disdain young people's abundant use of online social networks, should take note of this endorsement of boyd's book. Longtime charity worker in both the U.S. and UK, Stephen Balkam says: "Astute, provocative and hopeful, this is a must-read treatise on teens and their digital lives." And Balkam happens to be the founder of the Family Online Safety Institute.
* * * *
Read more of David Tereshchuk's media industry insights at his regular column, The Media Beat, with accompanying video and audio. Listen also to The Media Beat podcasts on demand from Connecticut's NPR station WHDD, and at iTunes.