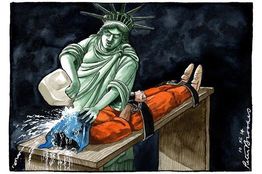 Mercifully, there are some media outlets that don't always, with big stories, merely plow on ahead heedlessly to the next big story. These more thoughtful news organizations will moderate their innate devotion to utter novelty, and stay awhile with already familiar news ... in order to analyze it, ponder it, and even more gratifyingly sometimes, dig deeper into it.
That's what happened this week with The New York Times, which is often (again thankfully, in my view) not afraid of looking a bit stick-in-the-muddish when it sets about mining a seam of truth, and then mines and re-mines it.
Stick-to-it-ness is actually what the Times was offering, after Senator Dianne Feinstein's Senate Committee report last week on CIA torture got pretty much the shrift that could be expected across the American media landscape as a whole. Coverage was more often than not partial and partisan, and when considered overall it still quite simply amounted to far too little, set against the moral and political momentousness of the subject. And then, in most mass media settings it simply faded fast away.
The Times' distinguishing persistence, however, gave us extra thoroughness each day (and each day-part, too, at the frequently updating nytimes.com) leading notably to a story that again led the front page a full seven days after the Feinstein report was first published - a story concerning two men who made millions out of the torture.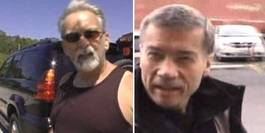 They are of course James Mitchell and Bruce Jessen (pictured left courtesy of ABC News), described as psychologists who got in early on the business of Enhanced Interrogation Techniques (to use the anodyne official euphemism for torture, which of course has its equally vacuous acronym EITs).
While Times editors composed an overarching headline, "C.I.A., on Path to Torture, Chose Haste Over Analysis", to reflect the almost 2,000-word article's general thrust, it was one specific, and thoroughly jolting, fact that most sharply illustrated that appallingly non-analytical hastiness on the Agency's part. By only the piece's second paragraph (not exactly a case of burying the lede) reporters James Risen and Matt Apuzzo had begun to relate how Mssrs Mitchell and Jessen were put in place, as developers of the torture regime, in an official decision that took only a few hours to make, spaced out over the span of one single day - April 1st, 2002.
(The traditional name for that date in my original home-country, a label that stresses not the month so much as the entire breadth of folly, is All Fools' Day ...)
Aided by the welter of confusion and desperation that coursed through the so-called "Intelligence Community" after the 9/11 attacks, it took only a few months during which according to the reporters "little debate or vetting" took place before Mitchell and Jessens were enabled "to design, lead and direct harsh interrogations" on behalf of the CIA.
It wasn't long, either, before Mitchell and Jessen were well on course to receiving, as the subcontracted entity Mitchell, Jessen & Associates, a total of $81 million in US taxpayer dollars, estimated as a minimum - until, that is, the whole vast horror-show was closed down by President Barack Obama in 2009.
It isn't as if these facts were not already in the public domain to some degree - though the thickets of obfuscation have been especially obdurate over time. The Feinstein report itself was still using pseudonyms for Mitchell and Jensen last week, even though the investigative unit of ABC News, to name one set of journalistic diggers, had identified the pair by their real names in 2009, and other reporters too have homed in on the luxurious pieces of real estate the psychologists had each been enabled to purchase, in Mitchell's case on an expansive Florida waterfront plot.
So, while little of this information is exactly new, The Times was absolutely right to give it fresh prominence, not least because so few US outlets have been doing the same over the past week or so.
But cast our eyes further afield, beyond the USA's own shores, and we will readily see how far this "abhorrent" story (to borrow a word from the CIA's own current Director, John Brennan) has pervaded the consciousness of people who care about such matters.
Indeed it's dispiriting how ho-hum the reaction has been within this very country that for so many generations has held aloft a shining light - and attracted citizenship-seekers (myself included) - proclaiming a truth held to be self-evident: that human beings are endowed with certain unalienable rights.
It was during an episode, written well over a year ago by British playwright David Hare, of his TV spy-drama, the John le Carré-influenced Worricker Trilogy, that I was struck by the realistic, matter-of-fact presence of shady American characters, living in sumptuous Caribbean luxury and identified locally as "businessmen" or "security specialists", who had made their fortunes out of torture and secret prison-building around the globe, at the expense of the US Treasury.
People everywhere now see torture as a quotidian trope for American behavior in the world. Hence the cartoon, by the incisive artist Peter Brookes, that is reproduced at the head of this article, showing Lady Liberty hard at work waterboarding.
It was first published not by some radical leftist organ of protest ... but in the Rupert Murdoch-owned, UK Conservative-supporting (and also US Republican-supporting) Times of London.
****
Read more of David Tereshchuk's media industry insights at his regular online column, The Media Beat at its new site. The Media Beat podcasts are always available on demand from Connecticut's NPR station WHDD, and at iTunes.