From London, BBC World Service Radio is promoting, world-wide of course, a forthcoming special devoted to a quintessential bit of American history.
It's the story of Rosa Parks, the now-famous anti-segregationist who at the early point of 1955 boosted the Civil Rights movement toward being a major national force with her brave refusal to give up her seat to a white man on a Montgomery, Alabama city bus.
Trouble is, the BBC's timing is just a little off -- or at least a tad late. The radio trailers currently being aired say breathlessly that the broadcast is "Coming Soon." It had better be soon, since much is made in the sales-pitch about the program marking the occasion of Mrs. Parks' birth being 100 years ago.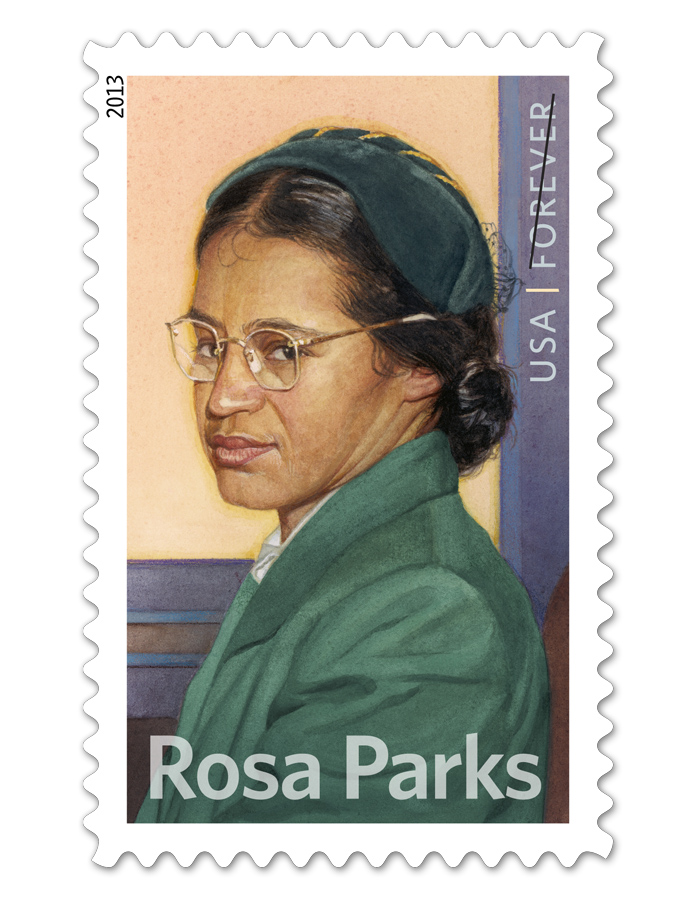 The redoubtable Mrs. Parks was born Rosa Louise McCauley in Tuskegee, Alabama on February 4th, 1913. So her centennial has now well and truly passed -- by a good fortnight, to employ a good old-fashioned BBC time-measure. And that's a pretty big time-measure, of course, in today's fast-paced news cycles.
I've been well-imprinted with that February 4th centennial date by three things.
One: The U.S. Senate designated that day as "Rosa Parks Day", proclaiming its purpose "to inspire all people of the United States."
Two: On that same day the U.S. Postal Service issued this year's "Forever" first-class stamp that bears Rosa Parks' portrait (above).
Three: After several weeks' production-work, PBS aired during the weekend preceding February 4th, which fell on a Monday this year, a segment that (to practice full disclosure) I produced and reported for the Religion and Ethics Newsweekly show. As well as celebrating her life, the piece also highlighted a sad fate that's befallen her historically vital personal papers since her death in late 2005.
Watch it here:
Watch The Rosa Parks Papers on PBS. See more from Religion & Ethics NewsWeekly.
* * * *
Read more of David Tereshchuk's media industry insights at his weekly column, The Media Beat, with accompanying video and audio. Listen also to The Media Beat podcasts on demand from Connecticut's NPR station WHDD, and at iTunes.