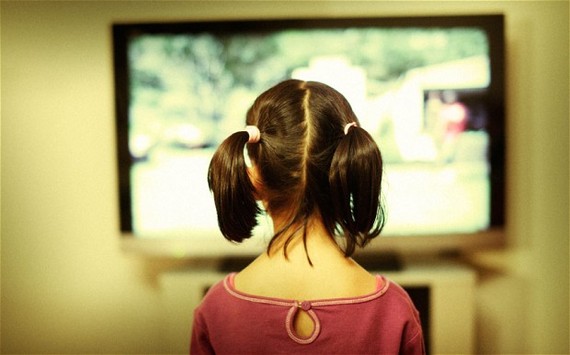 Are you part of the problem?
8 a.m. Wake up, pour coffee, get paper. After reading about bloodshed and war, move on to the Entertainment Section for much-needed relief. Tonight is the debut for Stalker and I can't wait. Love the image of Dylan McDermott holding a gun, cause he was so sexy holding a gun in Hostages and holding a gun in American Horror Story. And someone gets murdered in the first five minutes! I can't get enough. It's by the guy who created The Followers, in which crazy people run around stabbing innocent folk. Miss that show.
9 a.m. Make note to add November Man to my Netflix account. The advertisement shows sexy older man Pierce Brosnan holding a gun. He looks so cool and masculine with a piece. Just like he did back when he was licensed to kill as James Bond. Sexy men holding firearms are a turn-on.
10 a.m. Walk dog. See huge billboard for new show, How to Get Away with Murder, starring that adorable Viola Davis. Can't wait to see it again, as the first episode had a great, gory ending, and it's created by Shonda Rhimes, who's made some of the cleverest, goriest plotlines ever on Scandal. Remember those torture scenes with the cute love interests? Howl-Ing! And the assassination attempt on the President? Homeland had an assassination plot too. Love that kind of intrigue.
11 a.m. Make note to DVR Intruders, that show in which a family is massacred on the first episode, and a weird man wanders around killing folks. I love how the camera angles always show the gun as if it's in our face! It's scary, creepy fun. Hope they murder the little girl.
12 noon. Head downtown to meet friend for lunch. Notice ad for The Equalizer at the movie theater, with Denzel Washington holding a gun. He's so cool, and the movie made a killing at the box office last weekend. Must see before it's gone.
12:30 p.m. Arrive at subway platform: Notice ad for new Debra Messing show (the kooky Jewish girl from Will & Grace), carrying a gun in her pants while cute kids grin. Looks like fun, and we need a sitcom to make us laugh.
12:35 p.m. See ad next to that one, this one for that Liam Neesam movie that looks scary. He's holding a gun, and there is nothing sexier than Liam with a gun. Except...
12:37 p.m. ... Right next to that ad is one for the final season of Sons of Anarchy, with a sexy biker guy from the back, with a gun sticking out of his pants. Kind of like Messing, but more menacing and really hot. Must watch! Subway ads are the coolest.
1 p.m. Get off subway and see giant bus ad for Stalker, billed as the "scariest show of the season." The poster shows a guy in a hoodie with a blank face. That is scary, cause it reminds me of that black Florida kid who got shot. Cannot wait for tonight.
1:30 p.m. Meet friend for lunch. Discuss The Leftovers, especially the episode when Gladys was stoned to death, and we saw every gory detail of her torture, and the last episode of True Blood, in which Sookie put a stake through Bill's heart and Eric and Pam decided to torture Sarah Newlin. That show was so funny! The escapism of its premise will be missed, especially in these challenging times.
2 p.m. Continue lunch while lamenting how much we miss summer. My friend's favorite movie was Lucy, where adorable Scarlet Johansson shot up all the bad guys, over and over again. What do they use for all that blood? I liked Snowpiercer, where most of the bad guys and good guys were axed to death. Some called it the "thrill ride of the summer." We both avoided Woody Allen's rom-com, however, as he's creepy.
2:30 p.m. Switch to binge-watching discussion. I loved Breaking Bad, the classic tale of the high school teacher who turns into drug kingpin, then shoots his brother-in-law and about half the drug lords in New Mexico, and recruits that poor addict kid whose girlfriend overdoses and who has to start shooting people too. Love it! Especially that remote-control machine-gun bloodbath ending!
My friend got hooked on Fargo. I, too, was barreled over with laughter when the lead murdered his wife with a hammer on the first episode, right before Billy Bob Thornton shot everyone else in Minnesota. Love that kind off off-beat humor. Don't care for Game of Thrones, though. Too violent for my tastes.
3 p.m. Head back to the subway and--wow, another one!--see ad for that movie The Drop, starring the late James Gandolfini. Damn he was good on The Sopranos, playing that hopelessly loveable Tony Soprano, a guy who sees a therapist in between ordering mob hits. Classic TV. The poster shows a gun holding up a bridge. That is way cool artwork.
4 p.m. Catch up on my leisure reading. I see that Paul McCartney is doing the music for a new video game called "Dynasty." He's still working after all these years. And the photo shows some cool robot-like creature holding a huge gun. It must be good.
5 p.m. After a quick bite, it's time to catch up on my shows. I've DVR'd so many I don't know where to begin. That new movie The Rover is On Demand. It stars that adorably cute Robert Pattinson from those vampire movies, and in it he and Guy Pearce travel around Australia and shoot pretty much everyone they run into. There's a gun in every scene! Seriously, what do they make this blood from?
6 p.m. Look at news. Whoa, a man with a knife made it into the White House and an armed felon rode an elevator with Obama. You can't make this s*** up!
7 p.m. The Walking Dead doesn't start for another week, and I'm so bummed. I love it when Michonne axes all the zombies in the head (Oh, come on, people, they're not alive!), or when the governor decapitated the old man or when the lead murdered his best friend. Who's gonna get eaten or shot on the premiere episode? Guess I'll have to wait.
7:30 p.m. I'll catch up on last year's The Americans, in which that cute girl who played Felicity now plays a Soviet spy who kills enemies with her husband, the sweet gay guy from Brothers & Sisters. So glad they both found a great new show.
8:30 p.m. The Strain? Seriously? It's a ludicrous sci-fi show in which a bunch of vampire-type creatures run around New York eating people with their tongues. You have to shoot them in the head or cut off their heads to kill them. Not scary at all and we've seen it all before. Snooze...

9:30 p.m. About to watch Stalker, but must double check TV to make sure everything's recording. I added Gracepoint, a ten-episode murder show that I hear is good, the final season of The Killing, which I can now stream on Netflix!, and, oh look, there's a new show called Peaky Blinders, about mob hits in early 20th century England. Sounds like Boardwalk Empire, about mob hits in early 20th Century Atlantic City. How will I find time to watch both?
10 p.m. Time for Stalker!
11 p.m. Wow, what a disappointment. Yes, a girl gets burned to death in the opener, and Dylan McDermott shoots a guy at the end, but it was dull and unimaginative, with some silly sexual overtones in between the main girls being traumatized. What a waste of time.
I wish 24 was still on. Kiefer Sutherland's bloody show takes place in one day, in real time, with shoot-the-bad-guys fun in every hour. Almost like CNN. Now that's entertainment!
I love all those shoes. Am I part of the problem?