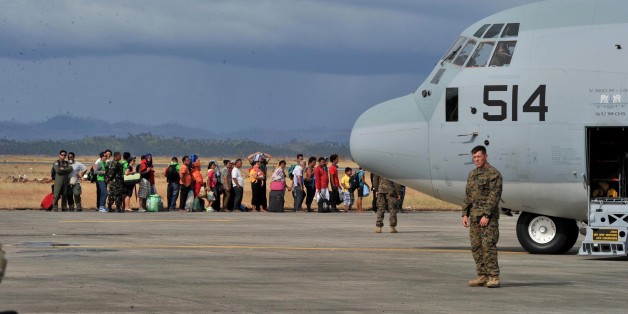 In the wake of Super Typhoon Haiyan and the devastation of the Philippines, the international community, led by the United States, has attempted to respond to alleviate the suffering and avoid a further humanitarian disaster. However, one nation's response (or lack thereof) has clearly surprised observers. China has been noticeably muted in its response to the Philippines' plight even as it has positioned itself as the leading power in the Asia-Pacific region.
Beijing's failure to exploit what seems like a clear-cut opportunity to bolster its image and shift to a more responsible and reassuring posture underscores the depth of the divisions between China and its smaller Southeast Asian neighbors, and highlights conflicting impulses driving China's foreign policy. The increasingly nationalistic tenor underlying China's more assertive foreign policy in recent years has all but replaced the softer, more cooperative tones of assurance that marked its policies for much of the last decade, and fears that China's growing "soft power" would facilitate its rise to regional preeminence at the expense of the United States seem like a distant memory.
The concept of soft power was first coined by Harvard scholar and former U.S. Defense Department official Joseph Nye in 1991. In short, "soft power is the ability to get what you want through attraction rather than coercion or payments. It arises from the attractiveness of a country's culture, political ideals, and policies." As the leader of the West during the Cold War of the larger globalizing international system after the fall of the Soviet Union, America's soft power is based on a long track record of doing good in the world and upholding ideas and values that others seek to emulate.
The concept quickly moved from the halls of academia to Washington policy circles and beyond, often being invoked as a critical component of an optimal U.S. foreign policy. Just last week, Secretary of Defense Hagel alluded to its importance in his speech on U.S. defense priorities. After the perceived failings associated with an overly militarized foreign policy under the George W. Bush administration, soft power seemed like good tonic for repairing the damaged American brand and improving relations abroad. However, as it spread, (through no fault of Nye's) the meaning of the term became diluted and essentially became a buzzword for "influence."
Aside from the United States, perhaps nowhere was the concept of soft power deployed more often in recent years than in relation to the rise of China. Experts argued that Beijing sought to assuage the fears of its neighbors by embracing a soft-line policy, a "charm offensive," couching China's growth as a "win-win" for smaller states in Asia to deepen trade and economic ties. China also built extensive new relationships in Africa and Latin America to obtain access to energy and natural resources and to open new markets for Chinese goods and investment. Focusing on China's rich cultural heritage and history, as well as China's potential as an alternative developmental model to that of the prevailing neoliberal Washington consensus, Beijing seemed to effectively implement a soft power strategy that would allow it to avoid sparking the often fears generated by rising powers.
That soft power strategy has seemingly taken a backseat since 2010, when disputes over territories in the East and South China Seas flared. Over the past three years, China has been much more assertive in staking its claims which, in part, contributed to the so-called "Pacific Pivot" under the Obama administration. In particular, China's dispute with the Philippines over various islands and reefs in the South China has been acutely hostile. Despite China's shows of naval muscle, the Philippines have remained defiant. While access to potentially rich energy and mineral deposits beneath the disputed islands are China's primary concern, the surrounding waters are also critically important to the Filipino fishing industry.
Rather than aiding its smaller neighbor in its time of need, it seems that Beijing is showing Manila the costs of its intransigence. Despite the severity of the disaster, Beijing has announced that it will donate a paltry $100,000 to the effort, with a matching amount coming from the Chinese Red Cross and another million dollars in supplies. Contrast this to the arrival of the nuclear-powered U.S. aircraft carrier USS George Washington and several other navy vessels, the unmistakable presence of U.S. planes, helicopters and futuristic V-22 Ospreys carrying aid and emergency help to outlying areas, and Washington's commitment of $20 million in aid for its ally. Japan has similarly committed $10 million and assistance and Australia has donated almost $28 million. Though the typhoon did hit China's southern provinces, China's unwillingness to do more underscores just how far it's foreign policy has moved from the heady days of the "charm offensive."
Given its rapid economic expansion and military modernization, it was never entirely clear that soft power would apply to China's rise to regional preeminence. With its response to Haiyan, it seems that Beijing is far less concerned about notions of soft power and bolstering its image abroad than it is about energetically asserting its claims to disputed territories and enhancing its image -- and nationalist credentials -- at home.