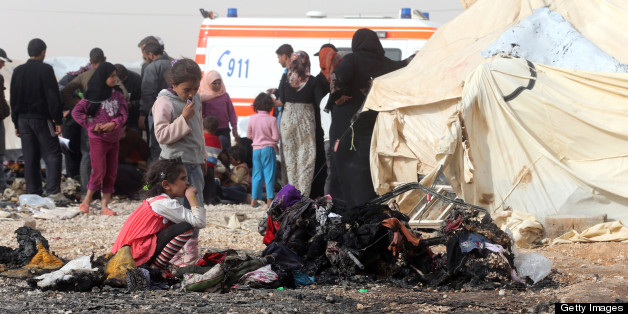 I spent yesterday touring the fifth largest city in Jordan. It's named Zaatari, its population is over 120,000, most of the people who live there are children, and it was founded less than ten months ago. It's a Syrian refugee camp.
What's going on in the desert just south of the Syrian/Jordanian border would break your heart, if its overwhelming scope didn't numb you first. The size of the need is too great to comprehend in full. And these 120,000 people are only a fraction of the Syrian refugees spread throughout northern Jordan -- not to speak of those in Lebanon and Turkey and even in Iraq. More pour in every day.
Zaatari is a city with no sidewalks or trees or parks. It's covered instead with dirt and gravel without a tree or bush in sight under a sun that has already grown hot in May. Row after row of tents are packed in more closely than they're supposed to be because families and even villages want to be close. There is no running water and no regular electricity (other than what some people take through jury-rigged splices into the lines running to outdoor lights set high up on poles through much of the camp). Cooking is done (or supposed to be done) in centralized cooking areas using propane gas. Cinder block latrines are scattered through the camp. And the children are everywhere.
Seeking to meet the enormous needs in Zaatari is a multi-national effort of equally enormous scope and complexity. To create the camp, a large group of private and United Nations NGOs (such as UNICEF and UNHCR), working with the Jordanian government, have cleared an area in the wilderness and conjured this ad hoc city out of shipped-in tents, small trailers, food, water, hard work, and passion.
I went to the camp with Save the Children, on whose board I serve, to see for myself what I've read about only intermittently in the U.S. press. What is being done by Save the Children and the other NGOs at Zaatari is truly heroic. They're providing the basic essentials through a food allocation system that has each of the 26,000 families come to one of two locations every nine days (according to the size of the family) and carry back to their tent or trailer boxed staples, including rice, lentils, cooking oil, and some canned goods. Bread is distributed daily. Fresh water is trucked in and sewage removed.
Beyond the bare essentials, the NGOs are trying to give the children in the camp a semblance of the life every child needs and deserves. There are two school complexes attended by about 5,000 children -- sadly only a fraction of the school-age children in the camp. I saw beautiful four- and five-year-olds enthusiastically showing up for kindergarten with their Save the Children backpacks and their smiles, led by Jordanian teachers and Syrian volunteers in songs and routines that would fit right into just about any kindergarten anywhere. Young men play soccer on an artificial turf pitch -- the only piece of green I saw, other than three small flowers planted and tended by the kindergartners outside the tents where they go to classes.
There's much for those involved in Zaatari to be proud of. There's an enormous effort being made largely out of the spotlight of world attention simply because it's the right thing to do. But let's not kid ourselves. Much, much more will be needed as refugees continue to flee the conflict in Syria and months drag on as the hot spring sun turns into the even hotter summer sun beating down on the tents and trailers and dirt of Zaatari. The need to engage the tens of thousands of children will become greater and more urgent. The enormous weight of Zaatari falls as well on the Jordanian communities throughout the north, many of which lacked sufficient resources even before this crisis and are now under more strain than ever. The entire country of Jordan is bearing a burden it was not equipped to bear.
And, perhaps most difficult of all, the needs created by the Syrian exodus will go on for years to come. The real test will be whether we have the staying power to support the efforts in Zaatari and elsewhere as months drag into years. But walking the streets of Zaatari leaves no doubt about what's at stake when a generation of children face the upheaval of fleeing a violent conflict, having their education interrupted, and growing up too soon.. The best way to make sure we don't drive more young people toward extremism in the center of what is already one of the most dangerous corners of the world is to do our best to save the children of Zaatari.