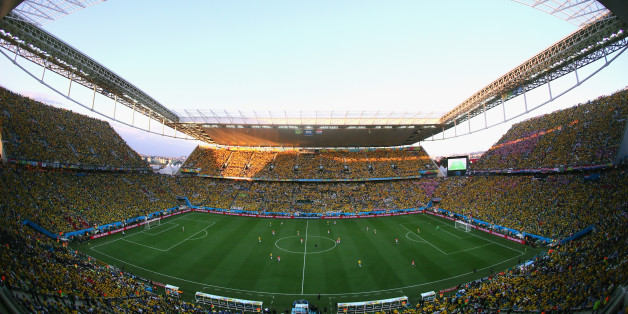 Truth be told, I prefer my football American, but like a few billion others around Planet Earth, I also enjoy a little World Cup action too now and then. So here then is my totally unofficial playlist for the Official 2014 World Cup. Hope you all get a kick out of it. And as always, my goal is to have all of you add your own soccer-friendly songs below.
WORLD IN MOTION - New Order
WAVIN' FLAG - K'naan
REPRESENT -- Weezer
GOD'S FOOTBALLER - Billy Bragg
HEROES - Janelle Monae
ALWAYS LOOK ON THE BRIGHTER SIDE OF LIFE 2014 - Monty Python
THE REFEREES ALPHABET - Half Man Half Biscuit
I GET A KICK OUT OF YOU - Frank Sinatra
KICK! - Adam Ant
EL ROCK DE MUNDIAL - Los Ramblers
STRACHAN - The Hitchers
DON'T COME HOME TOO SOON - Del Amitri
MY BRILLIANT FEAT - Colin Hay
THE SPORTING LIFE - The Decemberists
ENGLAND 2, COLUMBIA 0 - Kirsty MacColl
WE ARE ONE (OLE OLA) - Pitbull with Jennifer Lopez & Claudia Leitte
LA COPA DE LA VIDA - Ricky Martin
LES COUR DES GRANDS - Youssou N'Dor and Axelle Red
KICK - Connor Obst
GOAL GOAL GOAL - James
I'M STILL STANDING - Elton John
PURPLE HEATHER - Rod Stewart
KICKS - Paul Revere & The Raiders
SIGN OF VICTORY - R. Kelly featuring Soweto Spiritual Singers
NOBEL ENGLAND - Ric Mayall. RIP Ric!
CAN YOU HEAR ME - Enrique Iglesias
WAKA WAKA (THIS TIME FOR AFRICA) - Shakira featuring Freshly Ground
GLORYLAND - Daryl Hall with Sounds of Blackness
A LITTLE LESS CONVERSATION - Elvis Presley, mix by JXL