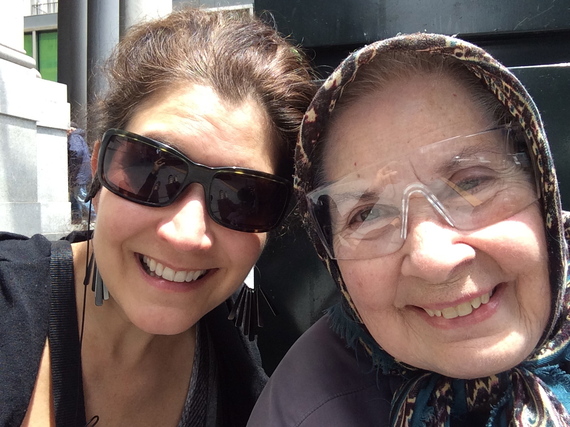 I was recently blessed to be in the beautiful "City-by-the-Bay", San Francisco. On my way to the airport, I took the opportunity to head in early and treat myself to lunch in the city. Wandering around the corner at Market Street, I happened upon a "homeless woman" sitting by a post box -- the perfunctory cup there by her side, sort of the universal symbol that she was, indeed, homeless and looking for assistance.
If you step back and observe these scenes in life, you might see that it gives people a little kick-in-the-gut type of reaction when they see people in this "situation," sometimes you see people turn away, avert their eyes, even cross the street to avoid any interaction with them (maybe you have felt this yourself at one time or another -- I can admit that I am guilty of it, too). Maybe it is someone whom they consider "less than" them or perhaps, and even more likely, someone they are unconsciously afraid of ever becoming.
When we place a label on someone (or something), we are judging them on the brief moment of time that we might have witnessed a minute part of their life. We so often label these people as "unfortunates", "homeless," "problems," "drunks," "down and out," etc... and some of them invariably are. Being a "female," it particularly disturbs me when it is a woman I see on the street. This woman moved me to take some action. So not only did I put some money in her cup, I introduced myself to her -- her name is Sharon -- and I shook her hand and looked into her eyes, which were soulful and radiant. She very graciously refused my offer of something to eat or drink from a restaurant nearby, stating that she was quite comfortable at that moment. I asked if I could sit and join her for a bit on this lovely afternoon -- the sun shining nearly as brightly as her eyes. She mentioned that it was quite a rarity for someone to actually strike up a conversation with her -- and an to offer to sit with her was an absolute first. We began talking about her situation at present -- not her past and all the trials and tribulations that brought her to this place which I'd formerly considered "scary."
She was, indeed, NOT homeless, and had a small place in the Tenderloin District of the city -- which most consider "frightening" and "unsafe." Sharon considered it her home and she said that she was grateful that people labeled it as such so they would stay away and not turn it into yet another "unaffordable" place to live in this city full of "outrageously expensive" rents. She was not drunk, not on drugs, nor was she mentally ill. She just couldn't afford much on her Social Security after a lifetime of hard work, and she needed a little help with incidentals, she explained. That was not the only reason why she was there, on the street, cup by her side -- she also wanted to feel connected to other people.
We spoke passionately, not angrily, that the basic necessities of life -- food, water, shelter, clothing -- should not be so expensive and far out of reach for so many people around the world. We discussed at length how the world needs more understanding, tolerance, compassion and kindness if we want life to continue on this planet. What we found was that we had the mutual goal of being the change we want to see in the world.
Our connection was amazing and an hour flew by like a moment, as time does when one is engaged and fully present with another in inspired conversation. Soon it was time for me to head to the airport, so I reluctantly had to leave Sharon. We thanked each other over and over for the time we spent and hugged long and hard before parting ways. I left her with my greatest appreciation, and we took the above photo together which I will cherish always. It is a wonderful daily reminder for me to drop the negative labels, dig a little deeper, and never judge or criticize - and I hope it will be for you, too. Begin to listen to your inner critic -- where in your life do you unconsciously label people negatively? In that new awareness, you can forgive yourself and change it! Look beyond the labels and you may find a kindred spirit, and even a friend, in someone you never expected.
Namaste,
Deanna
***Thank you for reading and sharing! I am endlessly grateful for each and every one of you!***