We want our children to have medically accurate health education in school. They should know for example, that the US Department of Agriculture (USDA) Food Pyramid has now become a plate; and that according to the US Food and Drug Administration (FDA), condoms are only effective if used consistently and correctly every time you have sex. What we don't want is a misinformed teacher standing in front of the room saying that binge drinking "is the same as one glass of wine with dinner."
The federal government agrees: The US Centers for Disease Control and Prevention's Task Force on Community Preventive Services "recommends universal, school-based programs on the basis of strong evidence of effectiveness in preventing or reducing unhealthy behaviors, such as alcohol and substance use, obesity, and risky sexual activities."
When it comes to sexual behavior in young people, recent published data has shown that digital and mobile interventions are effective in delaying sexual activity, reducing number of sexual partners, and increasing condom use, as written up in this Rand Corporation working paper. This might lead you to believe that all high schools nationwide would be using digital and mobile technology to teach health education, particularly around sensitive subjects like sex. But, no, not yet. The challenge is twofold: doing enough studies to build a strong evidence base and getting that information from the researcher's lab to the teacher's desk in a timely fashion.
Schools are often mired in bureaucracy, and the challenge of giving our children access to the most medically accurate and up to date information in a culturally relevant way is compounded. Plus, there is still no comprehensive body of evidence for this type of work. To date, there have been some pilot studies published on the benefits of using digital and mobile technology for health education, but we need more. The problem is that research typically operates at a snail's pace -- it often takes up to three years to gather data, and another two years to tell the public about what the researchers have found. In the meantime, technology is moving much, much faster--in the same five years, Facebook came out of nowhere and grew to 500 million users!
And youth are adopting new media and digital learning, for things like their sexual health, regardless, even if it's not reflected in their health ed classes. Robert Galluci, President of the MacArthur Foundation says "Young people are mastering traditional competencies in new ways. Instead of simply consuming information, they are investigating it. Instead of separating knowledge into academic disciplines, they are exploring the connected intellectual systems and social systems in which we live using digital resources." More than 70% of youth who participated in the ISIS/thinktank survey said they learned about birth control, menstruation, pregnancy, and sexually transmitted diseases online, from a doctor or nurse, from family and/or from a school workshop.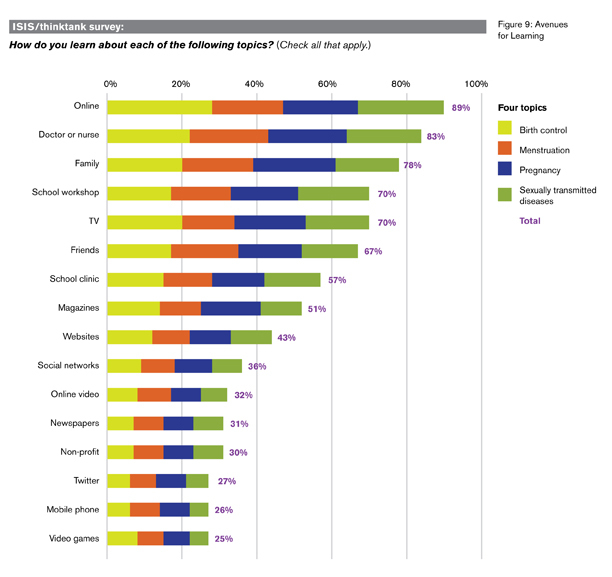 So how can the pace of social and behavioral research keep up with that of technology and youth culture? By convening innovators in the field to start pushing the boundaries of traditional research methodology, we can start creating an evidence base that measures students' digital, integrated learning, and start validating the connected intellectual and social systems in which our young people learn and become sexually active. Kudos to the Robert Wood Johnson Foundation, McKesson Foundation, National Science Foundation and the National Institutes of Health, who are currently collaborating to try and tackle these issues in the mobile technology arena.
How can digital media be used for health education in the K-12 years? Tell us what's going on in your communities and schools.