For the third year, the Chattanooga area Chamber of Commerce hosted its Diversify marketplace, showcasing the area's growing number of diverse vendors and connecting businesses of all sizes. The luncheon and its speaker are highlights of the event, coordinated by the Chamber's Director of Diversity and Inclusion, Maria Noel. This year's speaker was Valoria Armstrong, the first African American and female president of Tennessee American Water. Hundreds of civic leaders packed the banquet hall, enjoying the food and some networking time as they waited for the speaker.
My table mates talked about today's urban challenges with pockets of poverty, violent neighborhoods, and education inequities as well as their impact on minorities, females, veterans, and those with disabilities. Given Chattanooga's popularity as location for industry, they also discussed plans for new housing developments, community renovations, urban revitalization, and sophisticated worker training. Seated at the head table with Armstrong, Hamilton County Mayor Jim Coppinger shared his thoughts on what the Diversify event represented. "What makes Hamilton County & Chattanooga a great place for business is that we're an inclusive community, taking advantage of the large number of diverse businesses and entrepreneurs. We're grateful to the Chamber for creating the Diversify event that showcases the diverse talents in our area."
The room quieted down as introductions got underway and a smiling, energetic Armstrong took the stage. Years ago, I interviewed Armstrong in her second term as the youngest, and first female, president of the Chattanooga-Hamilton branch of the NAACP. Being a ground breaker is not a new role for Armstrong, it is an integral part of her determination to "Embrace the Race" of life and career to the max. A proud runner in six half marathons, Armstrong shared how Olympic Gold Medalist Wilma Rudolf was her inspiration. Rudolf, who suffered from polio as a child, became the fastest woman runner in the world.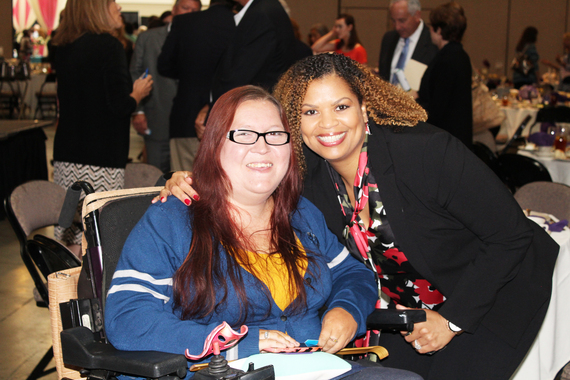 Jean-Marie Lawrence with Valoria Armstrong
(Photo: Adrian J. Edwards/Chattanooga News Chronicle)
Armstrong spoke about the determination of her own family members to overcome their health challenges. Most of us are confronted by major hurdles as we "Run the Race," and she is no exception. Telling the story of how TN American Water was losing water and didn't know where it went, she made the challenge personal for herself and her team. The problem was a small underground leak in the system that dumped twelve million gallons of water into the Tennessee river. The creative solution, a first in American water history, was the product of the diverse skills of the team including engineering, operations, and quality control.
Armstrong urged the audience to build the diverse teams that can develop creative solutions. Embracing Diversity and Inclusion by recruiting, supporting, and mentoring people who don't look or think like you. The only thing standing between minorities, females, veterans and those with disabilities is opportunity. She also had advice for those, like herself, who are determined to succeed. Step back and evaluate what your setting out to do. Research and analyze the process. Then put your plan into action. Start with small, incremental success. When you do have a success, celebrate it, before returning to the research mode. Don't get discouraged by set backs.
After Armstrong's presentation, Chattanooga Councilman Yusef Hakim responded, " I think that Valoria typifies breaking the glass ceiling for women and others. A good role model not only for young ladies, but others who might feel that the world is against them. They can see an example of what can be by not giving up." Words of wisdom for all of us in the room as we celebrated and "Embraced the Race."