Last week, I witnessed a historic day for America's young children. President Barack Obama hosted the first-ever White House Summit on Early Education and I was honored to join a broad coalition of business leaders, policymakers, philanthropy, elected officials and fellow advocates from across the country who are committed to making investments that expand high-quality early education. The president challenged the nation, as well as Congress, to make commitments to our children from birth to age 5 with the launch of the national campaign Invest in US, announcing over $1 billion in new investments including $300 million from private sector commitments.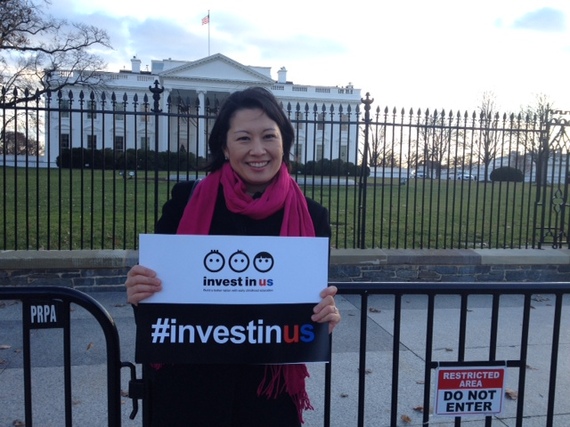 In his remarks, President Barack Obama emphasized that this progress, while great, is simply not enough, and urged the nation to fulfill the promise we make to our children: "The idea that no matter who they are, what they look like, where they start, how much their parents earn, they can make it if they try. It's the essential promise of America that where you start should not, and will not, determine where you will go...I'm calling on all Americans across our country to make their own commitments to our children, and I'm asking our members of Congress for their commitment as well."
California also received some good news that day--$64.1 million in awards to communities across California through the Early Head Start-Child Care Partnership (EHS-CCP) Grants. The grants will fund Early Head Start programs to partner with local providers to serve more low-income infants and toddlers. Unfortunately, California did not receive any funding through the Preschool Expansion Grants, which would have helped the state enhance its capacity to deliver high-quality preschool programs, particularly in high-need communities.
As I listened to the president speak, it struck me just how important this day was for our children. This will be a day I look back to as a pivotal moment for early education. To have the president host this historic summit speaks volumes about his promise toe do everything he can to ensure all children have the same opportunity to succeed.
In California, we have also made a promise to our children that we must honor and keep. In the 2014-15 state budget, California invested $273 million in early learning and child development and made a long-term commitment to provide every low-income 4 year old with quality preschool in the coming years. But this is just the first step.
This year, Early Edge California is ready to roll up our sleeves and get to work to ensure Governor Brown and the Legislature uphold this Golden State promise to the 32,000 children who don't currently have access to a state pre-k program. We're off to a promising start with the introduction of the Preschool for All Act of 2015 from newly elected Assemblymember Kevin McCarty. This bill calls on the California Department of Education and the State Legislature to make a plan to expand access to preschool to every low-income 4 year old in the coming years.
I am so excited to see California and the rest of the nation commit to the Invest in US challenge. I'm also encouraged by the news of the investments in infants and toddlers in California because we're finally seeing growing support for investments in our youngest learners. At the same time, I am disappointed the state did not receive a Preschool Expansion Grant and cannot overemphasize the critical need for state policymakers to rise to the challenge and prioritize the education of our young children.
California is home to 1 in 8 of the nation's children, so our actions--and, perhaps more profoundly, our inaction--can have a major impact on the nation's future. It is imperative that we honor our promise to give every infant, toddler, and preschooler a shot at success.
I was thrilled to be a part of this landmark event and join my fellow advocates in hearing President Obama's call to action. I know others in the room could feel the excitement and the energy too. This is our time to do right by our children, and build a better nation through early education.