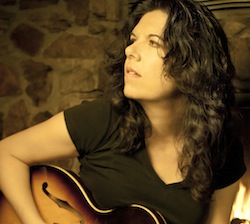 Maia Sharp's new album, Change the Ending, is coming out very soon (July 31) and you should buy it. There are a few songs that really stood out for me -- "Sober," "Standing Out in a Crowd" and "The Bed I Made." I'm not really a record reviewer, but I was perfectly happy to go to Maia's studio and hang out with her and her dog, Emmet. We spent a lot of time talking about the creative process. (Actually, Emmet just sort of came in to say hello and then got right back to his afternoon nap.)
I'm a poet who wants to write song lyrics and can't for the life of me figure out how it's done. Maia falls into the line of singer/songwriters whose lyrics are satisfying, musical and meaningful. I thought picking her brain might help me crack the code on writing a song. Maia's written songs for Bonnie Raitt, Trisha Yearwood, The Dixie Chicks and others. She's written with Art Garfunkel. Her father, Randy Sharp, is a songwriter who's seen his work performed by Emmy Lou Harris, Linda Ronstadt and many others. Clearly Maia's no slouch, but I didn't leave with any kind of formula for writing song lyrics. Instead, I took away thoughts about Maia's openness and generosity with her music and a desire to do some collaborative work.
We started out talking about what it's like writing songs that others go on to perform versus the songs she puts on her albums.
"I've never started writing with somebody in mind. I've also never felt -if it's for me and I connect with it, then it's not for somebody else. In fact, things that I feel the closest too are generally the ones that another artist feels like they want to put on their album. I think it may just be that if I feel like it's real, then it might just be a basic human experience; one where they feel like it's real also. I've never wanted to covet one of my own songs. I love it when it gets out there... And it's never gotten in the way of me just having it on my album also."
In fact, Trisha Yearwood recorded Maia's song, "Standing Out in a Crowd" back in 2005. Maia has a very different version of the song on her new album, but she tells a great story about hearing Yearwood sing the song.
"I wrote it in Nashville and the demo that we did was very straight up. There wasn't the same harmonic treatment that we did on my album. She [Yearwood] did a fantastic version of it. I loved it. And then, a couple of years later she got asked to do it acoustically on that show Extreme Home, where they would makeover a home for a family in need. Well, they rebuilt a camp for mentally and physically challenged children and made this incredible place for these kids to have their summer camp. Trisha came and sang around the campfire and sang that song to these kids. Killed. I was done. I was a wasteland. That's a connection. I was awkwardly tall [growing up], but who fucking cares about being awkwardly tall. This is what they're dealing with? Oh my god. So my slivered version of that experience has landed with these kids that are really dealing with something? That's a win."
I like Change the Ending more than some of Maia's early records because there is a vulnerability in her voice and lyrics that's appealing. I asked Maia if she was aware of this and where her inspiration comes from.
"I would be halfway through writing a song and realize that it wasn't just some hokey phrase I'd thought of or some clever twist of a line, not just two lines that happened to rhyme, I'd think -- Oh, it's that story. Ten years later, that's what wants to be told? It surprised me a bunch of times on the last album and then I liked that and I think I just kind of owned it more on this one and let it be real... When it doesn't feel like a formula or a staff writer trying to write the next single for So-and-So, then you feel that as well. That's the formula for it having a life; it's not just an exercise. You have to open something up and that's what people receive."
At some point in the process, every artist has to take a step back and check in -- am I being honest? Is this what I really wanted to convey? What have I discovered along the way? Maia produced Change the Ending herself so she spent a lot of time on these questions in putting the album together.
"It took a little longer because I had to be my own sounding board... If you look at it one minute and think it's genius and you look at it the next minute and think it sucks, you've got to walk away. You have to go do something else and come back to it fresh. You have to kind of ambush it again and see what happens. I had to do that and it took a little longer. I finish a vocal and I don't walk out of a booth with people either applauding or saying, You know what, we should maybe try it again. There's nobody there that's saying either one of those things. I have to judge it myself and I can't do it based on how I felt that morning or how I sang it live a week earlier. I have to judge it just on what it is. Within that moment, within the context, within the song for people who are going to hear it for the first time. So that took a lot of walking away. And then walking back."
That part of the process is critical in gaining perspective on your work. It takes discipline, not only to walk away, but then to stick with the work and actually come back to it. So Maia didn't reveal any big secrets on how to write a song, but spending time sitting on her couch, surrounded by her guitars and talking about creative work was a pretty sweet way to spend an afternoon.
Maia will be touring for her album and also with Bonnie Raitt this fall. Click here for the full schedule. The second part of my interview with Maia can be found at www.betweenpages.org and we talk about what she's been listening to, The Odyssey and her father.