Food trucks are not a passing fad, as industry revenue has increased annually by an average of 12.4 percent over the last five years. Food trucks continue to pop up across the country, and even culinary titans like Taco Bell and Rachael Ray are experimenting with food trucks (though the latter of the two trucks offers up culinary delights for puppies and dogs).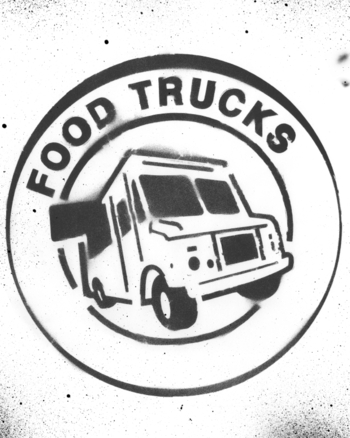 For an aspiring restaurateur, a food truck can be great way to cut their teeth in the restaurant business and test their target market. But you can't just buy an old ice cream truck, toss a George Foreman grill inside, and start selling burgers by the beach. Owning and operating a food truck is a lot like running a stand-alone restaurant, and if you wind up ignoring or forgetting about filing for a permit or license, you can find yourself shut down and fined. Just like in the kitchen, proper prep is everything.
1. Apply for Permits and Licensing
One of the main complaints that food truck owners have is that applying for permits and licensing takes too long. When you run a food truck, you have a bit more to apply for than the average small business. On top of your typical city business license, DBA name, state seller's permit and liability insurance, you will probably need a food handler's permit, a vendor's permit, and up-to-date registration for the actual truck. If you plan to regularly sell food in another city, you may have to apply for all of the local permits and licenses there as well. Every city and county is different though, so remember to contact your local government and find out exactly what you need. The SBA also has a handy tool that will show you what restaurants have to apply for in your are.
2. Learn the Law
Restaurant regulations and laws were not written with food trucks in mind. Most of the health code makes sense from the perspective of a traditional brick-and-mortar kitchen, but when you become mobile, the law gets murkier. Most states, for example, will not allow you to sell food made in your own, personal kitchen -- you have to use what is normally called a commissary, which is like a commercial kitchen rental for you to store and prep food before heading out in the truck. Your truck will also have to pass inspection by the health inspector, so you need to keep it clean and well maintained. Some cities, like Dallas, will require that food trucks be cleaned daily at the commissary.
You also need to know exactly where you are allowed to park and sell food. You can't just roll up to a construction site or public park and fire up your oven. If you're on private land, you'll have to rent space from the owner, and if you're parked on a public street, you need to know how long you are allowed to stay there. Cities like D.C., Chicago and West Palm Beach have begun to crack down on trucks that sit in the same spot for hours on end and just feed the meter when they need to. Have your spots planned out, and figure out whom you need to talk to about leasing them out for an afternoon.
3. Mitigate Your Risk
Food trucks are risky -- Matthew Geller, the CEO of the Southern California Mobile Food Vendors Association, estimated that around 35 of the 100 food trucks launched in L.A. in 2012 failed. You're already cutting some of the expense risks that come with a business folding by using a food truck instead of a traditional brick-and-mortar restaurant location. But this venture is still an investment, so you need to mitigate your risk by treating it like the business it is. That means having a business plan, making a budget, keeping your books up to date, measuring your ROI, and knowing when to bow out before you're in the red. You can further limit your liability by forming an LLC for the truck, as that will allow the business to carry its own debt.
Analysts expect the growth behind food trucks to continue -- Intuit predicts that mobile vendors will make up 3-4 percent of the entire restaurant industry by 2017. If you want to try your hand at running a restaurant, a food truck is a great way to do that. However, food truck owners are going to have a rough time with licensing, permits, and the health department until the business model becomes more ubiquitous, so you have to be prepared to stay above board and do your research. Know exactly what the law says about where you want to sell, and apply for every permit and qualification you need. The sooner you prep, the better, so that when your food truck is finally able to open up, you won't have to suddenly close it down a day later.