Thanksgiving has always been a major celebration in our family. It's also the season where I was first given hints about the early phases of my mom's Alzheimer's. Over the years, I've often conjured up unrealistic expectations for the perfect family celebration. My holiday ideal certainly did not include chasing my mother Peg through the park with her plate of turkey. That happened two years ago when Alzheimer's temporarily transformed her into an escape artist.
Only a few years earlier on Nov. 22, 2007, Peg basted and served what would be her swan song for a holiday feast. It was the last time that she used her big roasting pan. As she parceled out the turkey for each of us, we stared in silent disbelief at the rather meager servings on our plates. Before sitting down herself, Peg wrapped the remaining turkey in foil and put it in the refrigerator with talk of the soup she would make the next day. She was always a bit eccentric when it came to food so I didn't think much of it. As a teen, Peg had spent time in foster homes and was not always well-fed during the Great Depression. Both my parents were quite frugal so the rest of us sitting around the table decided to go with the flow. We simply piled on more mashed potatoes and stuffing to quell our appetites. My own solution was to buy a juicy turkey breast which I cooked at my home the very next day. In hindsight, I realize that by this holiday Peg had already succumbed to Alzheimer's.
The next Thanksgiving, my father asked me to bring the entire meal to their house, including the turkey. He claimed that Peg was feeling tired and not up to it. Knowing how much pride my mother took in cooking, I perhaps should have questioned this request. But like many daughters, I wanted to keep the family peace. It was easier to just transport, via the highway, a fully cooked meal from my house to theirs. In 2008 Peg seemed happier than I'd ever known her, and I felt grateful for that.
My father died in 2009, and it was Peg's first Thanksgiving without him. After his passing, we discovered that my mother had Alzheimer's because of her medicines that he had hidden in his desk drawer. On that crisp fall holiday while we dished out potatoes and gravy, Peg kept watch by the window, saying, "Pa's working at the hospital but he always comes home for dinner." We distracted her from the reality that my father was never coming home with the family tradition of giving her pieces of warm turkey to feed her beloved Golden Retriever named Medee.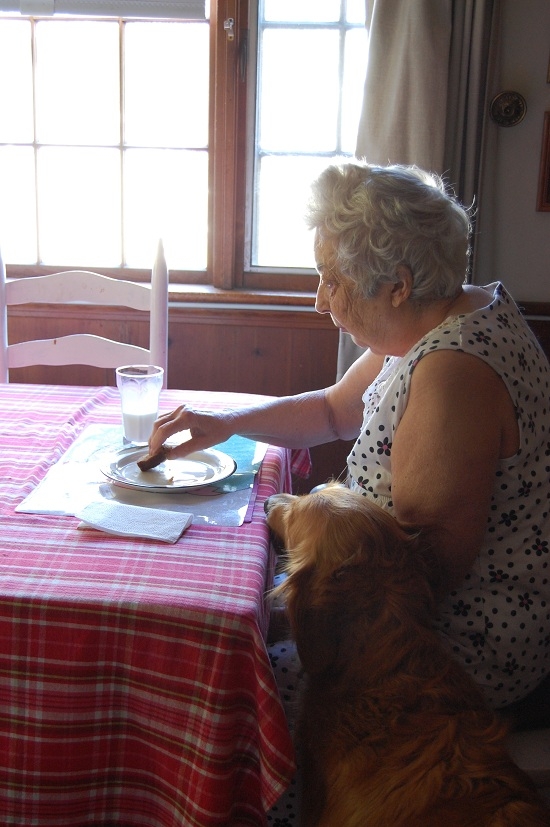 The following Thanksgiving, a dear friend invited us to her house. It seemed a fine idea since Peg had talked about buying a turkey but no longer knew how to work her oven. We arrived at our friend's house on time, hoping that Peg could get comfortable before the other guests arrived. Munching on some warm brie cheese and crackers, Peg settled into a comfy couch in their sunroom and happily watched Disney movies with our friend's young daughter. Each guest greeted Peg and she cheerfully smiled back. I remember thinking: "This is going well." Everyone brought a dish or two, and we awaited the arrival of our host's brother-in-law, who was bringing the big bird. Fast forward several hours later and there was still no turkey on the table. The man who was supposed to bring it had recently lost his wife to cancer and missed her terribly around the holidays. He apparently had been sidetracked while sharing his grief with some mates at the local pub.
Although Alzheimer's had by now clouded Peg's sense of time, she must have noticed that it was getting dark. As I looked out from the kitchen, I suddenly heard my mother announce: "I need to go home and feed Medee." In a flash, she was out the door and darting down the street. My athletic son Alex was the first to follow her, calling, "Gram, slow down. I have your coat."
Amidst this commotion, the guest with the turkey finally arrived at the door. We quickly made a plate for Peg and I took off after her and Alex. Having lived in her home for 50 years, Peg remembered that the shortest route back was through the nearby park. Running behind the white-haired lady who was somehow outpacing her grandson, I noticed a father who was filming his young daughters dressed in pink jackets as they jumped in the autumn leaves. As I jogged past this Rockwellesque family scene, coatless and balancing a fine china plate full of turkey and stuffing, it suddenly dawned on me: Someday in the future, when these two sisters are watching family movies, they'll certainly notice another family's rather unusual holiday footrace that plays out in the background.
On this Thanksgiving 2012, we start a new tradition. My son will cook the turkey, one large enough so that everyone can enjoy heaps on their plates and plenty of leftovers. Peg no longer remembers what day or what year it is and rarely mentions my father. But last weekend she enjoyed watching new Thanksgiving recipes being prepared on the cooking channel. My mother somehow recalled her favorite tradition, and proclaimed: "Medee will love the turkey this year!"
For more by Deborah Swiss, click here.
For more on Alzheimer's, click here.