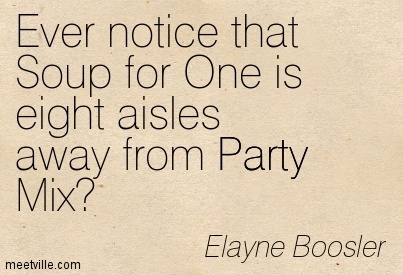 I just had a birthday. A big one. And, because of that great and momentous occasion, I had a birthday party. It was at my house, with my friends, hosted by my husband, catered by a fabulous caterer and serviced by some fantastic bartenders. So why was I unsettled?
Well.... after everyone had left and I was enjoying what might have been my second piece of cake, my guess is this: everyone was gathering for me; and I'm not a huge fan of attention unless of course I am on stage and getting paid.
That sounds bad.
What I mean to say is that I am a professional speaker and a published author and I actually make a pretty nice living doing what I do. I have been on numerous television programs and given keynotes to rooms filled with over a thousand people. I have been the reason people have stood in line at book signings and have talked for over an hour on the radio. I even went to the White House - and not on a paid tour. So a casual birthday party in my own home with the people I love should be (excuse the pun) a piece of cake.
I've had dozens of parties in my home over the years. I've thrown baby showers and wedding showers and dinners and brunches and cocktail parties and birthday soirees, but the main attraction was never ME. You know? It was somebody else. Or something special. But all of the sudden I was in my bedroom for one last dash of lip gloss before the guests arrived and I felt this little twinge. It took me a moment to recognize it, but then it hit me. It was nerves. I couldn't believe it. How could I, Debra Fine of the Fine Art of Small Talk, be feeling uneasy about doing the exact thing I teach other people to do? I gave myself a little pep talk that goes something like this: Smile. Laugh. Breathe. Repeat. And then I headed out to the crowd.
Some people flourish under the spotlight, but in my experience, the vast majority of us struggle when all of the attention is focused on us. Suddenly, that spotlight feels very hot. But spotlight season - aka - summer - is here. This means more of the aforementioned baby showers, wedding showers, and weddings (and more weddings). There's plenty of information on how to be a great guest. But being a great host is a true skill. Sure, the right mix of music, food, drink, and lighting is key (I could talk for days about light dimmers. I won't. But I could.), but how do you become an amazing host? Here are some tricks:
• Be the one to greet guests as they arrive or join the guest of honor in welcoming guests; this helps you learn the names and faces of those people you may not have met before (if you are hosting a wedding shower for someone, chances are there will be some unfamiliar faces) and it takes the pressure off of the guest of honor.
Hi, I'm Debra. We spoke on the phone when you RSVPd. It's nice to meet you in person.
• Offer to take guests' coats and purses so they are not left standing in your entryway looking for a place to dispose of cumbersome items.
I am so glad you joined us today, Stephanie! Angela has told me so much about you and I look forward to catching up with you during dinner. Let me take your coat and show you into the living room. You will find cocktails and appetizers on the buffet.
• Get cocktails (when appropriate and in my book cocktails are almost always appropriate) into a guest's hands quickly and efficiently. It's amazing what a little champagne can do for a crowd. Especially when combined with light dimmers.
Mike, can I offer you a glass of wine or some sparkling water?
• Don't hide out in the kitchen; if you still have work to do, ask guests, especially those who may not be familiar with the others, to help.
Jan, would you mind slicing the lemons?

• Tell guests what and when things are happening by making a short announcement.
Thank you all for joining us in celebrating Angela's upcoming wedding. We are going to sit down for brunch in about 15 minutes - in the meantime, champagne cocktails are being served!
• Leave gift opening to the discretion of the guest of honor. Some brides or mothers-to-be may want to take the traditional route and open gifts in front of the crowd. Some may feel uncomfortable being seated in front of everyone while oohing and ahhing over china or onesies. Share that information with your guests if possible.
Angela is planning on opening gifts with Barry later this evening. I offered to open them for her but no luck!

• Avoid putting anyone on the spot by encouraging speeches or toasts or special memories or you name it. Being forced to say something meaningful and heartfelt in front of a crowd typically makes everyone squirmy. An alternative is to offer a place for guests to write a memory or thought or piece of advice
You may have noticed the book on the table in the foyer; if you have marriage advice or a thought you'd like to share with the bride and groom, I encourage you to find a few minutes to write it down for them.
• Be present during the goodbyes so the guest of honor isn't carrying the burden alone. Oftentimes, once the first guest stands up to leave, the rest of the party starts to disperse. This is a good time to gather coats and purses and thank guests for coming.
Peter, it was a pleasure hearing about your trip to Antarctica. I hope to get there some day! Thank you for being here today.
My husband Steve was a fantastic host last week. And once my friends arrived my nerves disappeared. Along with the carrot cake and the decade known as My 50s. Smile. Laugh. Breathe. Repeat.