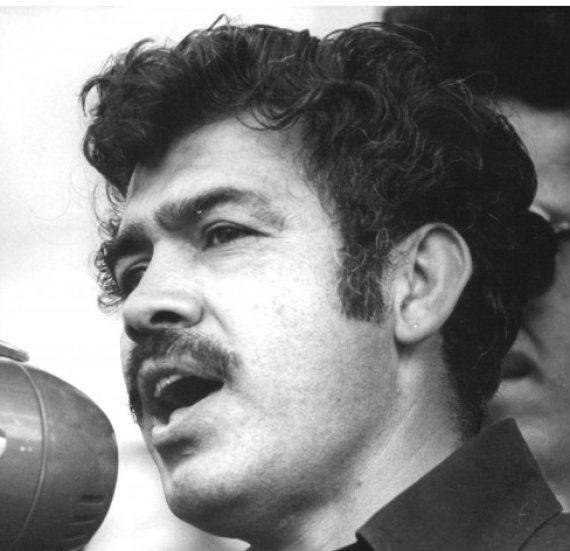 Rodolfo "Corky" Gonzales at Crusade for Justice rally. March 17, 1974. (Photo Credit - Dave Buresh/Denver Post File)
Chicana Memorandum: I am Joaquin, Joaquin, Joaquin
"...Fiery tequila explosions
The smell of chile verde and
Soft brown eyes of expectation for a
Better life." -- Rodolfo "Corky" Gonzales
Joaquin No. 1 - The Past
Yo Soy Joaquin, known in English as I Am Joaquin, is an unforgettable Chicano poem written by Rodolfo "Corky" Gonzales. The poem is a timeless piece, and many of its elements still apply today even though it was written in 1965, during an assertive Chicano movement era of the 1960's and 70s. It is a timeless piece because Mexican-American Chicanos and Latinos face anti-Mexican or anti-Latino laws, primarily written by Anglo gray-haired white men in Washington, D.C., who are afraid of too much browning of America.
Most Mexican-Americans who are involved in the political arena are familiar with this poem, because the poem says things that some people are afraid to say publicly. It is no wonder Corky was able to state these bold truths while staring his activism demons in the face -- he was a trained fighter. A boxer simply cannot win any fights without blood, cuts and scars, and a fighter enters the ring knowing he or she will suffer injuries. The fighter must learn to take hits and avoid knock outs with the ultimate goal of standing at the end of the bout.
The Chicano movement has never ceased to exist. Some of us merely observed and waited to see how the other "Latinos" and/or "Hispanic" politicians spent their talents under the "Latin" label. We gave others the benefit of the doubt, even though Mexican-Americans make up most of the Latin population. With our population numbers, Chicano voters have been and are still helping fight for undocumented immigrants from around the world. We get riled by some within the Hispanic community who benefit from amnesty orbribes, while taking their time or helping close the doors to other immigrants from Uruguay, Ireland, India, Canada and other countries
Joaquin No.2 - The Present
On November 25, 2011, the day after Thanksgiving Day, Chicanos were reminded of the timeless poem when Joaquin Luna Jr. took his own life, because he felt he had no hope to continue on with life as an undocumented Mexican. His family said he had lost hope when the DREAM Act failed at the Senate level in December 2010. To honor him, Mexican-American Chicanos and immigrant rights activists in Austin, Texas, painted posters reading "I am Joaquin." At a vigil honoring Mr. Luna in Los Angeles, mourners listened to a message recorded by his relatives.
Mexican-American Chicano voters knew there would be pay-back during the November elections in 2012. We didn't have to take to the streets, because we took to the polls instead and ensured the GOP would not win the Presidential election. Mothers and Chicanas made a promise and commitment to the Joaquin Luna Jr. family that we would not allow his death to be in vain.
Joaquin No. 3 - The Future
Though we are reminded of past and present struggles within the movement, we know in our hearts that time is our friend with brighter days coming. We point to those like Congressman Joaquin Castro who spoke alongside his brother at the DNC convention last year with an electrifying Chicano-esque messageand we see the writing on the wall.
It has been almost 50 years since Corky wrote I Am Joaquin, and we have observed the increase in our economic power. Our labor and financial contributions continue to grow. In fact, according to the director of Selig Center, in 2012, the $1.2 trillion Hispanic market is larger than the entire economies of all but 13 countries in the world. Chicanas/Latinas are the driving force behind that purchasing power and we are growing our leverage with regard to women voters -- particularly when we know there are more women voters than our male counterparts. We are strong, patriotic and here to stay. Our indigenous ties to this land inherently motivates us to continue taking care of our Nation and our Earth.
A Chicano revival is taking place. And we see it all converging through art, activism, education, with businesses and at the polls. Many of us have been Drinking Cultura and revisiting our roots, never losing sight of where we come from. More and more of us are getting involved, and this is evident with notable and recent events likes ones sponsored by Servicios De La Raza (SDLR). Rudy Gonzales (son of Corky Gonzales) is the executive director of SDLR, who is just as passionate as his father was with regard to helping the community. Understanding how important art is to our culture, Gonzales solicited artist El Moises to design the awards given to those who put their heart into the community. The pieces were painted in the form of Milagros (miracles). El Moises made a heart out of the miracle award, and believes one cannot have Milagros (miracles) without Corazon (heart).
Like pieces to a large puzzle, we see and feel a new awakening with an emergence of artists, film makers, television networks, musicians, entrepreneurs, political radio show hosts, activists and the people. All of those pieces fit together to make up the entire puzzle. Like Corky, many of us are tired of Party politics and more of us are becoming Independent voters forcing both Party leaders to work harder for our votes.
A declaration is being made by Chicanas that will prevent politicians from benefiting from the Hispanic label as they take advantage of our Mexican-American population numbers, so that they can squander their political power for their own hidden agendas and gain. In other words, so-called Hispanic leaders must be in tune with the majority of the Latin population who are hurting. More importantly Latin leaders must not discourage voting since our vote is essentially our only voice. If we do not vote, we see the likes of the Tea Party gain share in our political system, and we cannot allow this to happen particularly whenAffirmative Action seems to be a threat to the status quo. Finally, political analysts and journalists often wonder who the "Chicano/Latino/Hispanic" hero or leader will be, but many Chicanas do not believe power should be given to a person per se, because often times power tends to corrupt, and absolute power corrupts absolutely. Like many pieces to a puzzle, the power must always belong to "We The People" and as such we will continue the American Revolutionary spirit that embraces being a beacon and a light to all. Viva La Revolucion!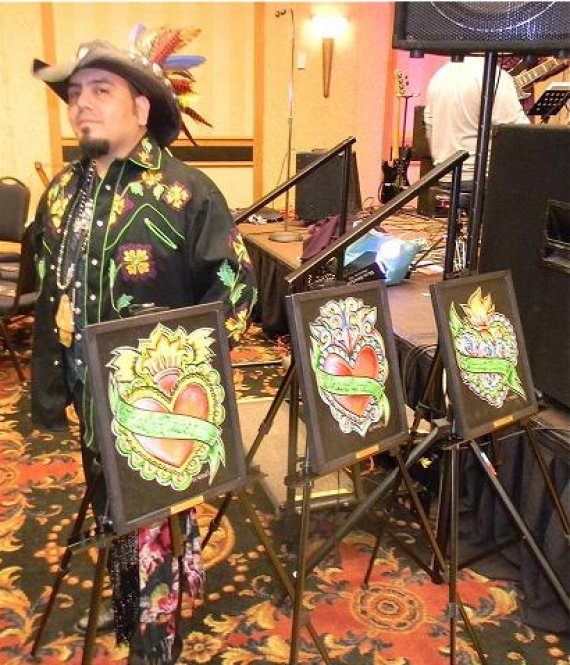 Art Opens Doors. Photo By Ronald James Washington. "Raices Latinas" "The Roots of Our Community" as people of all diversities, cultures and backgrounds gathered to embrace and pay tribute to the diligent work of the Servicios De La Raza who is lead by Director Rudy Gonzales. Awards were presented, keynote speaker Alfedo Corchado was featured, art awards created by "El Moises" , Entertainment , Dancers and Performers made up for a Star Studded Event.