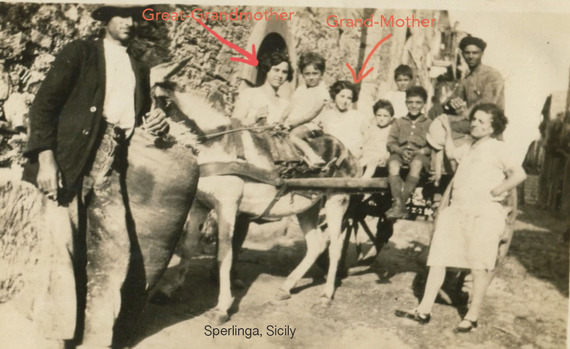 For our 25th Wedding Anniversary, as a surprise gift, our friends sent us to Italy. I'm a photographer and first responder who has volunteered at Katrina and Haiti but we have never vacationed since our Honeymoon 25yrs ago. His dream was to see an Italian soccer game and mine was to visit the town in Sicily where my grandmother was born 93yrs ago. Traveling on a budget we stayed at AirBnBs and met some of the finest people we will never forget.
But while in Sicily something magical happened on one day, without any planning or use of technology ... Just me, my husband and 2 bad photocopies of a picture of my great-grandmother and a street in her village, Sperlinga. I just wanted to find that street. I would have been happy JUST finding the street itself, taking a picture and then leaving.
We drove 3 hours to the center of Sicily with our GPS taking us through backyards of farm houses, or so it seemed. We hadn't seen another car for an hour and then it started to rain. Now we see the gas gauge of our mighty Fiat 500 and it was on empty with the light on. Miss GPS finally got us to a semi-paved road and we saw a small gas station. We got out of the car and since I was losing faith in Miss GPS I rushed up to 3 jovial Italian men to see if they recognized the street from my picture. "Si, Prima di prendere un caffè" (yes, but first we have a coffee). Because you see, even the smallest gas stations in Italy have the finest baristas. Incidentally this was my husband's first coffee and it had to be a Sicilian espresso!
Then we followed behind their car where they led us to this one street town of Sperlinga. They parked their car and got out and we followed them as they knocked on the door of, what they seemed to have inferred was the town scholar. Mind you, they speak no English and I speak VERY little Italian. This scholar, who was mid dyeing his hair, answered the door and without hesitation warmly let us into his home. He seemed to have recognized one of the women in my photo whose daughter he said still lives down the street. It was hard for me to believe that, as the photocopy was such poor quality. My Great grandmother's maiden name is Buscemi and this woman was a Buscemi but part of me still thought, hmmm, maybe she's related to Steve Buscemi.
She, Guisipina, lived down the street and was home and for some reason I cried at first sight of her. She held my face in her hands the same as my grandmother does to this day. She invited us in, which seems to be the modus operandi for gracious Italians, and called her son. She apparently told him who I was and he drove one hour with his family including his 16 yr old daughter who thankfully spoke English.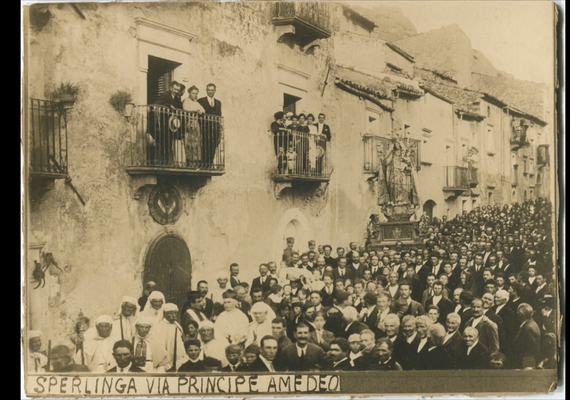 Her son, Toto wrote a book on Sperlinga and in it was a picture of my great grandmother, which was thrilling to see. But then he sat me down and opened up a box and began to pull out perfectly preserved photos of my great grandparents and my grandmother, family photos that I personally have copies of too. I wailed in grief as I sat on the couch of what was no longer the couch of kind Italian strangers but of actual family members! I reached for my phone and noticed not only was I at 4 percent battery but there was no reception. The teenage daughter, of course, knew that the balcony had reception. I raced upstairs clutching my Virgin Atlantic blanket around my shoulders and called New York.
My 93yr old grandmother was able to speak on the phone to her cousin who she didn't know was even still alive and hadn't spoken with for almost 50yrs.... None of this was planned. None of this was even known. And the balcony of the house featured in the old photo/postcard from 1920 that I had with me turned out to be my great grandmothers old house!!!... and is still owned by the family! And my husband and I got to spend the night there...
"To be bold, to be brave... We are Love, We are One, We are how we treat each other when the day is done."

Thank you to The Alternate Routes for your amazing song.
Because I am a photographer, I documented most of this as it rolled out, here is a three-minute version of it.