I'm a mom who does everything with my kids. And not only do I do, I like to try new things. If I didn't have a fear of flying I would want to sky dive. We scoot all over town. We play hockey, ice skate, ski, go on windy water slides, water ski, and I never met a roller coaster with too many loops or drops.
So as we drove in our rented Kia, for a long weekend getaway with friends, to Woodloch Pines in Pennsylvania, even the car ride out of Manhattan is an adventure for us city slickers. As a "mom on her own" any experience or any road trip with my kids is something I thrive on. I like to show them the world. There's nothing better than seeing them try new things. When we arrived was no better news than being able to snow tube at night.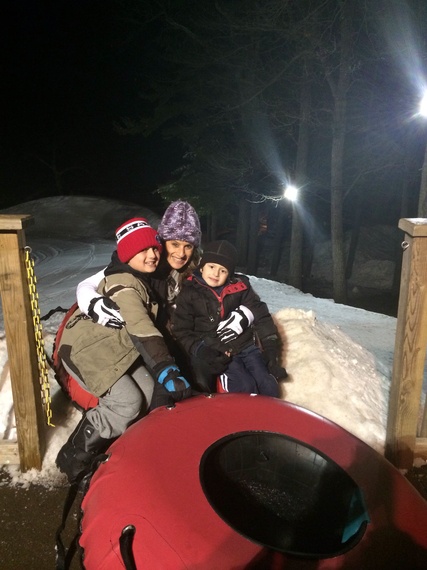 We were the first ones on the hill. After a few pictures to document our venture, my older son went first. He went fast and had a blast. Then another family started just off to the side. I then raced down with my little one on my lap. As we sailed up a hill and gained more speed it was the feeling I not only loved but I also felt the excitement in my son lying on top of me. But that didn't last. Seconds later, we saw the other family in front of us. Just there. And then BOOM. We crashed at full speed right into them. Jaylan was crying, my head hurt. I was looking at my son to make sure he was ok and he wouldn't stop crying. Then I heard the mom in front of me screaming, "We need medics. We need help. Get help." And I wondered if she saw something on my son that I didn't. So I started to yell, "We need help". But it wasn't until I put my hand to my head that I realized they needed help for me. There was blood everywhere. It was all over me, dripping down my face, covering the snow around me and all over my white jacket. At that moment all I could think about was who would take care of my boys? We were there alone. Our friends were arriving in about an hour. I worried that with all the blood I might pass out. What if I had a head injury?
I gave my phone to my almost 9-year-old son and asked to make sure he knew how to use it. At this point the other family used snowballs to ice my head. I didn't know where all the blood was coming from or what was really wrong with me. Two medics arrived and I tried to get up, but after a single step, this mom who thinks she can do anything, knew that with one more step I might pass out. So I sat back in the snow while they put a neck brace on for precaution and tied me to a board. And I just kept talking to my boys. I needed to see them, to hear them and to know that they were okay. I still wasn't even sure if my little one was also hurt and now, lying on the board, I couldn't see. I asked the other mom to go be a mom to my kids. I blurted out phone numbers. I wanted to make sure everyone there knew who to call. We called my friends to meet us at the hospital. I gave everyone around me my kids' dads name and number. I made sure everyone was connected. That's what kept me thinking. I needed to plan. I needed to make sure my boys were okay and in touch with everyone.
And when we were finally in the ambulance, my little one was beside me also strapped in as a precaution, I began to think, should parents on their own with you kids do things like this alone? What if I had passed out? What if something worse really did happen? After being up all night and traveling back to a hospital in NYC, getting 14 stitches 3 layers deep, I wonder. As an adventurous mom, as a mom who loves what I call our #travelingtrio do I now have to re-think certain things? I love our trio, I live for every single thing I do on my own with my boys. However, this accident has made me think. It was traumatic for my boys to see me scared, helpless, hurt, panicked, worried and concerned. They had all of the same feelings. So does this mean a parent on their own has to alter adventures? Do I always need a plus one?
I don't know the answer to this. What I do know is I have two brave boys. And that's a good start.