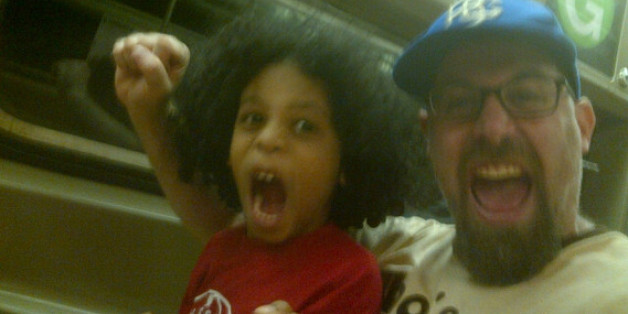 I try to live by an unspoken rule: parenting is not a competition. Because my husband and I have the very important job of raising our three children to be happy, loving, respectful, educated and thoughtful human beings, we work as a team to parent our children the best way we know how. We're not experts, and we've made mistakes along the way, but we're both trying to be the best parents we can be. Then a few days ago, I had the unsettling feeling that my husband has outpaced me in the better parent department.
When my husband told me about the adventures he and our oldest son had planned for Camp Dada, I immediately felt the seeds of jealousy growing in my gut. I quickly pushed those feelings aside and praised him for his great ideas. Keeping Isaiah entertained the week before his last summer camp session wasn't going to be easy, but my husband came up with the following activities:
Catch-and-release fishing at the Harlem Meer
Scavenger hunt and bird watching at the Jamaica Bay Wildlife Refuge
Museum of Natural History
Discovery Times Square -- LEGO - Art of the Brick
Watch and play chess in Washington Square Park
And my personal favorite, a New York City subway adventure. Their plan was to ride all 22 train lines with the minimum number of switches, using one swipe only, and riding every line just once.
There they were, heads together, sitting at the dining room table mapping out a strategy for their subway adventure. They were even guessing how long the trip would take (Isaiah estimated four hours, Ben thought two). Isaiah was so excited about the idea of spending the entire week with his dad that before my husband had figured out their full itinerary, he had designed a template for the camp T-shirts they were going to have made: Camp DWILL (Dada With Isaiah Learning Lovers). The words of the camp slogan were enclosed in a basketball. Isaiah even wanted to order an extra T-shirt to send to his favorite NETS player, Deron Williams (nickname DWill).
I felt so proud of Isaiah for his love of learning and his adventurous nature. He couldn't wait to jump right into their fun-filled camp schedule. I felt incredibly lucky to have a husband who was completely hands on and who put so much thought into spending quality time with his children. I also felt unbelievably jealous of Camp Dada.
The competitor in me wanted to remind my husband of the fun activities I had executed with all three children in tow while he was out of town or working. But I held my tongue because I had no desire to actually join them underneath the city with the rats on their A-Z and 1-7 train adventure. I was just really envious of my husband's ability to connect with Isaiah and ignite that creative spark in him. Maybe it's the natural born teacher in my husband that allows him to so easily come up with educational and fun activities for our children. When we first met, I remember sitting in on one of his high school history class lessons. My husband was jumping all over the room, trying to get his students excited about the lesson. Before long, they were raising their hands excitedly, eager to answer a question or add their thoughts and ideas on the topic.
My husband's energy and excitement was contagious. It was a beautiful thing to see back then, and now it was clear to me that Isaiah had caught the bug and was excited to spend time with the "fun" parent. I was feeling jealous because I was convinced that now Isaiah would think of me as the other, not-so-fun parent. Guilt was also eating at me and telling me that I needed to step up my game and spend more time thinking about things that would really spark Isaiah's interests, and get him excited about learning and spending quality time with his Mama.
But I'm not the only one in the family who feels these pangs of jealousy every now and then. My husband gets jealous whenever the children second guess him. "Why do they always double check with you when I've already given them the answer?" he asks irritably. This often happens when my husband tells them one thing, ("Yes, you can have a popsicle tonight.") Yet instead of taking his word for it, they will all immediately turn to me and ask me if they can have a popsicle, as if to verify that Dada knows what he's talking about and is actually speaking the truth.
The truth is my husband and I have different parenting skills and techniques that helps us parent in our own unique ways. Dada is the parent to call on if you want to get our children out of bed in the morning in a good mood. My husband can make the kids laugh at any moment by impersonating Donald Duck. All he has to do is burst into their room singing "Good morning, good morning!" in his loudest Donald Duck voice (quacks included), and they'll start cracking up. And with a simple song selection, my kids know that Mama is the DJ who can get any party started, and help them get the sillies out before bedtime. Before long, the entire family is having a dance party and my children are pointing at me saying, "Look at Mama's dance moves!" I can't imitate any Disney characters, and my husband can't dance, and that's perfectly fine with our children.
In the end, my jealousy about Camp Dada faded the first day Isaiah came home bursting to tell me something amazing about his day, and after I saw the pure joy on my husband's face every time he recounted his adventures exploring the city with Isaiah. When I received the image above after their subway adventure with the following text: "Four plus hours later, we did it!" my response back was, "So cool!!! Jealous :-( " I should have written, "So cool!!! So proud of my boys!!!! :-)
I'm not proud of my response, but I realize that I have a few jealous bones in my body. I'm only human. I think that feelings of slight jealousy are normal and inevitable in parenting. Whether it's jealousy about who is more adept at getting the kids ready for bed with the fewest tantrums; who can successfully convince the children to share their toys with their siblings; or most skillful at getting them to eat their vegetables, sometimes parents feel awe and a bit of envy at their partners ability to have a deeper connection with or better handle a particular situation with their child. But as with any relationship, it's important that each person bring something different to the table. If my husband and I used the same tactics to comfort, discipline, persuade and entertain our children, we would never have anything to fall back on if that parenting technique failed.
So I'm going to try and keep my jealousy in check to show my children that this emotion gets you nowhere and no one wins. The green-eyed monster in my home will be put to rest and my children can focus on the pretend monsters in the storybooks we read to them, and in the tall tales we tell them before they go to sleep at night. I just won't ask them who is the better storyteller.