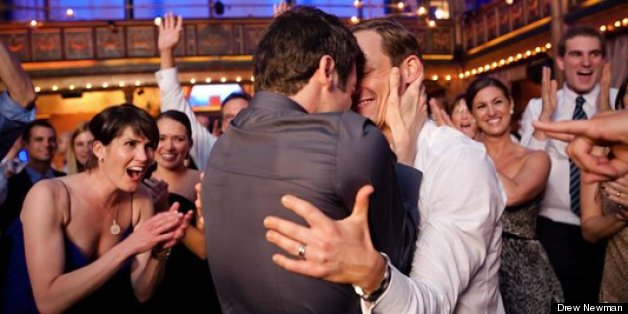 If you're a woman who is straight and just got engaged, then you know you have dozens of wedding planning books and guides to pick from. If you're a gay man -- not so much. But guys, you are no longer on your own, as Chronicle Books is getting ready to release Getting Groomed: The Ultimate Wedding Planner for Gay Grooms. The book, written by the playwright and event planner Jason Mitchell, is due out this summer. Complete with worksheets for figuring out your guest list and budget, tons of useful tips and plenty of hilarious one-liners, this book is certain to make wedding planning a lot easier for the gay groom.
I sat down with Mr. Mitchell a few days before the book website launch to ask about "Getting Groomed."
What inspired you to write the book?
When I got engaged about two years ago, I decided we wouldn't hire a wedding planner, since I am one myself. All I wanted was a handy book to help me through the process, but everything I found was written for brides. So my now-husband looked at me and said, "Why don't you write one?"
I read your book in one sitting, it's really great. And I thought a lot of it is applicable to anyone planning a wedding.
It's definitely applicable to everyone, but my goal with the book was to write it and design it specifically for gay grooms. Gay men are really craving a book that was designed for us, so we don't have to read bridal books and translate them into our terms.
What are some elements specific to gay men?
For starters, most gay men haven't spent their entire life fantasizing about their special day in the same way many women have. And therefore many of them don't know where to start. And that's where my book begins: Helping grooms figure out what they really want their wedding to be like. Since gay men don't have years and years of wedding tradition to abide by, it's an opportunity to pick and choose elements from traditional weddings, and tailor it to you as a couple.
What else is different in a gay wedding?
In traditional weddings, even though it's meant to celebrate the couple, it's the bride who ends up being the focus. In gay weddings, we don't necessarily have one person who is the focus. The wedding really celebrates the couple's union and the trajectory that has brought them together.
How does the traditional wedding party translate in a gay wedding?
A wedding party is a wonderful thing for couples who have close friends and family they want to include in their day. Ultimately, the wedding party is designed to support the couple throughout the process, to take some of the tension off, and to be helpful on the wedding day. That being said, most gay couples might not have such an even divide in their friendships, as a straight couple would. I encourage couples to really calibrate the party in terms of what works for them as a couple, rather than thinking about each groom separately. In my wedding, we didn't want to separate our friends into two sides, so we created one group of people that were all our wedding party.
What about the wedding cake, what happens to the 'groom's cake' when you have two grooms?
My advice is that if a couple wants to have a wedding cake, then by all means, go for it. But I know that in searching for my own wedding cake, I realized it's difficult to find one that doesn't feel overly bridal. I really encourage couples to work closely with their baker to find a design that works. The wedding cake is an opportunity to add an element of tradition, but it can also be something that celebrates the couple's personality and style.
Since the guys won't be spending thousands of dollars on a bridal gown, where do you suggest they allocate that money?
The most expensive aspect of every wedding is the food and beverage, and sometimes the venue. I suggest the couple allocate the money there, or just save it.
What happens to the mother-son dance?
It varies by couple. I think it's lovely when it's a shared dance, and both grooms dance with their mothers at the same time. That's what we did at our wedding. But if that doesn't feel right, then do it separately. Of course, not all mothers are going to be supportive and present at the wedding, so each couple has to do what feels right for them.
You suggest booking an officiant nine months before the wedding. I think that's great, because a lot of couples leave that for the last minute, as an afterthought. What's your thinking on that?
Choosing your officiant is a good place to start, because your ceremony style will be dictated by who is officiating. If you're asking a friend to get ordained to marry you, it's good to plant that seed well ahead of time. Even though the actual process of getting ordained online is very fast, you want the person to take the time to do some research and really think about the ceremony, rather than throwing something together a few days before.
The book is hilarious, you have some great one-liners in there.
Yes, I gave all the chapters a campy subtitle, and I played with song lyrics, and one-liners. The wedding planning process should be fun, not stressful. The more fun a couple can have planning, the more likely it will be a great event.
Below are some amazing photos from Mr. Mitchell's wedding, taken by Drew Newman.