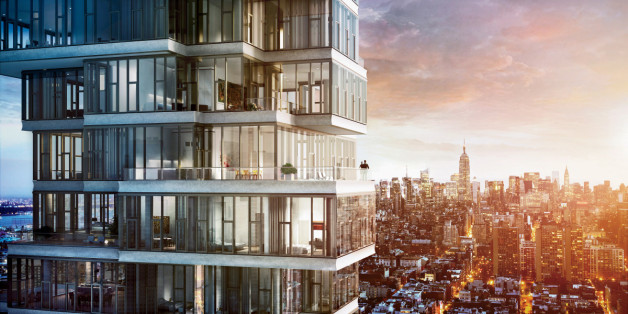 Forget the gated motor court, the private courtyard or the waterfall in the lobby and check out the dizzying view from atop 50 United Nations Plaza. Manhattan's Rocky Mountains -- the skyscraper tops of the Empire State, the Chrysler, Rockefeller Center and MetLife -- all seem close enough to touch. You can see the network of bridges connecting the city to the rest of the world; the East and Hudson rivers; the Statue of Liberty; the new One World Trade Center. In the distance, airplanes take off from Kennedy and LaGuardia. And straight down below sit Louis Kahn's Franklin D. Roosevelt Four Freedoms Park and the UN itself.
The Foster+Partners-designed condominium tower is still under construction; its triplex penthouse (complete with a 50-foot-long heated outdoor pool and a Foster-created, one-piece stainless-steel staircase -- both hoisted up to the aerie by crane) doesn't even have walls yet. But since they will be walls of glass, the views won't change once they're installed.
What has changed? The asking price.
When 50 UN was topped out in July 2013, two separate apartments -- a $55 million duplex and a $45 million full-floor penthouse below it -- were the most expensive units. But in October, developers Arthur and William Lie Zeckendorf (whose grandfather sold the UN its site) and Israeli billionaire Eyal Ofer's Global Holdings upped the ante. The day before Departures' visit, they sent out word: The two could be purchased together as a triplex. Its $100 million price, if achieved, would set a new record for a New York City apartment.
-- Michael Gross
To read the entire article, visit Departures.
More from Departures:
Luxury Electric Cars
New York Cocktail Bars
High-Design Home Items
Midtown Manhattan's Makeover
Top New York Bookstores
PHOTO GALLERY
New York's First $100 Million Apartment is Coming Soon