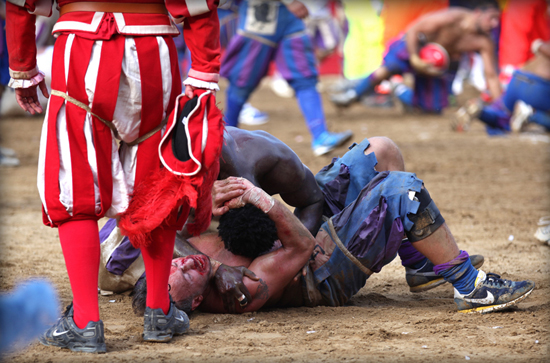 Modern Gladiators - Calcio Storico Fiorentino
Image © Stefano Pogliani
Every year in June and July, amidst the traditional ceremonies, parades and authentic colorful costumes, 'Calcio Storico Fiorentino' - the sporting event originally traced back over 500 years ago in Florence - is held. Four teams rule the show - bianchi, verdi, rossi and azzurri - each with 27 combatants, battling to reign champion. Re-visiting a time where competitive sports drew blood and broken bones, the spectacle fuses a mix, of rugby, football, boxing, mixed martial arts and Greco-Roman wrestling into an 'everything goes' type match.
 
The contest is held in a giant sand pit playing field, with the goal running the width of each end, the aim being to score a point without getting pummeled by the opponent. After 50 minutes of continuous play, the match ends, with the winning team receiving massive steaks equivalentin weight to that of a white calf.

Video Courtesy David battistella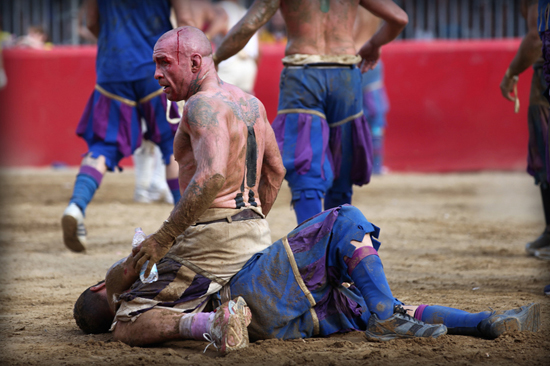 Image © Stefano Pogliani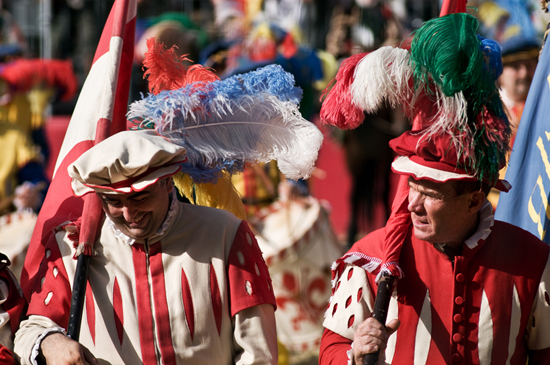 Image © Stefano Pogliani
See more images in the original designboom article here.
Like what you see? Follow designboom on Facebook, Twitter, Pinterest and Instagram to get the latest on architecture, design, arts, technology and more.