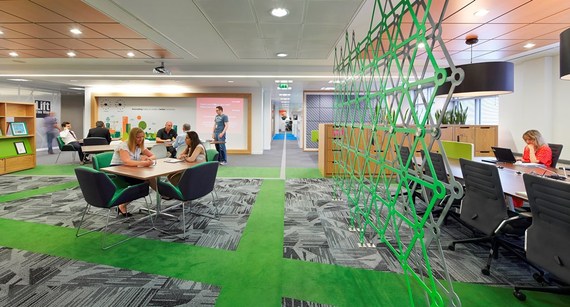 National Grid, Warwick, UK (photo Hufton and Crow)
We seem to have adjusted our performance metrics so that good means great, which surely is just not good enough! Healthy, committed and inspired people help businesses perform better, so how wonderful would it be if we aspired to be in optimum health and do great work as the norm?
If we are not ill we believe we are actually in good health and don't strive to be in optimum health and we are content to have good/decent work but don't aspire to do great work, so no wonder 70 percent of us are disengaged at work and probably on some form of medication.
With the number of work-related illnesses on the rise, coupled with longer working hours -- job burnout is costing a collective $300 billion annually worldwide- so we need to find ways to improve where and how we work to support our minds and bodies as well as our bottom lines. We must create places people want to work in and feel happy, safe and secure as well as encourage people to work in different areas and have choice over their place of work.
Technology induced stress and a lack of meaning in everyday work, creeps into most workplaces. On average, initial enthusiasm for the job fades after six months and the majority of employees feel overwhelmed and disconnected from their management team and its vision. Brigid Schulte, author of Overwhelmed: How to Work, Love And Play When No One Has the Time, looks at the stress caused by a culture that glorifies constant busy-ness and encourages organizations to implement policies that promote a "digital detox" and true vacations in order to liberate people from the "ideal worker" paradigm.
This includes an increasing focus on creating healthy workplaces that promote the individual wellbeing of employees, from changes to the cafeteria food to promoting and rewarding physical exercise, including mental health and happiness as well as providing choices of where and when to work. A focus on wellbeing, is an expression of a certain set of values that links employee behavior to the firm's purpose. At its core is almost always empathy, the ability to feel with and for others and to connect and engage meaningfully.
While there are many businesses looking to pioneer the future workspace, it can be a complex place to navigate. But those that cannot keep pace with the behavioral change taking place in the workplace, spurred on by rapidly changing technology, will find themselves struggling in the battle to attract talent.
The more virtual organizations become, the greater the need for oscillating between being remote and coming together on a regular basis. The time has come when employees can conduct their individual work where it is most convenient to do so. They will come together to innovate, share new experiences, understand issues they are all are facing, solve problems and develop strategy. There will be an understanding that when they convene it is to make use of all the knowledge and analytical ability that is in the room. Everything else can be effectively conveyed virtually. The normal way of working will soon be: isolate to concentrate, convene to collaborate.
People have a fundamental need to engage with one another, and the design of the workplace can significantly influence the way in which we interact and the quality of our interactions. Office work lends itself to a sedentary lifestyle, but there are many ways to encourage mobility by allowing people to choose where they work and encouraging people to work in different areas, having choice over their place of work, providing communal spaces as well as quiet and private areas where people can take personal calls or simply relax and read a newspaper, meet and collaborate with colleagues are all effective ways of creating a healthy, happy work force. In turn, this can improve confidence levels, feelings of self-worth, wellbeing and contentment and better quality interaction and engagement which are all attributes of improved workplace productivity and necessary for people to do great work.
Organizations are increasingly interested in understanding if the work environment has an impact on the productivity of their employees. The relationship between productivity and the work environment is a complex network of physical, social and psychological factors. The workplace strategy team at AECOM maintain that there is no magic formula. Instead, they stress that the most effective and reliable way to measure the impact of the work environment on employee productivity is through the aggregation of results from a number of different methods that assess a variety of attributes that are related to productivity, and offer indications of improved organizational outcomes. The use of both subjective and objective measures of productivity is vital.
AECOM have been working with the US / UK based electricity and gas company, National Grid to explore ways their workplace can enable great work by transforming their culture and also making fundamental changes to the layout and design of the offices, including the introduction of shared workspaces and a variety of support spaces.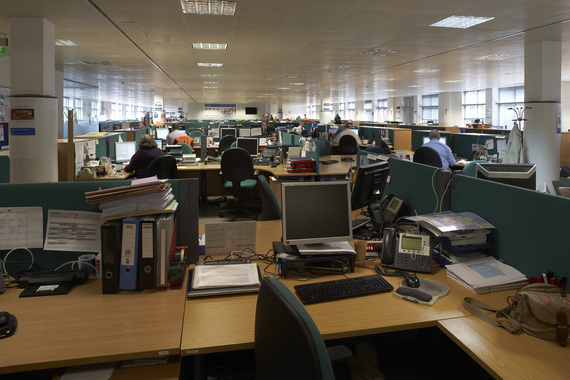 National Grid, Warwick, UK -- Before redesign (photo Hufton and Crow)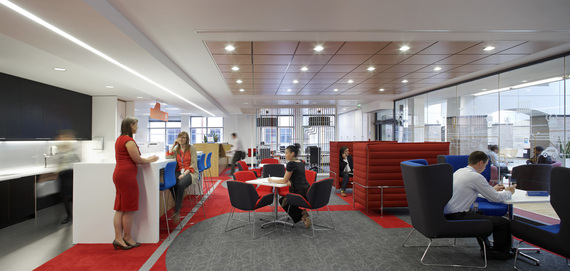 National Grid, Warwick, UK -- After AECOM redesign (photo Hufton and Crow)
The results of a post occupancy study conducted to objectively determine whether the changes made had positively impacted the productivity of the employees, revealed that comfort and satisfaction with the work environment was 8 percent higher in the redesigned offices, than in offices that had not been redesigned, and this was found to be positively associated with perceptions of team performance.
In addition:
Cognitive tests, which objectively measured creativity, logic and problem solving, demonstrated that cognitive performance was 8 percent higher in the redesigned offices.
5 percent increase in collaborative activity per person, and better connectedness between teams.
5 percent productive time was gained back due to easy access to meeting spaces.
The workplace culture was found to have the biggest impact on people's perception of their productivity. Physical changes to the design of the work environment are only effective if there is an empowering workplace culture to support it. It is vital therefore, that any workplace design change is accompanied by positive change management to establish an appropriate culture for that workplace.
We spend the majority of our waking hours at work and most of us also view work relationships as critical for the quality of our lives. We will only thrive and do great work if we invest in creating a workplace culture that gives us meaning, makes it safe to be vulnerable and to bring our most authentic selves to work.