By: Geraldine Campbell, Photograph By Victor Prado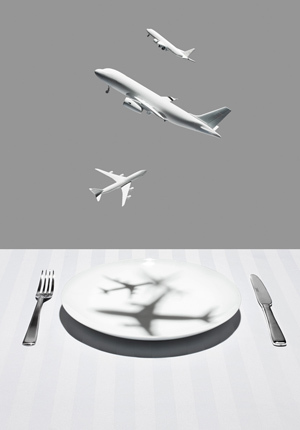 The best food on your next vacation might just be near your boarding gate, as star-studded chefs kick-start a revolution that's ready for takeoff.
Los Angeles International Airport
Ink Sack
The massive new renovation of the Los Angeles airport now includes Michael Voltaggio's paean to the humble sandwich -- try the pork-cheek-and-pickled-vegetable bánh mì.
Insider Tip: Head to the Edge Lounge, complete with cushy benches and great views of the runway.
Gatwick Airport, London
Jamie's Italian
Jamie Oliver's artisanal bakery churns out loaves of rosemary focaccia for those who have to grab and go, but it's worth sitting down for fresh pastas or an English breakfast.
Insider Tip: Pay $36 and duck into the No. 1 lounge, a calm, 10,000-square-foot oasis with free Wi-Fi.
John F. Kennedy International Airport, New York City
Uptown Brasserie
As part of a $1.4 billion upgrade to the Delta T4 terminal, Marcus Samuelsson has unveiled an open-kitchen brasserie near gate B32 serving his signature meatballs and Pat LaFrieda-sourced hamburgers.
Insider Tip: Get the frozen custard a few gates down at Danny Meyer's Shake Shack.
Sydney Airport
MoVida
Frank Camorra, the Barcelona-born mastermind behind Melbourne's best tapas joints, has expanded his Movida empire to Sydney's T2 domestic terminal with a cozy, wood-paneled 80-seat location.
Insider Tip: Pick up souvenirs at the new outpost of Australia's own Surf Dive 'n' Ski.
Toronto Pearson International Airport
Boccone Trattoria Veloce
Earlier this year, chef Massimo Capra of the contemporary Italian restaurant Mistura started serving his decadent thin-crust pizzas and homemade pastas in Terminal 1.
Insider Tip: Take an impromptu gallery walk among the airport's eight travel-inspired art commissions.
. . .
COOL YOUR JETS: THE HOTTEST NEW BARS IN THE TERMINAL
High West, Salt Lake City
Must Try: Campfire Whiskey, a smoky blend
Sky Canyon Wine Bar, Dallas-Fort Worth
Must Try: Pedernales Texas Hill Country Tempranillo
Root Down, Denver
Must Try: The Beet Down-gin, Aperol, and ginger liqueur
More from DETAILS: