By Samuel Blackstone for DETAILS.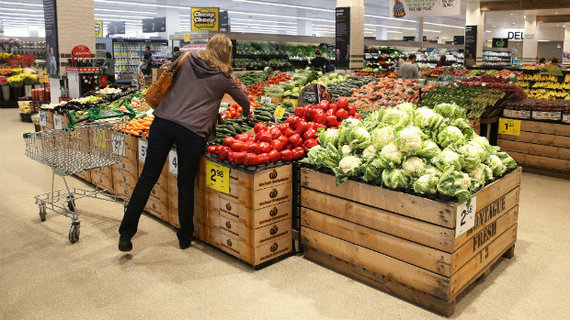 (photo: Getty Images)
Do enough research on organic food production, and you'll find so many different conclusions, you'll end back where you started -- unsure if they're really worth it. Studies come out concluding that there aren't any nutritional differences between organic and conventionally produced foods. Others come out finding the opposite. What is certain, though, is that they're beneficial to the environment, and they cost more. For the tougher questions, we brought in Anna Rossinoff, M.S., R.D.N., L.D.N., a registered dietitian nutritionist with a Master's degree in sustainable agriculture and food systems and cofounder of Zest Nutrition.
"When talking about produce, thinned-skin fruits and vegetables often carry the most pesticides," explains Rossinoff. "The concern with conventionally grown foods is the residual pesticides that have unknown effects on human health. There is some research linking pesticide exposure to neurological defects, cancer, and other life-threatening conditions. Unfortunately, the amount of well-designed research is minimal. Part of the problem is that testing is the responsibility of the chemical manufacturer. Third party governmental organizations only test for safety after a complaint has been filed."
But the Environmental Working Group creates an annual list of the "dirty dozen," the 12 fruits and vegetables that "carry the most chemical residue, and thus are most critical to purchase organically," says Rossinoff. Here they are:
1. Apples
2. Peaches
3. Nectarines
4. Strawberries
5. Grapes
6. Celery
7. Spinach
8. Sweet bell peppers
9. Cucumbers
10. Cherry tomatoes
11. Snap peas
12. Potatoes
Read more: 10 "Healthy" Foods That Aren't Really Healthy
If you're concerned about pesticides and willing to go organic, these fruits and veggies are the ones to shop for. But, what if you don't have the money to do it? Rossinoff recommends peeling your fruits and veggies. "Washing under tap water has also been shown to remove as many as 9 out of 12 pesticides," Rossinoff says. "The studies found that friction and rubbing your food under running water removes the most chemicals. Vinegar has been shown effective for removing bacteria but does not perform so well against pesticides."
In the end, if you're looking to go organic, know what you're getting yourself into. It's not about more nutrients, it's about less pesticides and healthier, more environmentally friendly farming practices. "Organic practices are not perfect, particularly not in large scale mono-culture farming, but they do take important steps toward protecting and replenishing the soils," Rossinoff concludes. "Although organic is not the end all be all, it is an important first step to getting healthier, safer food."
More from DETAILS:
Brad Pitt Is Back and Sexier Than Ever
Can You Guess the Age of These Celebrities Based On Their Hot Bodies?
The 14 Healthiest Snack Foods to Buy
Shirtless Nick Jonas Explains How He Got His New Buff Body
Eat Your Way to a Better Sex Life
Also on HuffPost:
PHOTO GALLERY
Sneaky Ways To Eat More Greens