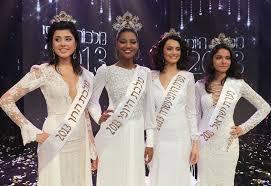 In the whole wide world, there's no other boarding school for at-risk teenagers that can boast a beauty queen and a rabbi among its graduates. That's just one reason that Kfar Hassidim Youth Village, near Haifa, Israel, is special. Another reason is that the village, which includes a day school, a boarding school and a working farm, provides intervention for Israeli youths before they get into trouble.
Most of the 600-plus students at the school come from families with some kind of fundamental challenges, if not full-blown crises. The school's most famous graduate so far, Yityish Aynaw, Miss Israel 2013, came to Israel from Ethiopia as an orphan and studied at Kfar Hassidim for six years.
About 40 percent of the school's current students are Ethiopian. Another 40 percent are from Russia and former satellite countries of the Soviet Union. The other 20 percent are from India: members of the Bnei Menashe, or children of Menasseh, one of the 12 biblical sons of Israel, who were exiled from ancient Israel more than 27 centuries ago. Historians believe that the tribe traveled through China and Burma before its members settled in India. There are approximately 900 Bnei Menashe members who are expected to come from India to Israel this year.
Some of the school's current students have no parents; others come from broken or single-parent homes or live with their grandparents; still others come from multi-generational families with parents who arrived in Israel knowing little or no Hebrew, and the children take on the role of parents. The children shop for furniture, pay the bills, and deal with government bureaucracies because they are the only ones in the family who are capable of these tasks. The school offers students a chance to focus on themselves and gives them some distance from knock-down neighborhoods. It also affords students the opportunity to delve into their studies and build their dreams of the future.
"Many of the students' parents come from Ethiopia, where they were shepherds or farmers, and that's all they know," said Beni Hadad, Director of Kfar Hassidim. "They don't have the tools to help their children develop in a modern society. They don't know how to guide them. That's where we step in."
The school offers drama, art, music and animal therapy to guide teenagers through and beyond traumatic experiences. The extracurricular activities also give them positive life experiences. The school's staff works with the students to help them find one thing that they can excel in. "We look and look until we find that one thing," Hadad said. Some of the students discover, to their great surprise, that they're good in math or science.
All the school's students, Hadad says, have hidden abilities -- but they have no expectations for themselves. Recently, for example, teachers drew out the artistic talents of an 11th-grade student; that is what the student is now focused on.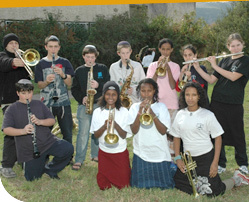 The school, founded in 1937 to house children fleeing Nazi Europe, is situated in the pastoral hills in central Israel. The setting is part low-key college campus and part family farm. Students help milk the cows, work in the olive orchards, or take care of the animals in the school's petting zoo.
The school also attracts foreign volunteers, including Daniel Zekorn, 20, from Germany, who's doing a gap year after high school, before he starts his studies at university. He lives in one of the dormitories and does carpentry and gardening work at the school. "This is a really nice, warm place for the kids," Zekorn said. It has also been instructive for him to live in Israel and see both sides of the Middle East conflict and learn about Israel and Judaism first-hand.
Over the years, Kfar Hassidim has housed thousands of children from around the world, including a 10-year-old Ethiopian boy who made a two-and-a-half month trek through Sudan, where his sister died in his arms, to reach Israel. This boy, Menachem Kabeda, is now Kfar Hassidim's rabbi. While the school insists on the importance of educating students to get on the fast track into Israeli society, it also encourages students to remember where they came from. On campus is a gojo, a traditional Ethiopian hut, used by Rabbi Kabeda and the students to celebrate Sigd, an Ethiopian Jewish holiday held 50 days after Yom Kippur each year.
"The school is like one big family," said Adina Ambano, 17, who has studied at the school for the past five years along with her cousin, Ortal Kafala, also 17. Ortal emigrated from Ethiopia to Israel with her mother and four other siblings. She hopes to be an officer in the Israeli Army when she is drafted next year. (Israeli girls serve a mandatory two years in the Army; boys serve three.) Adina would like to combine engineering studies with her Army service.
"Before the students came to the School, they had no idea how to build a future because they couldn't even picture a future," said Hadad. "We help them believe in their dreams. We help them believe in themselves."