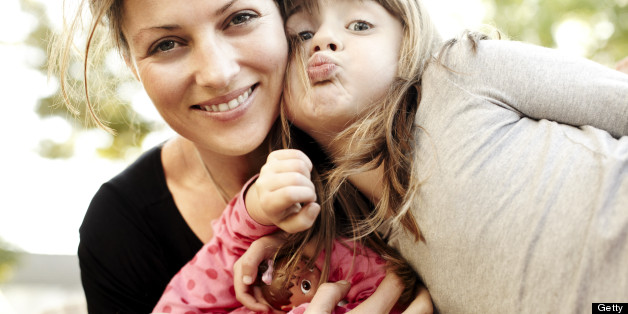 I was once a parent of young children. I was once a teacher of young children and their parents. I am now a grandmother of young children. Until the third stage of my life, I was always feeling overwhelmed. I spent 15 years of my life as a single mom, and I remember the times I pulled my covers over my head at night and wondered to myself how I was going to get everything done. My change in perception might help some of you who are feeling as I did, and I hope it might offer you a little bit of light at the end of the tunnel.
I have heard from so many parents that they feel as I did -- overwhelmed. The cooking, the shopping, the parenting with all of it's challenges, the schedules and carpools and the plethora of other responsibilities -- all mixed together with the 84 percent of our population whose parents both work outside the home.
In the quests for "doing the right things" for our children we are busy people. The big question is how do we fit it all in and maintain some feelings of adequacy? We mean to take a deep breath and keep moving forward, but sometimes it feels like too much. Setting priorities is a grand goal, but how do we do that? Everyone needs to be fed and nurtured and loved. What about us as parents?
My first recommendation is to take care of yourselves. Take that bubble bath and leave the dishes in the sink. Have a date night with your spouse and let the babysitter put the kids to bed. Have lunch and meet with a friend in the middle of the day -- working or not. And, most of all, check your attitude towards your life. "I have to do this and I have to do that" needs to be changed to "I get to this and I get to do that!"
When I felt encumbered with all of the "have tos" my perception was all about my cup being half empty. I met each day with anxiety and stress, which greatly conflicted with the gratefulness I really felt to have my two wonderful children. Many of my "have tos" would have seemed as important if I had just stepped back to watch and enjoy the good parts. I loved my children dearly, but I spent a lot of time worrying about things over which I had no control! When I look at the great human beings that I have as adult children, I can't help but wonder if I missed out on some of the fun parts for myself because of all the pressure I felt.
When my grandchildren spend the night and the house is a mess, I embrace the mess as a part of being a grandma because I "get to" be with such thriving little people. When I take them to school or cook meals for them it is because I "get to!" Granted, I do not have the responsibility of raising them, but I do get to love them. I get to be grateful that everyone is in good health, and the children's mothers and daddies are doing an exemplary job of parenting. I am so fortunate that I am able to be here in the present. Even so, I can't help wondering how much easier the journey would have been if my attitude had been the latter instead of the former.