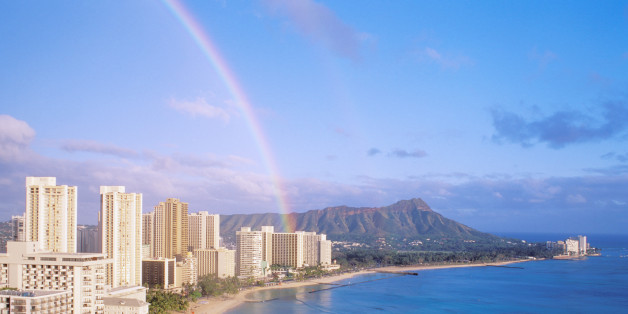 As New Yorkers, we all cherish our annual vacation. A small pause from pressing deadlines, noisy streets and the concrete maze we've come to live and love.
For many of us, Hawaii is an obvious and convenient choice. What is better than gorgeous weather, rich culture, gnarly waves, fresh pineapple and a backdrop to die for? Not to mention the best part of all, never having to leave the comfort of our own homeland... the USA!
I was fortunate to be born into a native family with roots that lie on the North Shore. Haleiwa, to be exact, a small country town settled in the mecca of surfing, a true gem beloved by all those who pass through.
While on my travels, I have come to find that many tourists escaping from big cities are really looking for a local experience. While Waikiki and the list of tourist attractions that come with it are great, the true beauty lies beyond the surface of the island. If that doesn't resonate, just think West Village vs. Times Square.
To help my fellow borough boppers, I have decided to create a list of "below-the-radar" must-dos. If I could leave you with one tip: Save the fine dining and nightlife for Manhattan. Dig in and live Aloha!
What you need to know: The North Shore, a shoreline stretching for more than seven miles. What the locals refer to as "country." Day life is all the rage ...
Green World Coffee Farm: Boom, coffee lovers! Right off the road alongside the farm which crops the beans that are served daily. It gives fresh and organic a whole new meaning.
71 Kamehameha Hwy, Wahiawa, HI 96786
Haleiwa Bowls: A small "shack"-looking stop off the side of the road that serves up acai bowls like you've never seen. All bowls include granola, honey and fresh local fruit of your choice.
66 Kamehameha Hwy, Haleiwa, HI 96712
Waimea Bay: A famous North Shore hideaway known for its waves, surf competitions and home to the legendary Eddie Aikau. This Bay is definitely worth visiting. There is even cliff jumping for those free spirits looking for a thrill.
62-540 Kamehameha Hwy #1, Haleiwa, HI 96712
Ka'ena Point: If you are visiting in the winter months and interested in wildlife, Ka'ena is a must-see. You can hike the five-mile trail or drive to the scenic point to catch hawaiian's endangered monk seals, humpback whales, albatrosses and more!
End of Farrington Highway Waianae, HI 96792
Zippy's: Yes, by this time you probably have seen a Zippy's in every town you've driven through. This is Hawaii's restaurant of choice. Local foods to fill every craving. Two pieces of advice -- pupus are appetizers and there is a secret bakery inside!
Various locations, Oahu, HI
Sunset Beach: Make sure to ask around for local surf competitions scheduled during your stay. The surfers are close enough that you can feel the emotion in each wave right from shoreline.
59-104 Kamehameha Highway, Haleiwa, Oahu, HI 96712
Kono "Bacon on board": Breakfast burritos done right, along with fresh avocado slices to top them off. Before hitting the beach, make sure to fuel up. The menu also includes Kalua Pig, milkshakes and fresh-squeezed limeade.
66 Kamehameha Hwy, Haleiwa, HI ‎
Jameson's by the Sea: A lovely dinner spot with prime sunset views from their large outdoor porch. Picture-perfect for a dinner date or evening cocktail to close out a day in paradise.
Kamehameha Hwy #1, Haleiwa, HI
Coffee Gallery: A local gathering place in the center of town serving fresh haliewa brews and free WiFi all day -- a great spot to grab breakfast or an afternoon cup. Their patio is sure to be filled with laptops and locals from the community.
66-250 Kamehameha Hwy C106, Haleiwa, HI