With just hours to go before the presidential election, Archbishop Charles Chaput of Denver appears in a YouTube video in which he calls Barack Obama the "most pro-abortion politician to run for the presidency in 35 years, since Roe v. Wade. He has committed himself to do things the Catholic Church would resist."
In the video uploaded on Nov. 2, Chaput is being interviewed by Thomas N. Peters at the Catholic Information Center in Washington, D.C. Yesterday Peters, who runs blog.AmericanPapist.com, told OffTheBus he uploaded the Oct. 29 interview on YouTube because "it is my hope that many people will have a chance to see this interview before they vote on Tuesday." His conversation with the Denver archbishop about Catholic voting and faithful citizenship also appears on the American Papist website.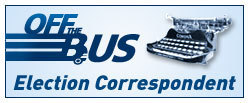 During the interview, Peters asked Chaput to address a statement made by "a vocal minority of Catholics" who claim that the Democratic presidential candidate is in fact "the pro-life candidate."
"They're claiming that the social policies of Senator Obama would create economic conditions that would make it easier for poor women to carry a child to birth and not have an abortion," said Chaput. "I hope this happens, whoever becomes president. We should be doing this anyway. But it would be foolish to say that someone who endorses abortion as an option, and who runs on a party platform that has no regret at all about abortion ... to call that position 'pro-life' is really strange."
Chaput, a vocal public defender of the unborn, is also the author of the NYT bestseller Render Under Caesar. The archbishop is a registered independent who "disagrees with both parties" on some issues.
Click here to watch the two-part interview at American Papist.
Chaput's thoughts on Obama begin at about 2:06.