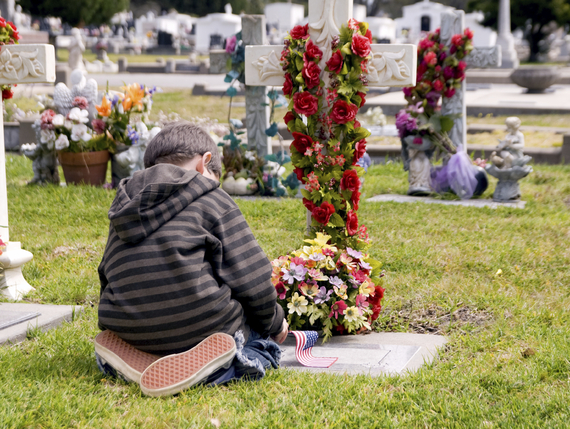 Media coverage of fatal shootings like those at Sandy Hook Elementary School and Columbine High School generate acute public awareness of childhood loss. Nevertheless, there is unfortunately little public understanding of how to help the children who are grieving in the wake of such violent incidents.
Nor are violent incidents the only events that trigger grief in children. Divorce, a death in the family or domestic abuse may trouble children's emotional lives in ways that are difficult for them to express.
Sadly, we as educators are often ill equipped to recognize when students are suffering from grief, or how we can help them work their way through it. In fact, national research shows that only seven percent of educators have ever received bereavement training, despite the widely perceived belief that childhood grief needs more attention in schools, where children spend the lion's share of their days.
Fortunately the helplessness that is common for educators to experience when confronted with grieving students may soon be relieved, thanks to a groundbreaking initiative launched today by the Coalition to Support Grieving Students. Designed to help deliver support to the millions of grieving students in classrooms across the nation, the Coalition's innovative multimedia resource, grievingstudents.org, will empower educators and school professionals in their efforts to support grieving students.
The Coalition to Support Grieving Students, convened in 2013 by the New York Life Foundation, is a collaboration among the National Center for School Crisis and Bereavement and 10 of the leading professional organizations in the K-12 education space, including my union, the American Federation of School Administrators (AFSA). The Coalition is comprised of organizations whose members - teachers, administrators, principals, school psychologists, school social workers, school counselors, and school nurses - can play an important role in reaching grieving children at school.
As New York Life Foundation president Heather Nesle noted in announcing the new resource: "Although school professionals have long confronted the issue of student grief, for the first time, all of the right stakeholders are formally working together to address this issue in a concerted, interdisciplinary way."
The Coalition to Support Grieving Students has met regularly in Washington, DC for the past two years. Its mission has been to develop and disseminate a set of grief resources tailored to school professionals, with the goal of empowering school communities across America in the ongoing support of their grieving students.
"Support for a grieving child should be coordinated among the various adults who interact with that child at school, working as a team to provide effective support," explains Dr. David Schonfeld, MD, director of the National Center for School Crisis and Bereavement and leading childhood bereavement expert. "The Coalition's breadth of membership allows us to advocate meaningfully for a team-based support model for grieving students."
Created in partnership with Scholastic Inc., the Coalition's flagship resource, grievingstudents.org, captures current best practices for addressing grief at school through an easy-to-use, multimedia platform. Designed as a practitioner-oriented toolkit, the site facilitates self-directed professional development, equipping educators with the information, insights, and practical advice they need to better understand and meet the needs of their grieving students.
Based on my personal experience as a teacher and school administrator, I can attest to the value of such a resource. My teaching career began during the rise of street gangs in Detroit. Most Mondays, students would return from the weekend with stories about hearing constant gunshots at night or experiencing someone they knew being shot or killed. As a new teacher, I never commented much on what the students were talking about because my biggest concern at the time was keeping control of the classroom.
Even when I lost a student from my class, there were no discussions with the class about his death. Instead, I treated that day's class like any other. I attended the funeral and did a perfunctory greeting to the parents. All I knew to do as a young teacher was to maintain control -- control of the class and control of myself.
Flash forward twenty years. I am the administrator in charge of discipline in the same city and the landscape has not changed. Now I am on the southwest side of the city known as Mexican town. Hispanic gang activity is prevalent. Again, students return from most weekends reporting the loss of someone.
The school district would send crisis teams to work with students. Crisis teams were great. They consisted of all kinds of support personnel: social workers, psychologists, counselors and the like. They came in and stayed for a while, but they didn't help teachers or others to develop the capacity to handle issues once they left.
As administrators we cannot give our problems away. We need to be trained and be equipped with resources to help us make important decisions about what needs to be done. Today, I am different after reading the Coalition's materials. They changed my earlier view that the best response to grief or pain was avoidance -- returning to normal or seeking control. Grievingstudents.org provides practical, easy-to-understand materials that can help educators and others in the school identify how children grieve and what to look for. On the site, practitioners and experts share poignant stories and situations that help us to identify what should be done to help students, educators and others.
These valuable resources will help educators to look inward and realize that they may have been missing opportunities to provide support and guidance to children who were obviously hurting. Through the Coalition's work they will come to understand that the Monday morning disturbances they are experiencing may in fact be cries from students who are struggling to cope with the difficult crises and losses in their community.
Thanks to the New York Life Foundation and the Coalition to Support Grieving Students, resources will now be available on line that educators can rely on for a greater understanding of how to help their students cope with the grief they're experiencing, which so often impedes their ability to move forward with their education.
For more information about the Coalition, please visit
http://www.grievingstudents.org/