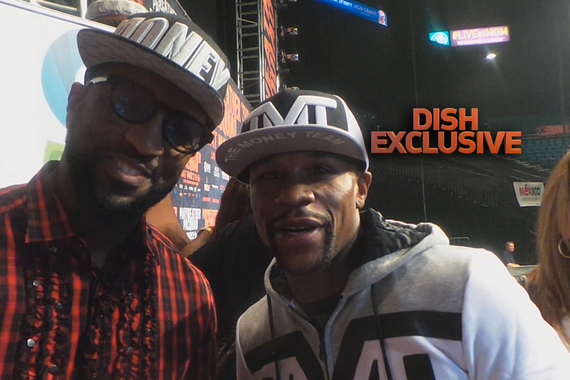 Floyd Mayweather and Manny Pacquiao will be going head-to-head this weekend in what's being touted as the biggest fight match in boxing history, and Dish Nation got the inside scoop on how Mayweather spends his day before stepping in the ring.
Dish Nation's Rickey Smiley was in Las Vegas this week to chat with Mayweather, 38, at his grand arrival at the MGM Grand.
He gave a super relaxed and unexpected answer.
We were envisioning a day of chugging raw eggs, followed up with a nice mani/pedi at the spa and perhaps a spray tan so he's got that winning glow in the ring.
But no.
"Once you've been here, it's just another fight," Mayweather told Dish of the fight day.
First he wakes up and has his personal chef (because of course he has one!) whip up a delicious and healthy breakfast -- and then he just chills in bed watching TV!
Wait, what? Okay, he's probably watching old fights or studying Pacquiao one last time, right?
Wrong again.
"I'll go relax in my bed and watch some movies, watch a little basketball," he told Dish. "And then it's time to go to the ring."
The Mayweather-Pacquiao fight is on Saturday, May 2, at the MGM Grand in Las Vegas.
Check out the exclusive interview below!