This month I celebrated my third birthday.
Now, I know some of y'all may be thinking, "Damn, Miss Shangela, you look a little overdeveloped for a 3-year-old." And although I do suspect that the steroids in all the Popeyes chicken I eat have contributed to my somewhat busty appearance, I must clarify.
January 2012 marks the third year that my drag character Shangela has been turning the party in existence. Yep, it's only been three years since I first brought "Halleloo" onto the scene, and tonight, Jan. 11, I'll go down in history with yet another first in foolishness: becoming the first drag queen on TLC's controversial hit show Toddlers & Tiaras. Want some behind-the-scenes "T"? All right, all right, don't twist a fish's tit. Here you go...
There was a moment during taping when I looked around and thought, "Miss Shangela, now how in the hell did you end up here?" I mean, drag queens and kiddie pageants aren't the likeliest pair, but even a trash-talkin' pimp ho like LaQuifa will clean it up from time to time to help the children. Remember me passing on the torch of the "death drop" over on Lifetime's Dance Moms? And it's not like I'm a stranger to pageants; I mean, I did win 2010 California Entertainer of the Year and went on to claim first runner-up in the national EOY pageant.
But the truth is that I actually had nothing to do with landing the Toddlers gig. My 9-year-old goddaughter Hailey was the mastermind behind this (and that lil' Kris Jenner is already asking for her 10 percent). She was originally cast on the show, and when the producers asked her who her favorite person on television was, she responded, "Shangela! My uncle D.J. is a drag queen on the Rupaul show." And so the foolishness began.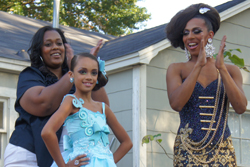 We filmed the episode in my hometown of Paris, Tex. -- yep, that's the second largest city named Paris in the world, and a cultural mecca if you're into soybeans and spur sets. It was my first time ever taking Shangela back home to Paris, and even though there was no glitter-laced ticker-tape parade, it was quite the jaw-dropping homecoming. There's one scene where I perform a walk-off against my glamazon goddaughter on the back patio for a family audience that had never seen drag. Get ready for the reading! And you won't see this on film, but I snuck off to my grandma's house between scenes. It was her first time ever seeing Shangela in person, and she immediately said, "Oh, my word! You look just like a woman! You could go sit right next to me in church, and the folks wouldn't even know!" Um, not exactly what I was thinking, but thanks, Gram!
Tonight's episode of Toddlers & Tiaras has the usual suspects (trips to the nail salon, spray tans, and a lot of rhinestone crowns), but also keep your eye open for Shangela to turn the party when coaching little Hailey on talent, drag makeup secrets, and how to "get that check." I always tell people that I'm too young to have any drag children, but there's nothing wrong with mentoring and passing on the hints that have helped me.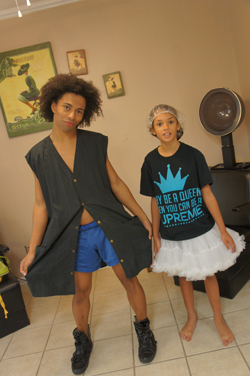 The most special part of this whole episode, though, is not even about the pageant itself. Aside from the "honey-boo-boo child" toddlers and pageant mama drama, I hope that audiences see the true heart of our segment tonight: a 9-year-old's shameless love for her gay godfather who's famous for performing as a drag queen. It says a lot about her loving parents (both of whom I attended high school with), and about the open, inclusive environment in which she's being raised. It also speaks to how cable networks like TLC boldly recognize that the LGBT community is woven into every fabric of our world and is making an effort to include us in its reality storytelling.
I once worked for a restaurant company whose marketing director told me that she'd never put an interracial couple together in a commercial, because then no one would buy the food. I wonder where that lady is tonight and what she'll be thinking when she sees a man proudly parading in a dress supported by the kids and families of a small Texas town.
This is the direction of our world, and to me it looks as bright as the Grand Supreme trophy at the Miss Lollipops and Gumdrops pageant. Halleloo!
Toddlers & Tiaras airs tonight, Wednesday, Jan. 11 at 10 p.m. EST / 9 p.m. CST on TLC. For more information on Shangela, check out Shangela.com.